Huub Ubbens
Born in the Netherlands in 1964, Huub Ubbens attended the Gerrit Rielvield Academy in Amsterdam and graduated in Design in 1993. He came to Italy in 1992 for an internship at Studio Cappelli & Ranzo in Naples, and then moved to Milan.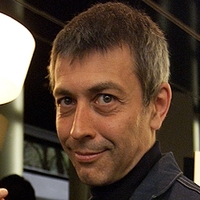 He worked in the studio of Marco Ferreri, Andrea Branzi and Claudio La Viola.
From the 1997 2004 worked as head of the design department for Artemis and from the 2002 2008 he worked as art director for Danese Milano.
He works as a freelancer since 2004.
Over the years, Huub Ubbens collaborates with companies such as Alessi, Artemide, Arte & Cuoio, BBB Bonacina, municipality of Milan, Danese-Milano, Escudama, Fiat, Gheos-Wappe, Hema, Labover-Corian, Malofancon, Marseille-Provence2013, Montina, Monumedia, SEAE , 3M.
His objects are collected in important design collections and have received important awards such as the selection Compasso d'Oro Award and Reddot Design Plus.
He teaches at the University of Architecture Vanvitelli of Naples, University of Architecture of Milan, Politecnico, Sustentare school of design strategy, Sao Paolo (BR), EID of Tolona (FR), La Sapienza University of Rome, the Polytechnic School of Design "SPD" of Milan, Artfure of St. Petersburg (RU), CMA of Santiago de Compostella (SP), ENSAM of Montpellier (FR), Ecole des Beaux Arts de Toulouse (FR).
In 2010 he moved to Montpellier.
---