Giuseppe Maurizio Scutellà
Giuseppe Maurizio Scutellà Born in Alcamo (TP) in the 1962, the family moved a year later to Lumezzane (BS), an active industrial center in Lombardy where he completed his education, graduating as a mechanical expert in the 1981.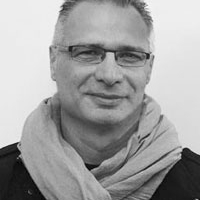 For 12 years Giuseppe Maurizio Scutellà held the role of Senior Project tech designer of die-casting and plastic molds, collaborating with high-tech companies, creating equipment and molds for (Kawasaki, Ducati Bonfiglioli, Sylber, Metalwork, Gaggia Mercedes, Fini, Prisma, Tronconi , Artemis). At the same time he began his collaboration as a designer with prestigious companies in the area. He collaborated as Senior Designer at Marci & Co (design division of Elettroplastica SpA) with Mepra SpA, Pandora Design as a designer of design items for the home in stainless steel and high tech plastic, and with UnitedPets. He has collaborated with ARTEMIDE SpA since 2008 and has created "Pirce" suspension / wall / ceiling lamp (new 2012)
(Cover New Product 2008), winner Good_design 2008, 2009 Red Dot Award
(IFF Design Award 2010) "Alcatraz" floor lamp New Product 2011
Here is the synthesis of the creative thought of Giuseppe Maurizio Scutellà:
"A lighting fixture has a soul, suggests a story, is often a poem without written verses. Light has scent, it is a luminous sound that captivates, it is wonderfully alive, dynamic and at the same time intimate and gentle, respecting its nature by embracing its languages ​​composed of a syntax of light and dark, trying to offer more than a key to reading, where I can in the projects I face is my way of getting closer to its magical nature. "