Cesare Paolini
Cesare Paolini was born in Genoa in the year 1937. After completing his studies, the young man moved to Turin, a city that would mark his career in a positive way. Not surprisingly, the designer would have become an essential figure of Turin design and would have given way to a true artistic revolution in this field.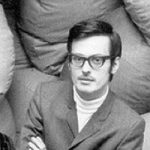 Paolini was an ambitious person in the positive sense of the word; his was a creative vision inclined to innovation. Indeed, one of Cesare Paolini's main goals was to create something new that would be able to win over both audiences and critics.
The turning point in his career, as previously mentioned, took place in Turin, precisely in the 1965. In this fateful year, in fact, the collaboration of the Genoese designer was born with his two illustrious colleagues, Piero Gatti e Franco Teodoro. The three worked together on different projects, in sectors that had affinities between them, such as design, furniture, architecture, graphics, product development and image, and many other subjects.
The apex of Cesare Paolini's career came when, together with his two colleagues, he created the Sacco armchair per Zanotta. This object was able to be at the same time both beautiful to see and useful in homes or environments of various kinds.
The armchair perfectly matched the modern and urban style and some critics of the time, we are talking about the year 1968, considered it like a work of art. Thanks to such a success, the three designers enjoyed incredible fame for years and Cesare Paolini was invited to numerous exhibitions and events focused on the art of interior design.
Paolini continued his work with passion, until his untimely death in 1983, when the designer was just 46 years old.
---