Furnish in white through an accurate selection of lamps, furnishings and accessories it is a suitable choice to bring more light to the environments that need it, giving also a greater visual sensation of amplitude of the premises object of such chromatic preference.
In this regard, here are some useful considerations on trendy white furniture, in particular on the total white house, of sure interest to employees, professionals, creatives and enthusiasts involved in the sphere of furniture, design and interior design.
What are the characteristics of the white color in furnishings and interior design?
White is an evergreen color, discreet and tranquilizing able to reflect light, therefore it can be exploited to illuminate and make the domestic and professional spaces furnished both in modern and classic style more spacious, elegant and hospitable. industrial, Scandinavian, Provencal, country or shabby chic. Moreover, the presence of white highlights the other colors, enhances the different materials, for example wood, metal and granite, it allows to easily identify dirt and mold and can be combined with any other color.
As if that wasn't enough, the white color offers a considerable amount chromatic range, for example the elegant ivory, the metallic titanium, the milky porcelain, the crystalline ice, the iridescent pearl, and so on. So it's about a flexible color and very useful both for furnishing and to paint the walls of a house, a shop or an office!
What is total white in the world of furniture and interior design?
In the world of interior design and interior design total white is a trend-setting solution to bring more brightness, elegance, purity, peace and also a visual sense of greater space for domestic and professional environments through the use of both white furniture and design objects and accessories, white walls and furnishing accessories. So we will talk about a total white house, a total white kitchen, a total white apartment and so on!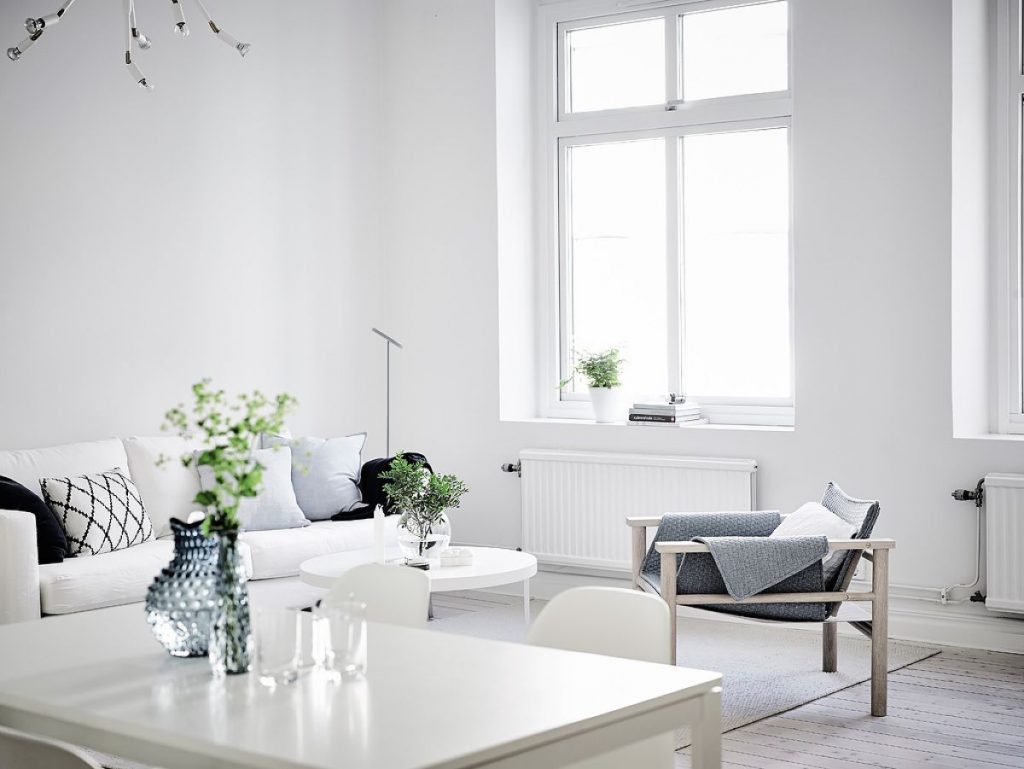 How to use white in the various rooms of the house?
More specifically, to use white in the various rooms of the house, the following suggestions can be taken into consideration:
the glossy white illuminates the kitchen;
ivory goes well with the bathroom;
beige and off-white tending to yellow are suitable for the bedroom or a relaxation area;
vanilla and ocher are suitable for the living area, etc.
However for the most suitable choice of the type of white, in particular considering the exposure of the house and its size, it is necessary to consult a professional, for example an architect or an interior designer.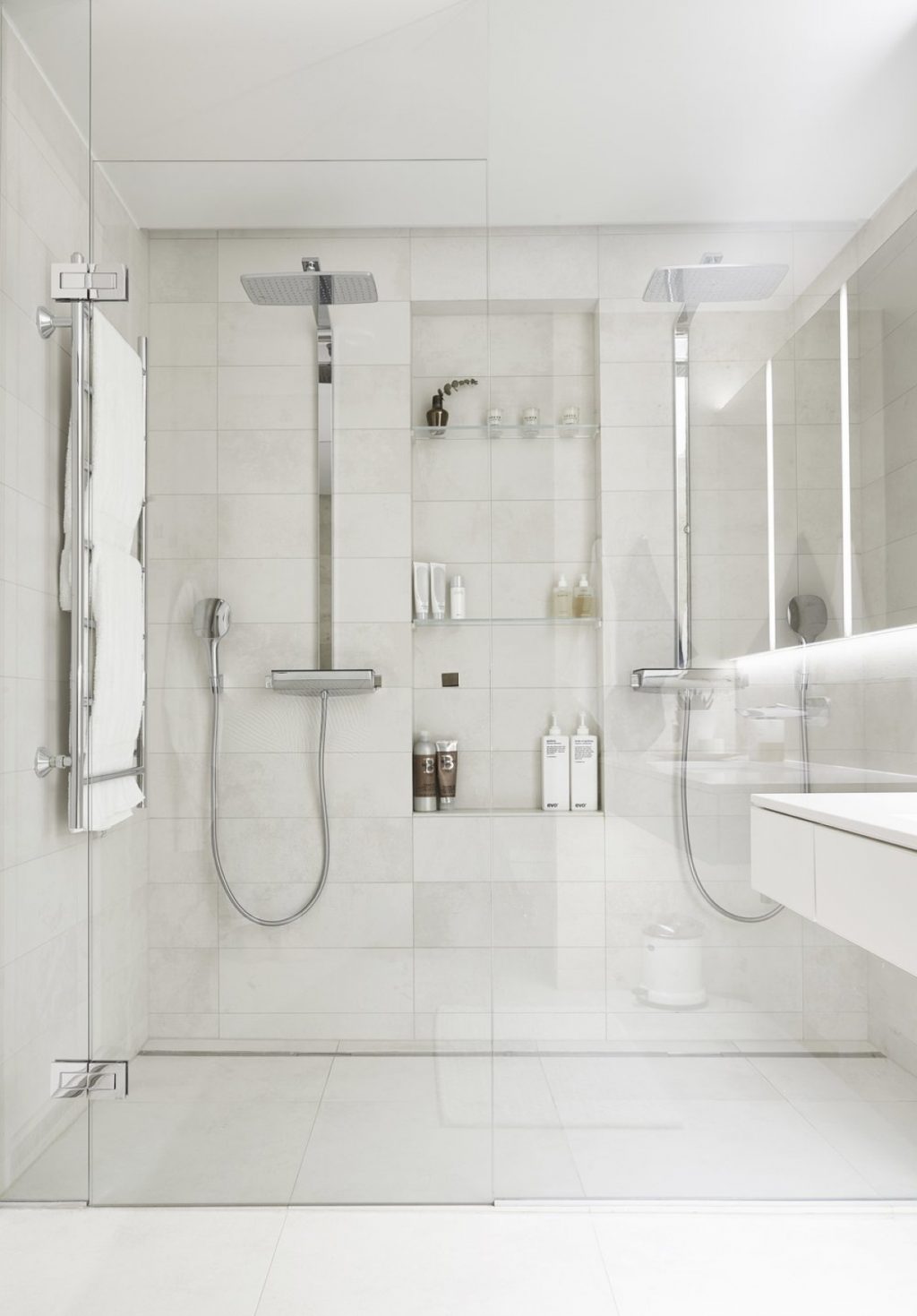 Which pairings should you choose with white?
The White it is a neutral color that is normally combined with design objects and furnishings of a similar shade, for example the beige, ash and Grey, but also to the natural brown of the wood, black, To lavender essence , red, pink and turtledove to break its alienating effect.
Furthermore, among other combinations, in particular with regard to wall colors, you can decide for green or blue to recall an idea of ​​nature, sky and water so as to increase the soothing purpose of white furniture.
When is decorating with white not recommended?
The white home furnishings can be discouraged if you have little time or desire to clean it perfectly and consistently, especially if there are children or teenagers or pets at home, in fact it is not easy over the years to keep it in its original state. Furthermore, the humidity and condensation in the apartment can lead to yellowing of the walls and furniture.
How to furnish with white?
To furnish with white in an effective way so as to create the total white trendy apartment, or just a room, for example the white living room to be illuminated because it is located in a very shady area, a sensible selection of lamps, furniture must be taken into consideration. and complements and paint the walls in white.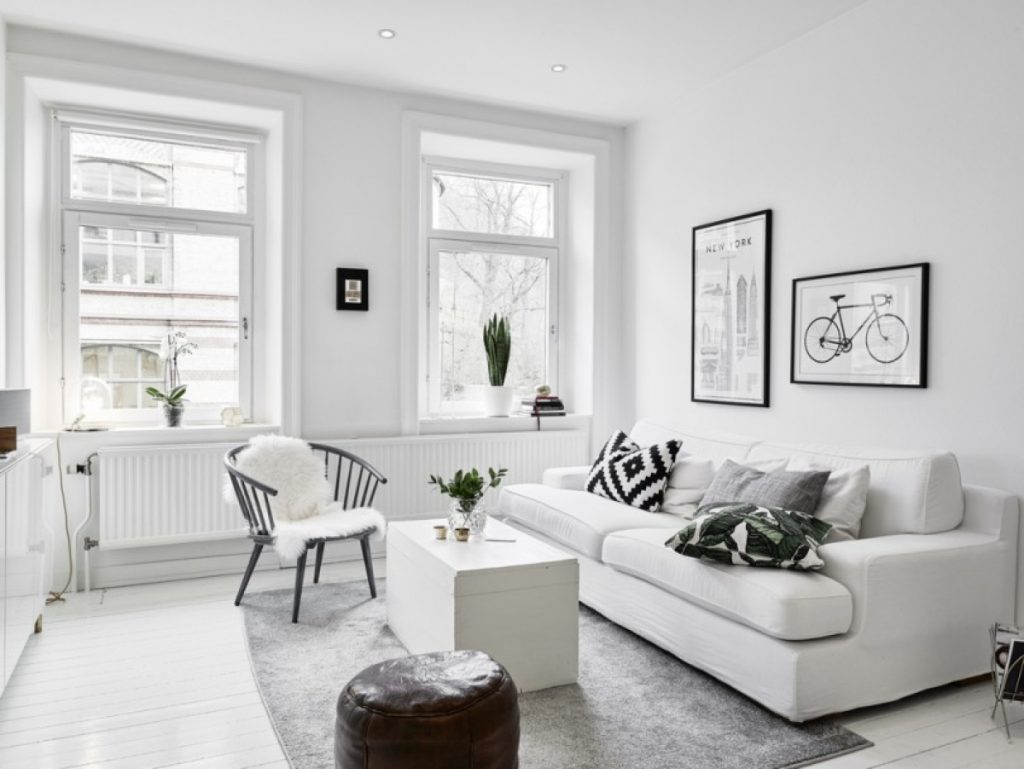 In particular, the following white furniture, objects and furnishing accessories can also be evaluated with some details of another color, for example black, to bring a certain refinement:
Wall lamps
---
Suspended lamps
---
Floor lamps
---
armchairs
---
Stools
More specifically, to give examples of white / black combinations, some types of applique and trendy white lamps, which may have the form of an alphabet letter or some other original form, have a black electric wire, white crockery can be decorated with black lettering and table center and hooks can be colored completely in black.