Ceramic becomes industrial and rock with the expressions of metal it has been modified: 2022-04-28 di
With Alurock, Diesel Living with Iris Ceramica experiments with metal in its various expressions, creating a collection with a rock, industrial and non-conformist soul.
The metropolitan and industrial language takes hold of the ceramic material by imprinting discolorations, drips and abrasions on surfaces that seem to be covered at times by a light layer of oxide. The textures, with their apparent imperfections, speak of the passage of time and tell stories lived with a courageous spirit and mind turned to the future.
The chromatic range is that of metals and ranges from the silver shades of White to the slightly golden reflections of Light Beige, from the luminous gray of Steel up to the ferrous tones of Indigo and the graphite tones of Black. Alurock frees creativity and opens up original compositional possibilities by mixing together the different formats - 120 × 60, 60 × 60, 60 × 30 - and the 5 shaded colors.
Alurock confirms Diesel Living with Iris Ceramica's vocation to amaze with bold, courageous and never banal solutions that know how to create a new imagery with a vintage flavor, ideal for personalizing spaces with an urban mood and atmospheres suspended between past and present.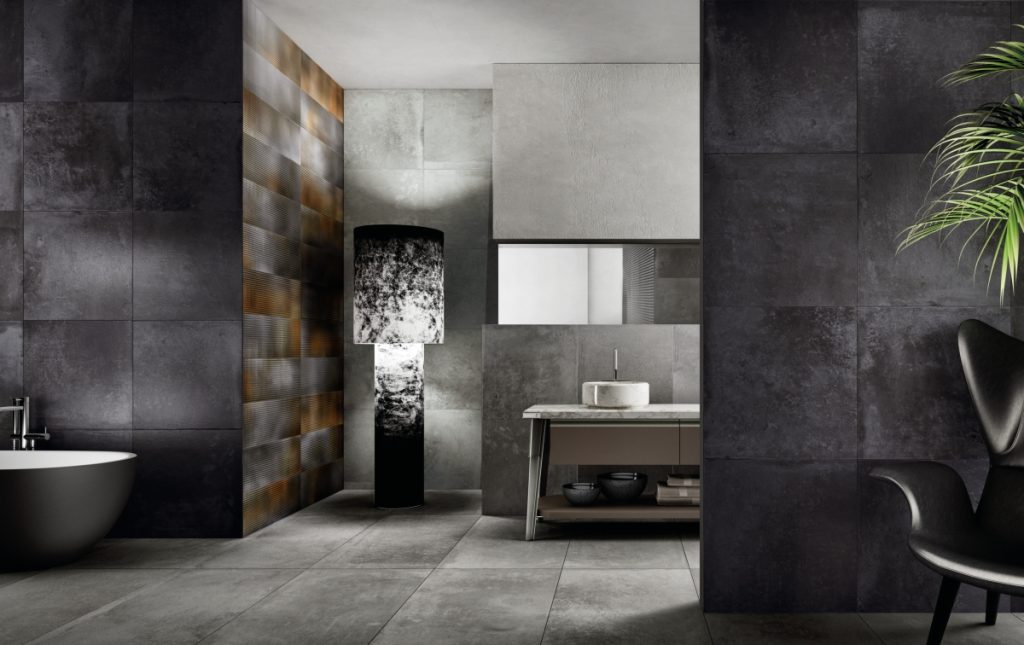 Specifications:
Dimensions: 120 × 60, 60 × 60, 60 × 30 cm
Color: Steel, Light Beige, White, Indigo, Black
Material: porcelain stoneware
Finish: natural, soft
Special pieces: Elle Jolly step 60 × 30; Edge cover 15 × 30; 7 × 60 skirting
Destination: floor and wall tiles