New finishes and compositions for Cloe by Arredo3, in the name of versatility it has been modified: 2019-09-11 di
Contemporary furniture is not just a matter of style, one of the most sought after features is versatility.
Today's homes do not like design as an end in itself, but favor practicality in terms of use and size. Precisely to meet these needs, Arredo3 has studied new compositions and new finishes for the Cloe collection, giving an even more original touch to the kitchen environment. A rich proposal that includes different types of fronts, from the smooth door with groove grip, handle or push-pull, to the frame door. Cloe is the perfect example of a meeting between classic and modern elements, with a strong stylistic identity that makes it unique. Arredo3 presents six different compositions to furnish both small spaces and generous kitchen areas.
In Alabama pore register laminate, uv visone matt lacquer and the top in ecomalta volcano special laminate, Cloe 01 offers a feeling of solidity with a vaguely rustic style.
Cloe 02 it is made of Colorado pore register laminate, Orion gray uv matt lacquer and the cement laminate top. The titanium aluminum handle on the bases and on the columns interprets a spartan and slightly retro mood.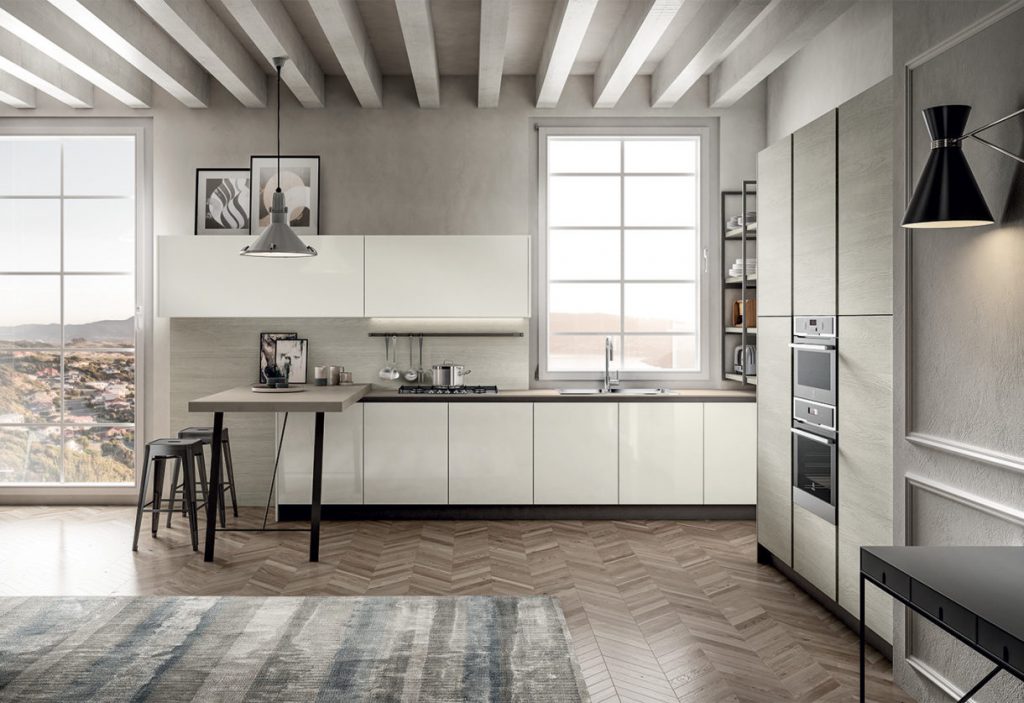 Neutral gray UV matt lacquered bases and wall units and the 852 opal quartz top by Cloe 03 they soften in the light green of the columns in a matt silk laminate finish, giving a natural brightness to the surfaces.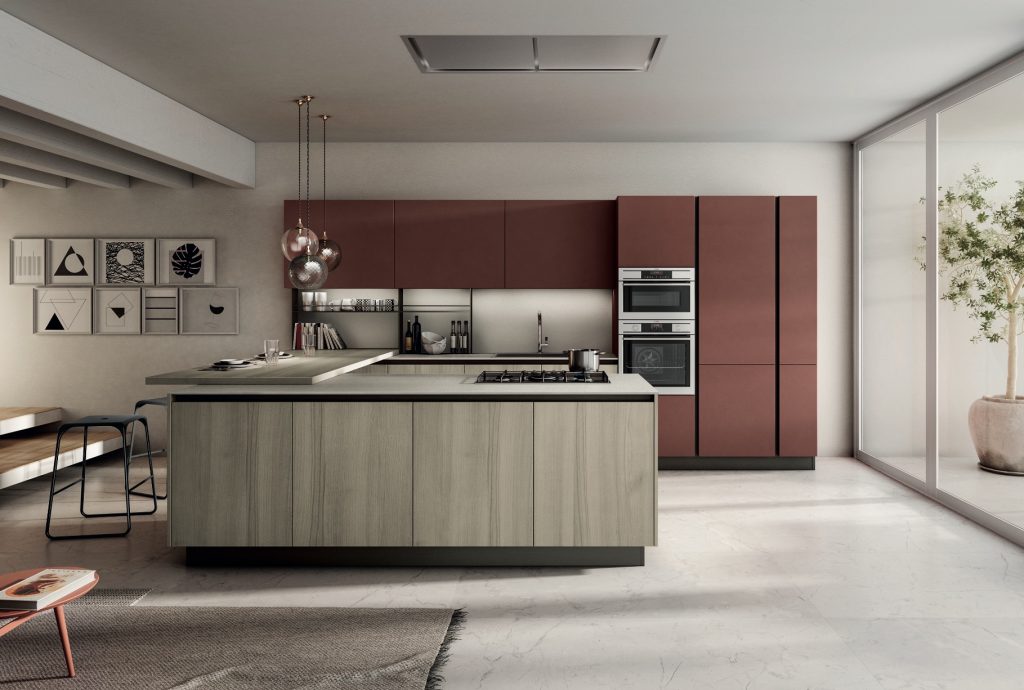 The 366 special laminate top by Cloe 04 on a neutral gray UV matt lacquered base, it gently approaches the wall units and the Oregon pore-laminated laminate columns: a true symphony of nuances enhanced by the groove and bases in burnished aluminum.
Protagonist of Cloe 05 it is the refined tone-on-tone effect: the purity of bases and wall units in glossy white uv lacquer blends with the Atlanta oak pore register laminate of columns, shelves and panels and with the special 801 top laminate and snack top.
In Cloe 06 the bases and snack top in Alabama register pore laminate blend perfectly with the matt juniper silk laminate of wall units and columns. Plana's burnished aluminum plinth sockets and handles emphasize lines and perspectives, harmoniously combining Kristal 851 quartz with tops and backs.