IOricicloTUricicli 5, 2014 at Fuori Salone creativity is all Italian it has been modified: 2014-01-14 di
Back the event most anticipated of the green Milan Design Week: IOricicloTUricicli. Now in its fifth edition This year the project created to give space and visibility to new talents of the panorama of eco theme is GREEN IN ITALY.
How many and who are the eco creative in Italy?
Who are the protagonists of "Made in Italy Green"?
Al Fuori Salone 2014 IOricicloTUricicli will try to give these "answers" putting the spotlight on the universe of "Green in Italy" more and more in turmoil. A more evocative theme than ever the one chosen by the organizers - theCommunication Agency Misuraca & Sammarro - to celebrate the five years of the project that every year is among the liveliest events of the famous Design Week.
Opened in 2010 IOricicloTUricicli, intends to Nhow Hotel for Salone del Mobile 2014 like unique and extraordinary opportunity to give visibility to emerging designers they do their own concept of the green. From the birth of the event are about 70 projects selected all eloquent symbol of a way of doing recycle, To develop sustainable utopias and re-design revolutionaries. All works symptom of a fervent green production that is in Italian. In these four years IOricicloTUricicli has become in effect a research and promotion for young talents during the days of the International Furniture expo and beyond, offering participants a showcase incomparable and excellent communication and integrated winning.
IOrecyclingTUrecycle 5 - Green in Italy will be a great celebration of eco Italian.
IOrecyclingTUrecycle 5 - Green in Italy will be a focus on eco-Italian no longer niche market but a thriving universe ecocreativo-productive.
For information on how to participate in writing info@misuracasammarro.com - www.misuracasammarro.com
Some projects at present IOrecyclingTUrecycle 5 - Green in Italy Sandra Faggiano

B (a) ROCCOLI (ACCESSORIES FOR THE TABLE)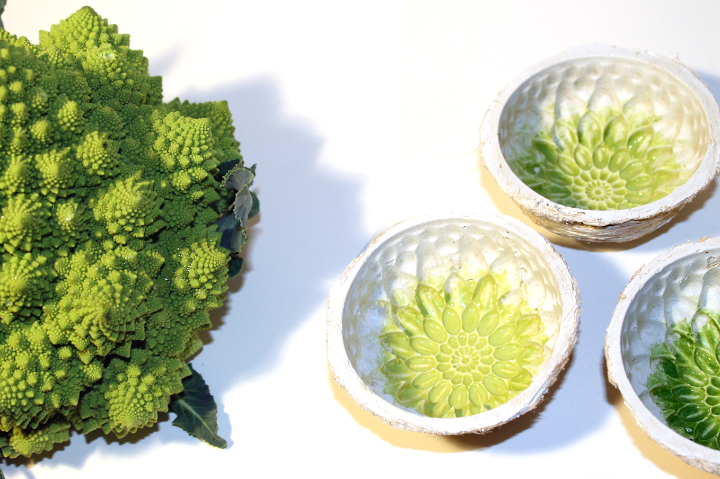 LU IENTU ("UNIQUE" FRUIT TRAYS)