Felicia Ferrone presents STILL NOW. The dinner: between past and present at Villa Mirabello during Milan Design Week 2023 it has been modified: 2023-03-10 di
Milan Design Week 2023 is the most awaited event of the year by many design and art enthusiasts. One of the events not to be missed is STILL NOW. The dinner, an event organized by fferrone, the American brand founded by Felicia Ferrone.
The event will take place in the splendid Villa Mirabello, one of the oldest residences in Milan, dating back to the XNUMXth century, and will be open to the public during the Fuorisalone.
STILL NOW. The dinner is a feast for the eyes, the senses and the imagination set in an ultramarine monochromatic theatrical setting where time seems to stand still. Here, it will be possible to discover the brand's glass collections, presented in an artistic interpretation of the dinner.
The installation is a monochromatic mise en place that evokes the still lifes of the seventeenth century, where heterogeneous forms of common objects stand out from a flow of color, an intense and sacred ultramarine at the same time. Ferrone's collections, contemporary in design but characterized by a retro and futuristic touch at the same time, emerge from the monochromatic background of the installation and enter into dialogue with the other objects, proposing new ways of being through updating and contemporaneity.
The common objects typical of the twentieth century that make up the installation represent what the designer refers to as "neo-grannyism", an exploration of memory, form and revaluation to emphasize how design is a value that transcends obsolescence and our current throwaway culture.
Ferrone will show how "good design" is able to overcome the temporal scansions and can help us establish more meaningful connections with our past, present and future, with a view to the sustainability of objects whose use must last over time.
Reflection on common objects together with the formal assemblage of the installation inspired the designer to undertake a study of still life paintings, which historically depicted domestic objects. Thus was born the collaboration between the photographer Jonathan Allen and the designer Felicia Ferrone who gave life to Ultramarinus: Memories of the future, a series of contemporary still lifes.
These ethereal images, highlighting the shapes of glass and monochromatic objects, induce us to look at them differently thanks to a narration that assigns beauty and value through form and utility, thus reaffirming the value of durability which translates into use more aware of the objects we surround ourselves with.
The series takes its name from the Latin term ultramarinus which means beyond the sea because the intense blue pigment deriving from lapis lazuli powder was imported into Europe by Italian traders from Afghanistan in the XNUMXth and XNUMXth centuries.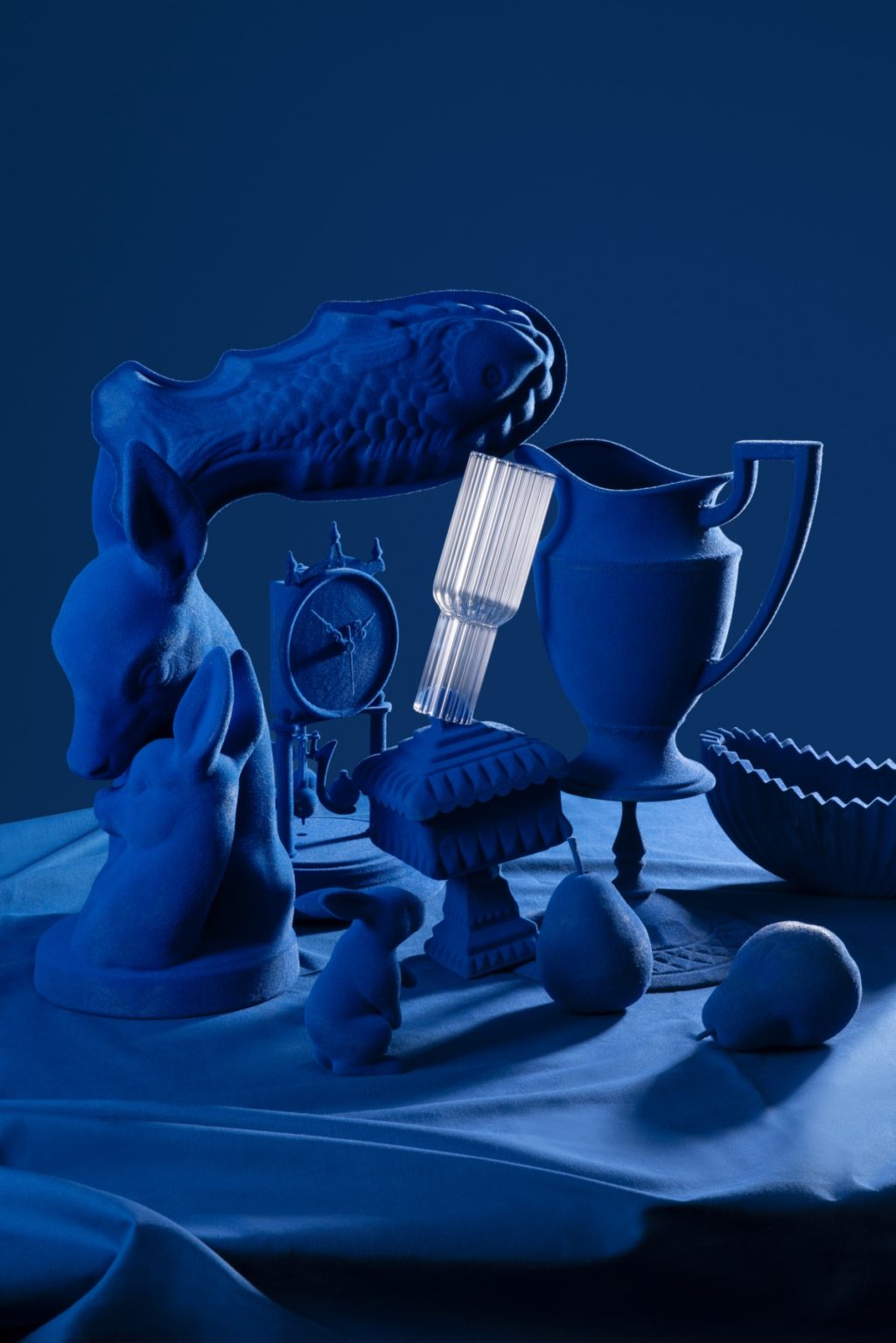 STILL NOW. The Dinner
Villa Mirabello
Via Villa Mirabello, 6
20125 Milan

Open to the public:
From Monday 17 April to Friday 21 April: from 10.00 to 18.30
Saturday 22 April: from 10.00 to 15.00