At Cersaie 2018 refined and suggestive textures for the kitchen and bathroom environments by Scavolini and Diesel it has been modified: 2018-10-01 di
The program in collaboration between Scavolini and Diesel Living, Diesel Open Workshop, deals with "dressing" the kitchen and bathroom environment, achieving the encounter between taste and informal design, balancing them to perfection.
The project combines a warm approach, with a note of industrial furniture. The rooms therefore have their own personality. The central point of the style is the details, the materials used and the textures, so as to create simple shapes but with a unique design, ideal for the customer who seeks a particular simplicity of the forms.
As for architecture, the modular metal structure fully defines the industrial character of Diesel Open Workshop. This construction exploits the particular Stock Rack system, which through its full and empty structure, allows the creation of constructions from the metropolitan area.
Special features of the new kitchen collection
The profiles of the metal sockets and the frame of the glass doors make this collection special. It is precisely the aluminum version that distinguishes the line, through its volume games. The main types are two: Smoky Glass and Ribbed Glass. The first with a smoked glass and black mesh, the second in glass with characteristic lozenges.
Instead the lacquered version fits the entire Scavolini collection. Diesel Open Workshop is made special by the grip-handle, completely in aluminum. Another element that makes this structure unique is the top with the diamond effect on the edges, which contains four aluminum corner plates.
The bathroom
The mixed Scavolini / Diesel collection also comes to furnish the bathroom, with an original style. Just like the system Stock Rack above mentioned, the metal is also present in this case. Thanks to it it is possible to insert shelves, wall units and work bases suspended or on the ground.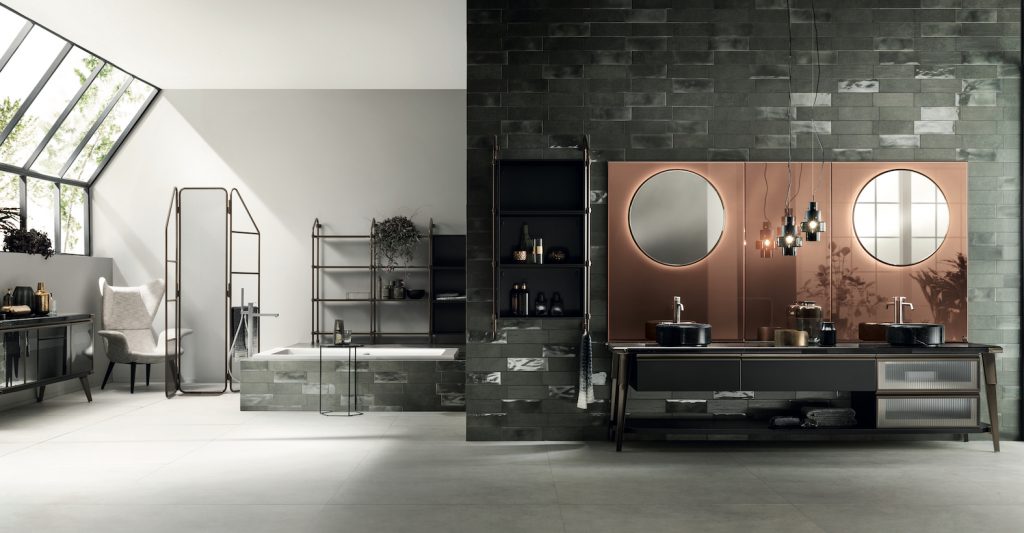 The round and rectangular washbasins in support are entirely in white Mineralmarmo or in different styles of marble.
As in the kitchen also in this case there are handles mounted on the head of the door. To finish the decor of the bathroom there are mirrors, which characterize the unique style of the collection.
Gym Space: the style of the gym in the bathroom
ScavoliniBagno introduced his new project: Gym Space. This style manages to combine the bathroom and the gym, with the possibility of furnishing the environment in an organized and functional way, while maintaining the well-being of the room.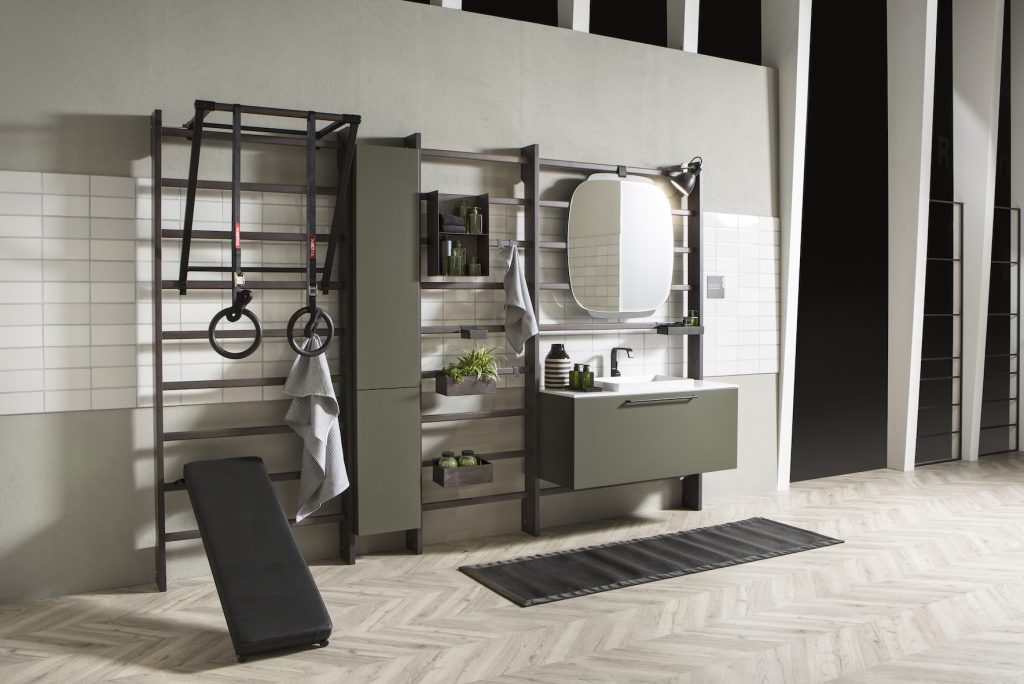 Visualizza questo post on Instagram
Combining a wall structure for training in bathroom furnishings, Scavolini has managed to bring fitness into everyday life. This proposal provides for the use of equipment to stay fit even during everyday life, always maintaining wellbeing and a healthy lifestyle.
The project is inspired by the Swedish espalier, this tool is often inserted to combine and use other sports equipment. In the case of the bathroom these accessories can be lights, shelves, soap dish and mirrors.