The online marketing has a new look for Optimized Group it has been modified: 2014-07-18 di
THE is the future, but it is already there:
if it is true that not all Italian SMEs are still aligned at the level of web strategy, it is also a fact that put on a par with international companies from the point of view SEO, SEM, Social Media and Digital PR is an immediate need for those who want the best in the PERFORM SERP.
But we must not think that these activities are mere technicalities to be cold and "geeks" nor black magic digital: these are indeed just technical skills, but also the creativity and passion will play a fundamental role. Knows Optimized Group, young web agency in MilanBut with the heart of Sweden.
La new design of the company websiteJust put online, is a testimony of how the technological capacity can blend easily with the enthusiasm of a young team - young, the average age is 29 years - and with skills that recall to other areas, seemingly light years away from ' numerical universe of the web: design, art, fashion, literature, photography, military discipline, music, mix in a patchwork of interests and aptitudes which guarantee passionate and diligent ... in 360 °.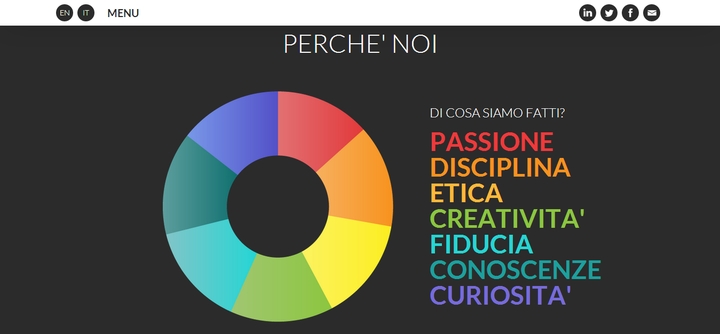 The graphics of the site become symbols: "The circle represents unity, completeness, perfection and the circularity of trust between our board, the team and the customers - Explains Alberto Dal Santo, Manager of SEO Optimized Group - Furthermore, we also wanted to play on colors: each division of the agency, and then every member of staff, is associated with a different color, which represents the personality and the role of the user".
The site also includes infographics impactUsing just a tool of communication and immediate present: halfway between the seriousness and the smile, tell us is that the organic traffic generated stood at 45%, but also that the average of coffee consumed by the entire staff during a stressful day average is 36 cups total! Graphically, the project was managed by the senior designer Alessandro Barbieri.