A kaleidoscope of colors in a playful and emotional design: The LEGO Linear Luminaire by Ambience Studio it has been modified: 2023-05-23 di
The LEGO Linear Luminaire from Ambience Studio is a bright and playful design that combines creativity, functionality and sustainability. Made from repurposed LEGO bricks, this lamp offers a unique combination of vibrant colors and sophisticated lighting. Its versatility allows it to be used as a pendant lamp or as a decorative element. With Bluetooth control, you can adjust the color intensity and temperature. It is an illuminated work of art that enchants and stimulates the imagination, transforming the space into a vibrant and enchanted environment.
The LEGO Linear Luminaire is a design that not only fulfills a pragmatic purpose, but one that, once discovered, taps into youthful imagination and sentimental creativity.
Injecting a delightful kaleidoscope of color into a space, it offers a joyful focal point through inventiveness. It is designed to go beyond just being a pendant, by having the ability to be used in an upright position as well. Elegant yet fun, it is designed to have a light source suited to the material it is contained in and flexible in its adaptability to beautify or provide illumination for specific tasks.
The LEGO Luminaire is 965mm long and uses matching upcycled bricks with a flexible cord of the same color. It comes with a color temperature of 1800-6500K, with the ability to adjust the temperature from 1800K to 3000K and 2700K to 6500K. It is diffused with an opal and has a beam light distribution, CRI 90, 8w/m and is controlled via Bluetooth.
The LEGO Linear Luminaire is a playful yet practical minimalist design that evokes a sense of enchantment.
Made entirely from repurposed LEGO bricks and plates, this sleek and minimalist luminaire casts LED light through an opal diffuser, which together with the vibrant frame lends an imaginative character to the surrounding space. Thanks to the included flexible cable, the light can be suspended from the ceiling as a pendant or placed upright on the ground as a sculptural decorative piece.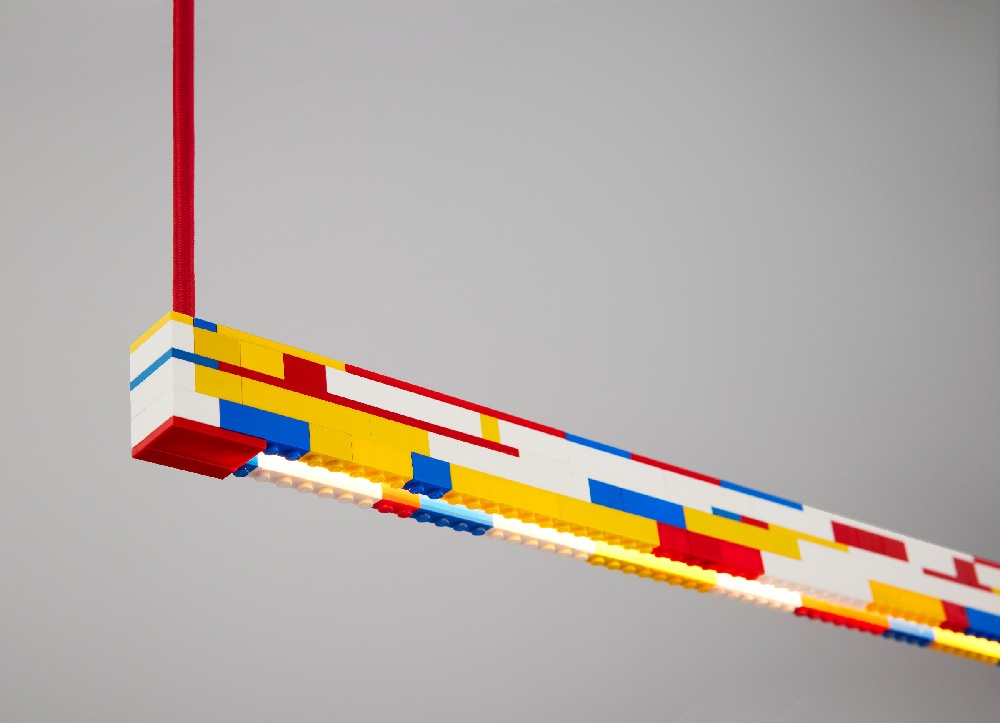 project info
Lead Designers: Ambience Studio
Other Designer's names: Susan Hardjono, Ahmed Hassaballa, Josh Filby, Stephen Justice
Client: ambience x Symphony Lighting
Photo Credits: Ben Glezer
Other Credits: symphony lighting
Completion Dates: September 2022
Project Location: Melbourne, Australia