RE.SI.DE. / The bathroom coating that mimics the elegance of marble and natural stone it has been modified: 2013-03-19 di
Supergres ceramics RE.SI.DE. presents, a new collection of bathroom tiles in white paste. The coating RE.SI.DE. recreates within the bathroom the elegant marble effect and natural stone, Materials that this line reinterprets proposing them in a satin version that will feel soft, smooth and pleasant to caress.
The refined style of the marble and natural stone breathes life into the bathroom exclusive and elegant that are characterized by the details extremely sophisticated and harmonious.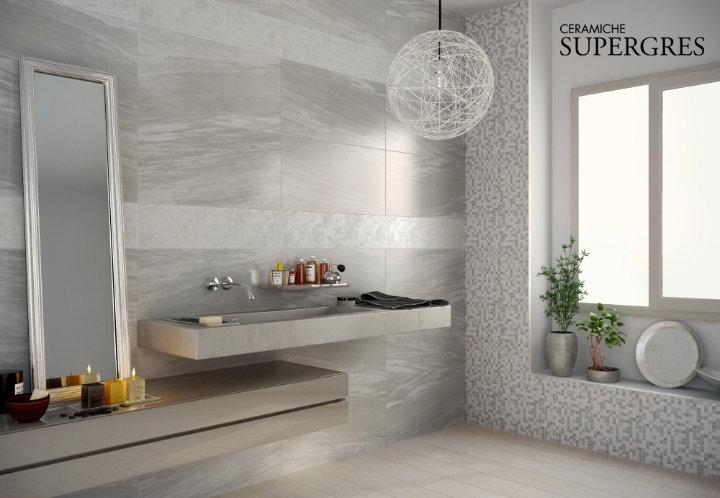 The aesthetic qualities of RE.SI.DE. are enhanced by the technical characteristics of this line of bathroom tiles.
4 natural colors and neutral, easy to match, reminiscent in a sublime way the nuances of natural stones: marfil, brera, bardiglio and Madeira.
2 elongated and rectified formats, capable of creating continuous walls that expand the perception of spaces: 40 × 80 and 20 × 80.
4 decorations tonal made with raw materials very rich and precious: Structure decorum, decorum order, decorum and decency Geometric Flower.
Do not miss the mosaics, capable of enriching the environment with shades of bright, shiny, and some special pieces, such as corners and edges, to achieve fine finishes and finish volumes.
Also available is a matching floor porcelain tile, size 60X60.