Qcha series it has been modified: 2015-07-03 di
Back to talk again Qcha, The house cat biodegradable and made entirely in Italy, we do it because the three designers, Daniela Ogis, Stefano Ogis and Fabrizio Fillo, have decided to expand their catalog by creating a series of diversified products for features and prices.
Qcha Star:
Qcha Star is part of the Qcha line. It is the most refined and elegant.
It is made of poplar wood painted with natural varnish to provide a healthy environment and respect for nature. Available in various colors, becomes a fine piece of furniture in any environment both internally and externally.
It is characterized by large openings and a side hole. The front wall is made of transparent Plexiglas decorated with a cat lawn and the stylized Qcha logo.
Qcha star can be added on top of each other and each module can rotate freely up to a maximum of 40 degrees, allowing for free composition and creation of surfaces for the cat to climb.
There are internal communicating holes in the floor and ceiling, allowing the cat to climb from floor to floor. A house and a game at the same time!
Inside, a soft carpet will ensure good naps for our beloved cats.
Qcha is designed and manufactured entirely in Italy.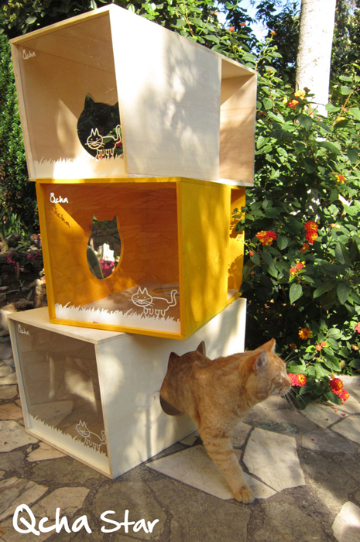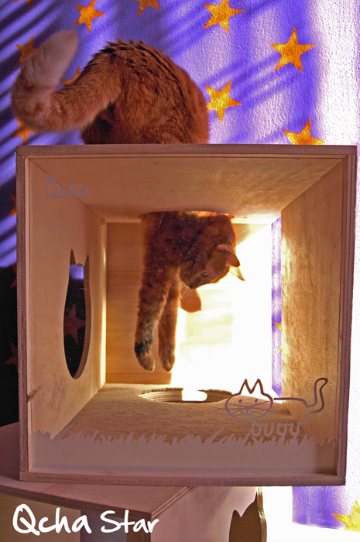 Qcha Basic:
Qcha Basic is part of the series Qcha. It is made of poplar wood treated while maintaining the natural color of the wood.
It is characterized by large openings and a completely transparent wall.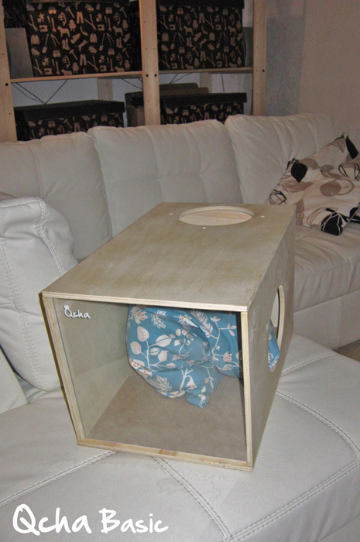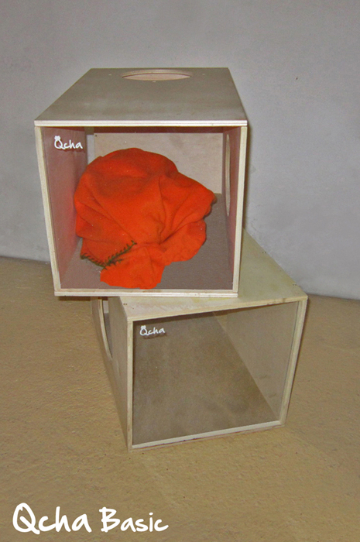 Qcha Cube:
Qcha Cube is the wall version of the series Qcha. It is made of poplar wood untreated and a side wall of Plexiglas characterizes the design of this cube with clean lines. The logo Qcha makes the product recognizable.
It can be fixed at different heights, it has been designed to create a real wall system. The large front opening is also a passage that allows the cat to go up and stand in two zones. With the availability of different support points, your cat can easily switch from one Qcha cube to another and take advantage of various lookout posts.
It also allows you to take advantage of all the space and is therefore particularly suited to the needs of a small house.