Masiero / preview Euroluce 2013 it has been modified: 2013-04-08 di
Dropop
After the success of Flashwood, commitment eco-friendly and creativity of lighting Masiero find their synthesis in LIBEThe new collection of lights green line Eclectic, who along with DROPOP, will be previewed at Salon international ones lighting euroluce 2013, Will take place from the 9 14 April at the Fiera Milano Rho-Pero.
LIBE, Designed by young designers Gianpaolo Rampolla e Andrea Liguori, is available in 2 different versions: LIBE (two suspensions, a floor lamp and a table lamp), has a light and harmonious shape that recalls the wings of a dragonfly. LIBE ROUND (two suspensions and a table lamp) has a soft and essential shape: an empty circle from which the light comes out. For these new creations, Masiero has decided to use only eco-compatible materials, such as natural oak wood and warm light LEDs, combined with Egyptian Asfour crystal lozenges that amplify the refraction effects, creating a sparkling effect.
Drops are bright, colorful, cool the lights DROPOP, Similar to a spring rain. DROPOP is an artistic creation of the designer Changes, and Unleash Turini, available in infinite different compositions, thanks to its modular structure, the hundreds of colors available and the low weight, which allows installation on any surface. Masiero synthesizes the concept of modernity and contemporaneity, creating this drop, daughter of the kaleidoscopic Pop Art. The continuous search for eco-sustainable solutions has led Masiero to create a system of turned wood elements, to be installed in multiple combinations, without any constraints. There LED spot light Retractable is only one element: bright drops can indeed be alternated with blind drops, with different heights and color composition, engaging in a succession of full and empty spaces.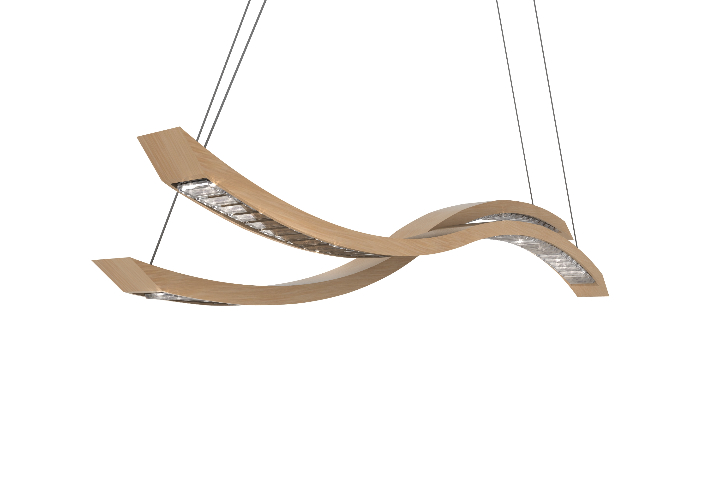 Many news for the Classic line, inspired by the Venetian tradition of craftsmanship, combining refined brass castings, to precious crystals, always stylistic Masiero.
La collection 6190 has a metal frame finished in gold bath or painted white with a paint gold. The arms are embellished with roses ceramic Bassano hand painted, while the shades are elegant pongè ivory.
The collection 6170, instead, is a creation of metal and cast brass, with falls of Asfour crystal drops. For this collection, you chose to use an elegant shade of white silk organza fabric, which gives the environment surrounding a light velvety and warm.