Marshmallow Paper Seat: When paper becomes a sitting experience it has been modified: 2023-05-22 di
Marshmallow Paper Seat is an experimental design work created by Yiran Li that combines handmade Kozo paper with an inner foam core, interface layer and Konnyaku treated surface. This unique piece features a combination of unusual materials that offer a comfortable and durable seat.
Yiran Li's design, called Marshmallow Paper Seat, is an experimental work that combines handmade Kozo paper with a soft seating element. The cultivated Kozo plant is traditionally used for the production of paper and textiles, but in this case it takes on a new life as a comfortable surface to sit on. Through a special treatment that involves the application of a layer of Konnyaku, the Kozo paper becomes a surface suitable for use as a seat. This single piece consists of an inner foam core, an interface layer and a paper layer. Additionally, it features four mahogany feet that lift it off the ground.
Materials and techniques used
The Marshmallow Paper Seat is made with handmade Kozo paper, mahogany and a zipper. The main technique used for its creation is that of stitching. For the design, AutoCAD software was used.
The Marshmallow Paper Seat is unique in its unique combination of materials and experimental approach to design. Kozo paper, obtained from the cultivated plant of the same name, is notoriously resistant and flexible, making it perfect for creating seating surfaces. However, to make it even more comfortable and resistant, a layer of Konnyaku has been applied, a natural gel which increases its strength and durability over time.
Inside the Marshmallow Paper Seat is a foam core, which ensures ergonomic support and greater comfort when using it. This core has been carefully shaped to fit the shape of the body and to provide a pleasant sitting experience.
The interface between the foam and the Kozo paper has been expertly crafted, ensuring a solid and strong connection between the two layers. This allows the piece to maintain its original shape and to support the weight of anyone sitting on it.
To ensure optimal stability and lift the Marshmallow Paper Seat off the ground, four feet made of mahogany have been added. Mahogany is a precious wood known for its strength and beauty, which gives the piece an elegant and sophisticated look.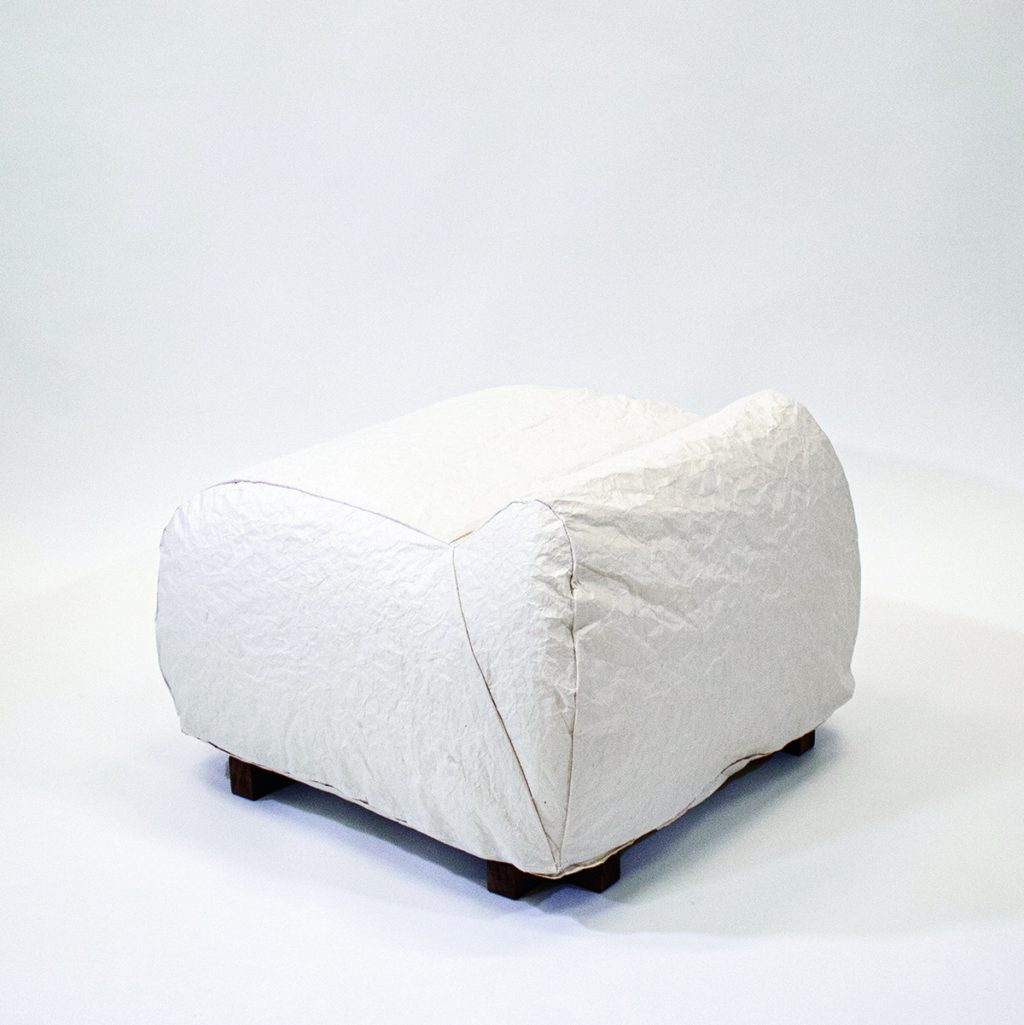 project info
Company/Firm: Yrlidesign
Designer: Yiran Li
Location: Iowa City
Project date: January 2022