"Life Is changing" Studio Mandalaki ICFF Studio in New York it has been modified: 2013-05-18 di
Lo Mandalaki study toICFF Studio, The New York Design Week, presents "Life Is Changing" the exhibition that wants to tell the thought behind the research activity of the studio
In a world where technology is more and more present and rapidly changing, the study aims to refl? Ect on signi? Ed to draw today a chair, a table or a lamp. The creative process comes from the analysis of the polished daily life and tries to give concrete answers to new ergonomic needs, cultural and aesthetic.
The main working concepts presented in New York are those of integration, energy sharing and soft technology. The relationship with electronic devices is changing rapidly, and the number of portable applications is growing day by day: for this reason the studio aims to develop a series of tools for the home and for the office that integrate the '' access to electricity, which are easy to assemble, and which adapt to the new needs of the user to simplify their actions.
LightPlus Qi
LightPlus Qi is a multilayer laminate lamp hidden inside a low-consumption LED diffuser and a wireless charging system.
This project stems from the desire to eliminate the chargers of phones. A tendency to the subtraction that does not stop to the drawing, but especially tense
to the elimination of physical components present in homes: a widespread simplification. The proposed technical research is at odds with the current tendency to minimize
the light source: the choice of designing a super? Extended luminous surface is functional both from the point of view of the diffusion, both from the compositional point of view.
The base integrates all the electronic components needed for the power supply.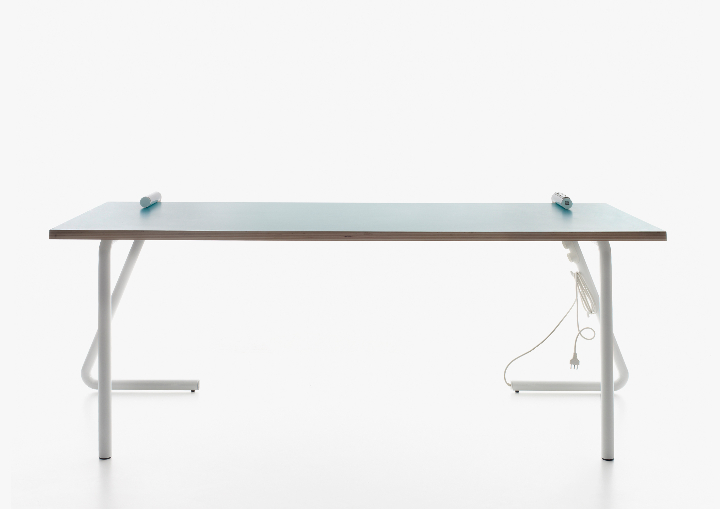 MandalakiTable
Mandalaki is a friendly presence in homes and uf? There. The desk panders digital lifestyle: electrical outlets and USB ports are directly present on the super? Cie work, integrated into the leg structure that overcomes the floor, to feed all the devices that today we do not know to give up. no screws or joints and can be easily assembled and disassembled for environments in continuous transformation.