The new glamorous DDpluspet kennels by Di Marzio design it has been modified: 2023-03-10 di
The new glamorous DDpluspet kennels by Di Marzio design
DDpluspet presents the new indoor kennels for dogs and cats with bright and intense contrasts, consistent with high fashion trends and made with innovative materials. Fantasy and elegance for an exclusive and inimitable glamorous touch. Design geometries, conceived to enhance the presence of our furry friend in the house and characterize the domestic environment. Puppies and kittens hosted on the comfortable reversible cushions with a robust and machine washable cover. Top quality glitter acrylic resins with brilliant reflections, resistant to shocks and easy to clean. Luxurious indoor kennels, for those who love to experience the Italian style, synonymous with good design that combines beauty and functionality through research and creativity.
This is how a quality product is obtained, capable of satisfying the needs of our special friends and maintaining its formal characteristics with its cultural identity over time.
Glamorous Chloe
It is an indoor bed for dogs and cats who love quality comfort. Placed on the ground or placed on the surface of a raised piece of furniture, thanks to the non-slip and scratch-resistant supports, this rectangular plant kennel, unique in its kind, in terms of design and chromatic characteristics, will make the home environment more particular with its elegant, glamorous and refined.
Gold glitter methacrylate used for the structure with a modern and unmistakable design, made up of four containment elements for the cushion, easy to clean with delicate non-abrasive detergents. It is completed by the glossy black methacrylate base with non-slip and scratch-resistant feet, for delicate surfaces.
An object that does not go unnoticed with its innovative look, capable of enriching the decor of the environment and guaranteeing maximum comfort for our pet. The walls are equipped with chrome elements along the perimeter and fixed to the base. Available with a waterproof reversible cushion in a solid color on one side and a floral pattern on the other, or with a cushion with a lively colored pattern. The padding is in soft recyclable synthetic fibre, while the cover is in machine washable cotton/polyester fabric.
Cuddly lux
Elegance and sophistication are the most suitable expression to define this bed for small pets. Sober design and strong contrasts, a glamorous image in tune with current fashion trends and in harmony with the canons of classic style.
Oval-shaped doghouse, with the characteristic containment wings made of gold glitter methacrylate and decorated with chromed accessories that connect them to the base. An object with a modern and fashionable design according to the trends of the Italian style.
The cot is easy to clean with delicate non-abrasive detergents and can be inserted in various furnishing contexts. The removable cushion is double-sided with black/white dots, with a heavy weight cotton/polyester fabric, machine washable and resistant to furry scratches. The zip slider is protected by fabric flaps, making it less vulnerable to pet bites. The padding in turn is packaged inside its own cover.
All DDpluspet products are developed and produced entirely in Italy.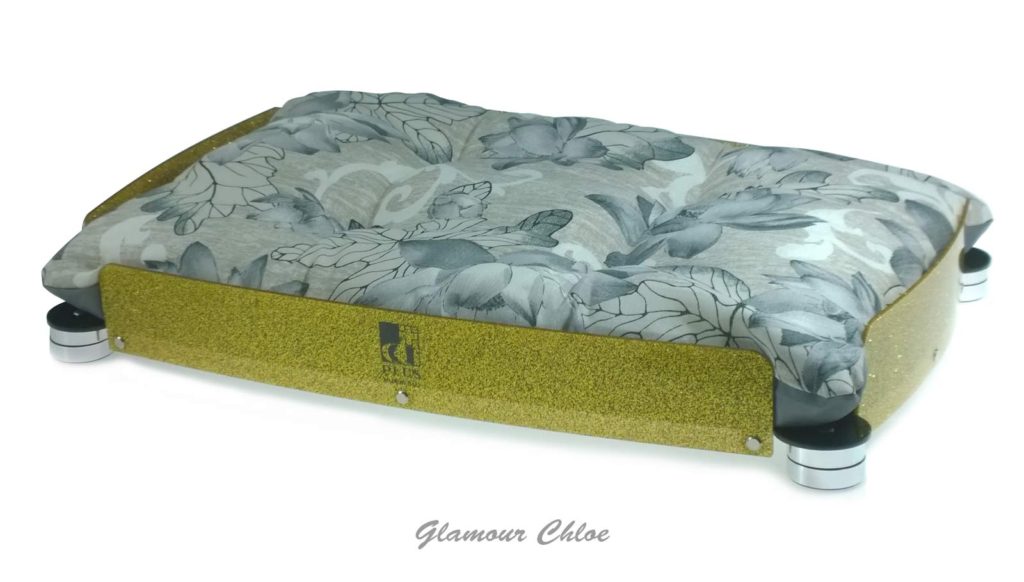 www.ddpluspet.com