TROAG suspension lamp: from the Scandinavian tradition a lamp for workspaces and home working it has been modified: 2021-08-04 di
The TROAG suspension lamp designed by Luca Nichetto for Foscarini it takes up the light and linear sign of traditional Swedish wooden bowl transferring it to a suspension lamp that combines high performance with the refined elegance of wood.
In Sweden, the tröag is a wooden bowl with a particular shape similar to a canoe. It is an object that has been handed down from generation to generation and is much more than a simple household utensil.
The new LED version
Born to give more warmth and familiarity to functional lighting, designed especially for workplaces, Troag has now been completely redesigned in the lighting engineering part and is proposed in a new LED version, which ensures a clear reduction in consumption compared to the previous version, together with a wide range of new potentials, from dimmability to connection to home automation systems.
Troag's design allows you to make the most of the light, concentrating it downwards; an opaque screen closes the lower part, hiding the technical parts, and acts as a diffuser ensuring comfortable and glare-free lighting, allowing the lamp to be placed at different heights. The hot bending and processing on the edges with 5-axis milling enhance the grain of the wood and its tactility.
Home and home working
Troag is ideal for even and intense illumination kitchen islands e work plans. Its clean and dynamic shape and the use of wood make it a transversal object, suitable for both domestic and work contexts, as well as spaces for home working, which have become an increasingly widespread reality. It lends itself well to insertions even in environments of minimal taste, where it enters with discretion, bringing all the warmth of wood.
TROAG has also become the protagonist of the photographic project by Massimo Gardone, who ideally inserted color slides on vintage black and white images, relating to contract spaces, locations and legendary settings, photographs taken from the Bridgeman Images historical archive.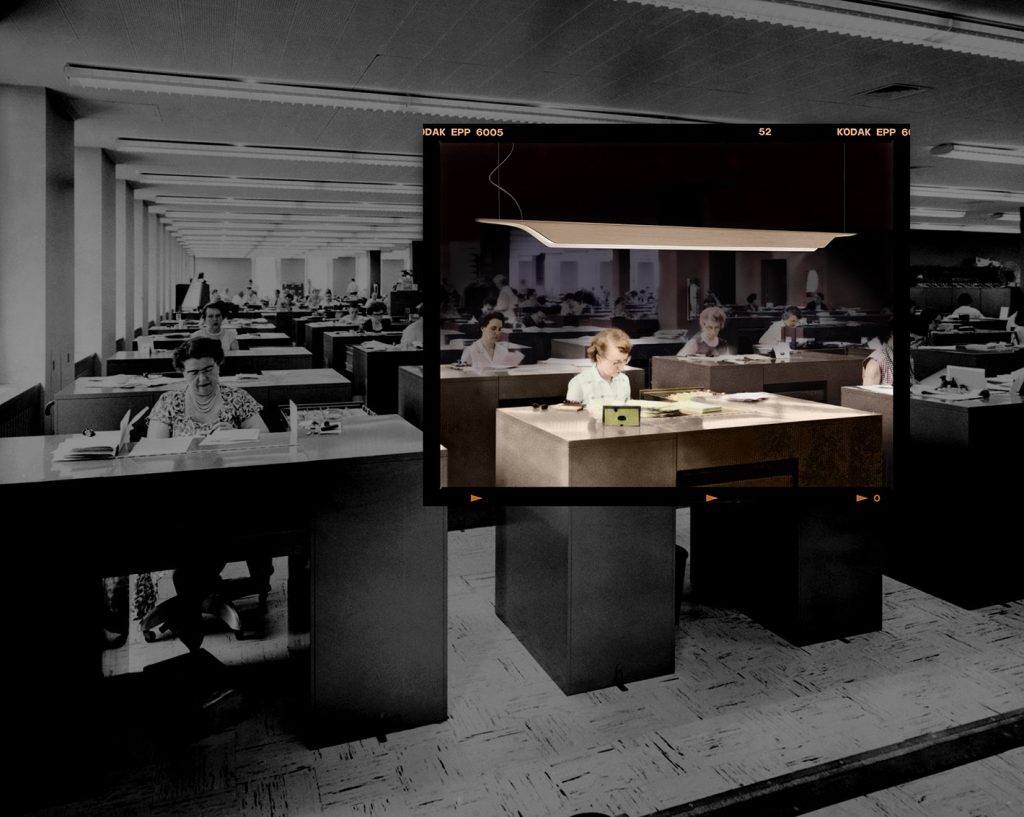 Suspension lamp TROAG technical information
Material: hot bent wood plywood, PMMA.
Light source: LED - Dimmable
Dimensions:
Grande: L. 215 cm - P. 8 cm - H. 8,5 cm
Media: L. 185 cm - P. 8 cm - H. 8,5 cm
Small: L. 125 cm - P. 8 cm - H. 8,5 cm
THU the link to the manufacturer's website.