JOINT, the new idea of ​​outdoor Riccardo Giovannetti for FAST it has been modified: ‭2015-04-13 di
The draft Joint idea is to create a new system of upholstered from a limited number of construction elements which, variously combined together, allow to obtain a great freedom of composition.
The name Joint refers to a key element of the whole project: in fact, the corner joint allows to connect not only the extrusion profiles that make up the sides of the base with the leg but it also becomes the terminal on which are grafted the elements which support the armrests and backrests.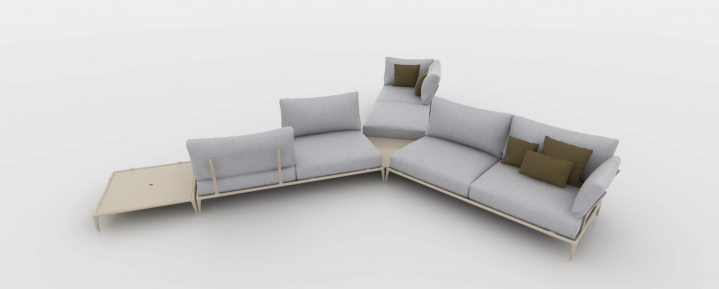 Through this particular constructive solution, the sofa is developed as a sort of free platform that can be composed and reassembled several times by simply changing the position of the backrests and armrests: from a more conventional configuration can pass, with the same constructive elements and simple operations , a series of compositions more structured and flexible.
Joint also offers an innovative way of thinking about the relationship between the aluminum frame and padded parts: the backrests and armrests are in fact designed to integrate into the cushion in polyurethane foam an aluminum profile that connects to the external media made die.
Joint is also developed through a wide range of accessories such as raised floors, tables and bridge elements that let you configure a landscape full of items to decorate indoor and outdoor spaces.
The genesis of the project was born from the joint between the know-how of Fast in the world of aluminum with the experience of Pelma in the production of an innovative flexible polyurethane foam which allows to resist rain and moisture.