Idea Group / Shower stalls SLIM by DISENIA, a style that aims to essentials it has been modified: 2012-07-20 di
The solutions suite shower SLIM by DISENIA, combine practicality and functionality in lines of strong aesthetic impact and ease of installation. A combination of quality that develops a range completely new and revolutionary. The SLIM series offers shower enclosures with pivoting glass thickness 6mm not framed, with well 30mm adjustment for and possibility to be positioned, thanks to micro-profiles, on the outer edges of the floor-level shower trays.
The glass door slides between the hinges, leaving profiles a regular appearance, reduced to a minimum. The total freedom of the elements creates a piece of furniture unique and strong aesthetic impact. The glass leaves the closed profiles and acquires a unique aesthetic lightness.
On all glasses available in ranges shower Disenia, you can request a strip silkscreened semi transparent; two solutions are available, whole or divided into three groups of equal size.
The chrome handle is distinguished by its square lines and elongated, designed for maximum ergonomics. The profiles of minimal Slim, aluminum extrabrill, attract the viewer's eye, sparking the curiosity to a series contemporary, yet suitable for any bathroom essential.
The result is a modern shower, versatile, essential lines at an affordable price.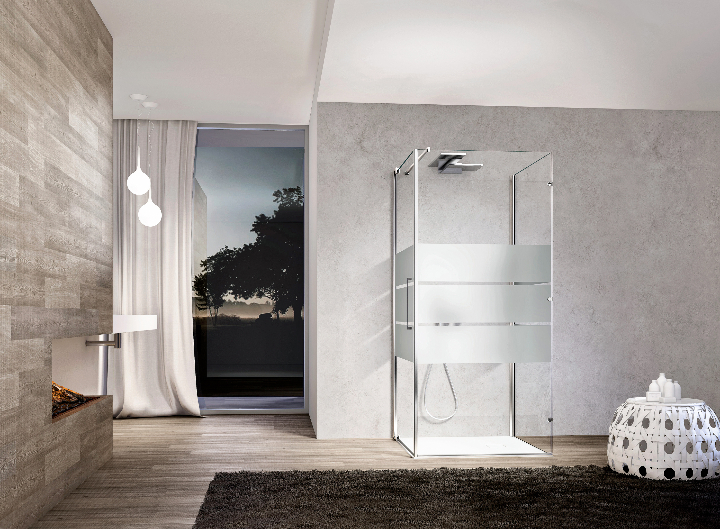 Slim: forms, solutions, and dimensions
Slim is available in four solutions designed to meet all the needs of space: niche, two-sided box, three-sided box and sopravasca.
The solution to the niche is available in sizes: Slim Fixed modular online extrabrill / transparent 160cm length, depth and openness of 80cm 60cm, Slim door knocker extrabrill / transparent 160cm length, depth and 80cm 126cm opening, or , Slim pivot door to extrabrill / transparent 90cm length, depth and 90cm 70 opening.
The box on both sides is available in modular version brings online extrabrill / transparent 160cm length, depth and 80cm opening 50cm, Slim Fixed modular corner extrabrill / transparent with 90cm side and 69cm opening, or, Slim double door Modular angle, size 90cm side and total opening 97cm.
Slim box three sides is available in fixed modular double extrabrill / transparent 90cm side and 69cm opening.
The sopravasca swing extrabrill / transparent has dimensions 80 83-cm side.
The shower enclosures shower trays Slim adopt Join flush floor Tecnogel white or recessed shower trays and shower in Aquatek platform.
References
Link to the new site Disenia: http://www.disenia.it e http://www.disenia.it/box-cabine-doccia/modello-join
Facebook: http://www.facebook.com/ideagroup
Twitter: https://twitter.com/_IDEAGROUP_