Ego Chair: exploring the ego through the design of Karim Rashid it has been modified: 2023-05-22 di
Ego chair, the armchair that creates a bold link between art, design and the human mind, with the profile of the human face wisely incorporated into its design. Karim Rashid, one of the most renowned designers, has received numerous awards and accolades for his innovative creations. The Ego collection represents the essence of his signature style.
The Ego chair is a powerful addition to your space, creating a bold and seamless connection between art, design and the human mind. Available in Hot Pink, Pearl White or Black, the Ego armchair cleverly features the outline of the human face around its backrest.
Karim Rashid is one of the most prolific designers of his generation. Over 4000 designs in production, more than 400 awards and his presence in over 35 countries attest to Karim's design legend. His award-winning designs include democratic objects such as the famous Garbo wastebasket and the Oh! for Umbra, as well as interiors such as the Morimoto restaurant in Philadelphia and the Nhow hotel in Berlin. Karim has created notable designs for clients such as Method and Pepsi, furniture for Artemide and Vondom, brand identities for Citibank and Hyundai, high-tech products for LaCie and Samsung, and luxury goods for Veuve Clicquot.
The Ego collection is a fantastic fusion of art and design. Art reflects life. Art is selfish, design is democratic, and what's more selfish than ego? The face simultaneously appears generic, and has been used in art for thousands of years.
Exquisite works in the Ego collection include: an impressive and striking black cabinet with gold brass inlays, a sumptuous human face shaped armchair available in Hot Pink, Pearl White and Black, and a breathtaking Pearl White color screen.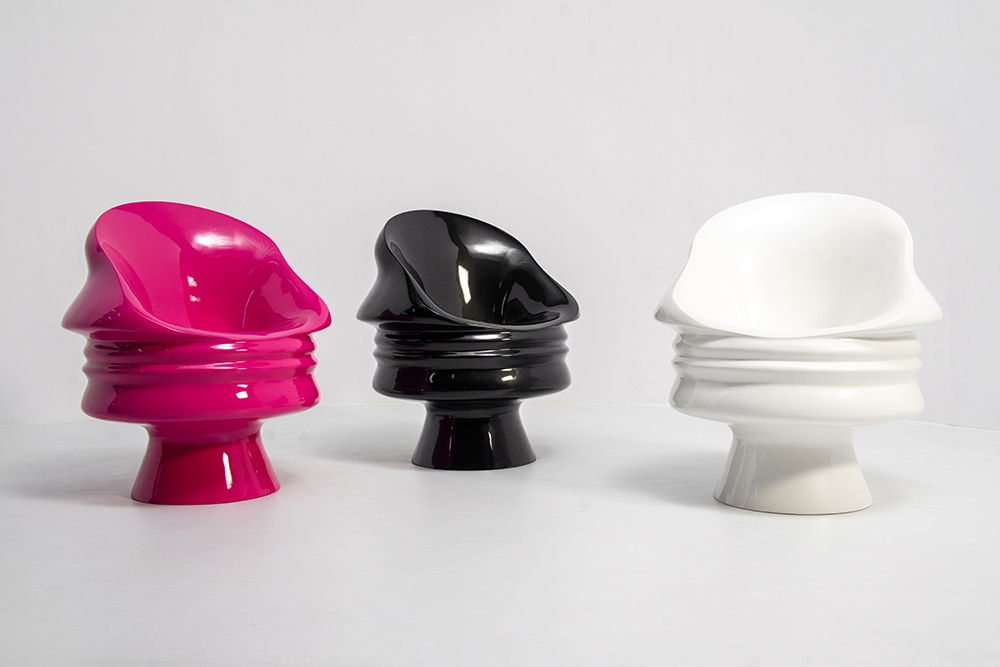 Numerous awards and recognitions attest to Karim's contribution to the world of design. He is a recipient of the American Prize for Design Lifetime Achievement, as well as a recurring winner of the Red Dot Award, Interior Design Best of Year Award, iF Award, Chicago Athenaeum Good Design Award, IDA Design Award, Dieline Award, Spark Award, Pentawards Award and IDSA Industrial Design Excellence Award. He holds honorary doctorates from Carlton University, Pratt Institute, OCAD Toronto, the British Institute of Interior Design and Corcoran College of Art & Design.
project info
Company/Firm: Karim Rashid Inc.
Designer: Karim rashid
Photo Credit: Courtesy of Scarlet Splendor
Location: Overseas hubs
Project date: November 11st
Client: Scarlet Splendor