Duka, shower enclosures, Cersaie 2012 it has been modified: 2012-07-16 di
The shower was definitely a role Prince in the bathroom, both for its size and for its function: it is the place that receives the most intimate moments of your relaxation and at the same time has to adapt to the style and the space in which is inserted, integrating in harmony with the other elements that surround it. Duka, a leading Italian manufacturer of shower enclosures, using high-quality materials and works to offer to the growing demand of the market, products of great versatility and linearity to meet the exact needs.
Every element of the production is in fact thought to become what each customer needs: thanks to the wide choice of different solutions and the possibilities of creating customized items, all can create the shower room that best suits, for measures and style to your home.
Duka shower enclosures have a very clean design and the net volumes that immediately transmit all the sharpness and cleaning, which are needed to distinguish the bathroom environment. Items of daily use that become real pieces of furniture, refined, modern, pleasantly scenic but especially unique because the needs are unique, the houses and tastes.
water and water R 5000 5000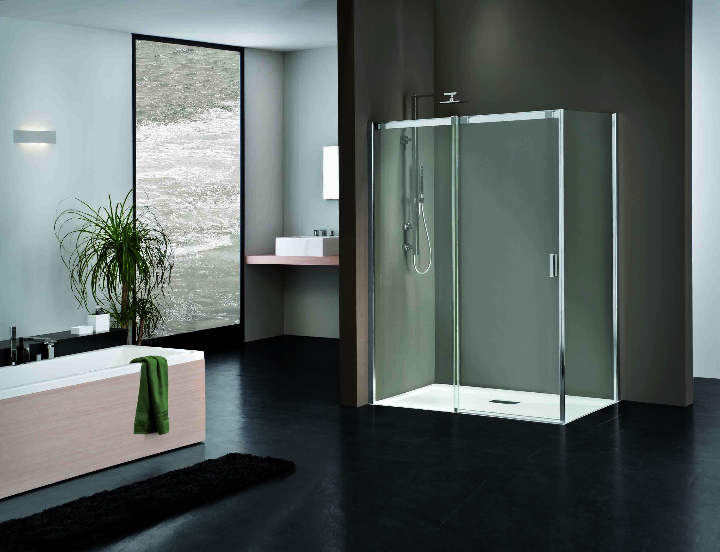 These door models scorrevolisono been designed to offer high-quality products that combine an accurate aesthetic and technological innovation, R 5000 water is a walk-in shower design that is within the segment Quadra position "top class" that collects cabins with frame . 5000 water, however, is part of the series which brings together Aura models without profiles.
The company offers these models with standard height of 2000mm finish handles and profiles in chrome and polished aluminum with glass "securit" thick 8mm in transparent (with white silkscreen on the edge of the glass) or gray parsol (with screen printing anthracite on the upper edge of the glass). water R 5000 instead is also available without silk screen on the top edge.
Also presented are BRAND NEW THREE GLASSES for both collections: transparent glass with silkscreen charcoal on the top edge of the glass, clear glass with screen printing satin center and on the top edge of the glass-glazed glass. In addition, water R 5000 is also available with a new glass screen printing central satin.
Water and water R 5000 5000 sliding shower enclosures are intended for spacious surroundings that can be combined with fixed side elements and custom tailored.
Below we summarize the technical details:
screws and connection systems made invisible by the particular bonding technique adopted by the company;
slide rail screwed to the wall and sliding carriages fixed to the panels through a UV bonding. The surfaces appear so smooth facilitating cleaning. These components are easy to install, you can just hook the door panel to the sliding carriages;
height of the sliding carriages adjustable, with rollers that run on ball bearings that are not visible from the outside;
door panel that can be unlocked in the lower part of the cabin and raised to facilitate cleaning;
new profile anti-drip inserted in aluminum supports for a better seal which are then glued to the glass;
seal of the vertical profiles made with a special type of PVC that, in addition to possessing an excellent transparency, preserves its characteristics over time;
ceiling mount modern design and adaptable to any environment that provides the necessary stability to the angle models large.
Gamma availability: sliding door 2 elements for niche or for combination with a lateral corner enclosure, sliding door 4 elements for niche or combination with side section, tailored solutions, etc ...
dukessa-S 3000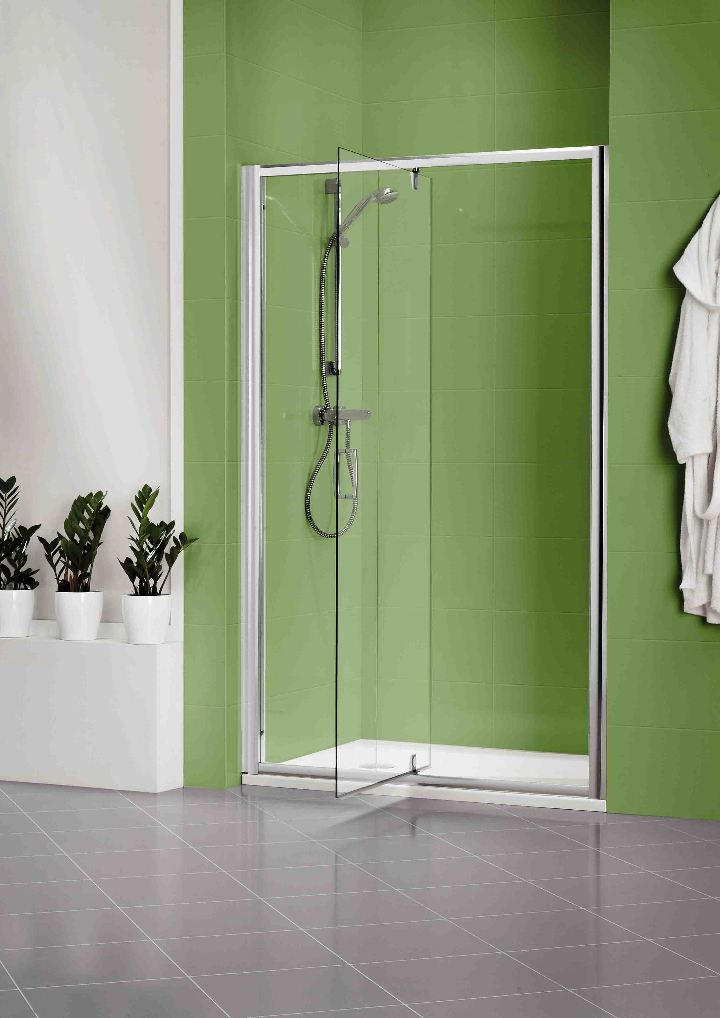 To duka is a production in constant flux, which is renewed and perfected over time. Examples of this are the cabins shower dukessa 3000 new introduced last year (in versions 3mm and 6 mm) and whose solutions with thick glass 6 mm have had a great response on the market.
From the success of these solutions from 6 mm, duka relaunched collezioneregalandole a new identity: dukessa-S 3000. The company has felt the esigenzadi exploit this shower that got a lot of success on the market.
dukessa 3000-S is available in two versions: with hinged doors and sliding doors, both marked by the use of profiles minimized able to lighten the cabin design with elegance.
dukessa 3000-S with sliding doors is equipped with a new technique that allows the doors, put on wheels concave traveling on ball bearings, to run on rails. Furthermore, to ensure a quick and easy cleaning, the cabin has door can be easily removed without the aid of tools. In the version with swing door swivel dukessa-S 3000 shows hinges screwed flush-glass and a mechanism for the up / down adjustable.
That offered by dukessa 3000-S is really a comfort to 360 °: easy to install, quick to clean and get the most in the daily ritual of the shower.
Technical details:
STANDARD HEIGHT: 1900 mm (on request will also be possible to create different heights to suit any requirement).
GLASS: available in glass securit with 6 mm thick. Types of glass: transparent, frosted glass, printing chinchillas, transparent satin with silk screen.
COLOR PROFILES: matte silver, shiny silver and white
VERSIONS AVAILABLE: door for niche, corner entry, in the fourth round, with a door and side panel with slide opening system. In addition there are solutions with hinged doors revolving in versions for niche and with side element.
ADJUSTMENT: New integrated control technology for fast and easy assembly.
libero 5000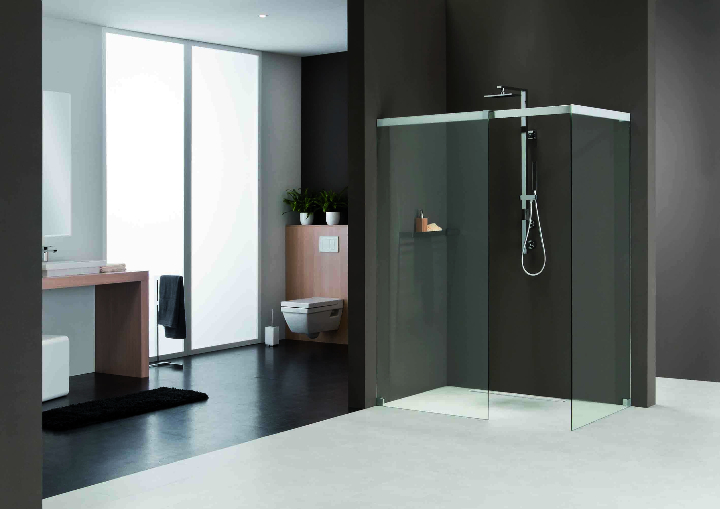 In the vast production duka relaxation is called free 5000. The large crystal surfaces and the modular concept of the product, which offers endless combination possibilities and furniture, are the most appreciated features of this shower that today, with the addition of new versions, offers greater the ability to customize your environment Shower.
With a standard height of 2000 mm and various widths, the new versions of free 5000 create a shower space "open" can give maximum comfort facilitating the entrance. The structure includes fixed wings in various possible measures fixed to the supports with special bonding technique UV; this technique allows to avoid, during assembly, the use of screws and thus ensure smooth surfaces facilitating cleaning.
Among the new free 5000 is also enriched with new glasses in the new versions.
Technical details of the new versions added:
STANDARD HEIGHT: 2000 mm (on request will also be possible to create different heights to suit any requirement).
GLASS: Transparent with white silkscreen on the top edge, transparent and parsol anthracite gray with screen printing on the top edge, with transparent screen printing satin center and edge, satin.
Technique: Use of special bonding technique UV to fix the glass panels to the support
VERSIONS: Island recessed shower, side element in its own right, separate shower island.