Blom by Andreas Engesvik for Fontana Arte - Euroluce 2013 it has been modified: 2013-05-05 di
Blom Fontana Arte is a table lamp small drawn by Andreas Engesvik, Norwegian designer, established on the international scene for his ability to transfer emotions, suggestions, ideas into everyday objects. With a minimal footprint, Blom Fontana Arte, is 24 cm high with a diameter of 15 cm, Blom Fontana Arte is a light and fun luminaire designed to interact with people, which can be handled, moved and adapted to the needs of the user.
Thanks to the two petals, Blom Fontana Arte responds to the needs of those who live in the house: the blades rotate around the diffuser, allowing you to manually adjust the intensity of the lighting. The compact fluorescent bulb guarantees good luminous efficiency with low energy consumption. The metal base ensures stability to the lamp; when the lamp is on, the polycarbonate petals maintain a temperature that allows interaction without the risk of burns.
A personal light, to open or screen according to the time. A colorful gift, suitable for every room, imagined by those who want to give a precious flower.
The name, the contraction of the term blomst, flower in Norwegian, derives from the shape of the lamp which, equipped with petals similar to petals, resembles a flower. Blom Fontana Arte is an object that is perfectly suited to contemporary living, which is at ease both on a living room table as well as on a bedside table, and is available in four colors (ruby red, silk gray, pale green and yellow)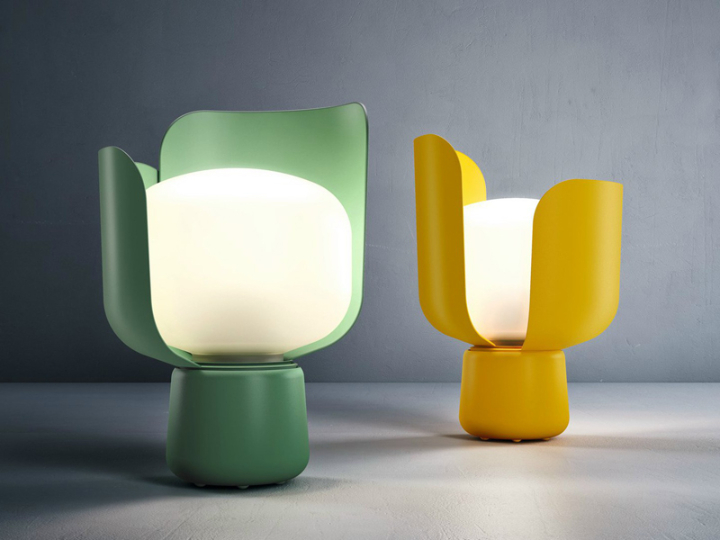 Learn more about this article, click here.