Bang & Olufsen / Beolab 14, the new surround sound speakers that combine design and acoustic innovation it has been modified: 2013-05-22 di
The surround speaker system BeoLab 14 di Bang & Olufsen proves that it is possible to have the best of audio and aesthetics in one product. With its refined design, countless placement options and top-notch acoustics, it has never been easier to enjoy home cinema in all its acoustic splendor, without compromising on decor.
Small in size but with great sound, BeoLab 14 adds to the continuing results that Bang & Olufsen audio engineers manage to achieve with small devices. The satellite speakers are small sized anodized aluminum circles with interchangeable fabric covers in a wide range of colors that can be easily integrated into even the most rigorous furnishings. The sculptural subwoofer contains separate amplifiers for all speakers system and delivers powerful bass from a very thin base. With multiple placement options including wall or ceiling mounting, as well as floor and shelf stands, BeoLab 14 integrates visually in the same way it stands out for its acoustics.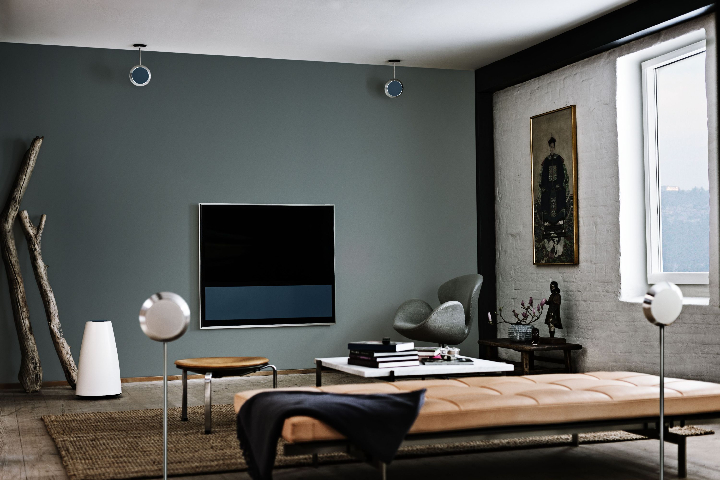 According to Tue Mantoni, CEO of Bang & Olufsen, BeoLab 14 was designed for those who want to add quality surround sound to home viewing experiences, but are still demanding when it comes to interior design. "The launch of an all-in-one surround speaker system is an important new phase for Bang & Olufsen"Said "And it adds to our basic approach that audio is central to everything we do. We can now bring authentic Bang & Olufsen audio to anyone who wants the benefits of surround without having to hide the subwoofer. "
BeoLab 14 it can be connected to all Bang & Olufsen TVs, but it is also compatible with any TV or AV receiver bringing a new level of audio performance. "Offering easy integration to those who do not own a Bang & Olufsen television but still want to have a high-end Bang & Olufsen audio experience was the team's goal."He added Tue Mantoni.
The new compact speakers have undergone the same stringent development process as all other Bang & Olufsen products. "BeoLab 14 is the result of a lot of work in our "Listening Room" with our group of experts "said Jens Rahbek, senior audio engineer in the R&D department. "Even with the best components, audio is a subjective experience. We tune our speakers with a process that includes hours of listening - by multiple people in different environments at different levels of development to achieve audio that is as identical as possible to what the artist originally intended ".
The new plant of surround sound speakers BeoLab 14 is available at retail Bang & Olufsen worldwide as of May 15 2013 2.995 from Euro.