Preview Salone del Mobile Milan 2011: AKSU · SUARDI for Colé Ottoman Sofa + Ottoman Box it has been modified: 2011-04-05 di
"Ottoman sofa arises from the desire to have a comfortable seat and informal, to be used across the board. It is a place where you sit, sometimes without shoes and with legs crossed; or you lie down, eat, work, sleep, chat ... ".
These are the words with which Sezgin Aksu and Silvia Suardi explain their project Colé, Clearly inspired by the Ottoman culture. The sofa, characterized by a strong structure in solid ash finish in white or natural stained ash and natural oak, is a kind of floating island. "Great bed in the living room that looks soft as a bed, but still more comfortable because it has back and arms." The padding, made up of large and fluffy pillows, is embellished with a fine selection of fabrics (including wool, velvet, mohair, technical fibers) from the rich palette Kvadrat. Built and customized on request, can have 3 size: L. P. 220 85; L. P. 220 150; L. P. 270 85.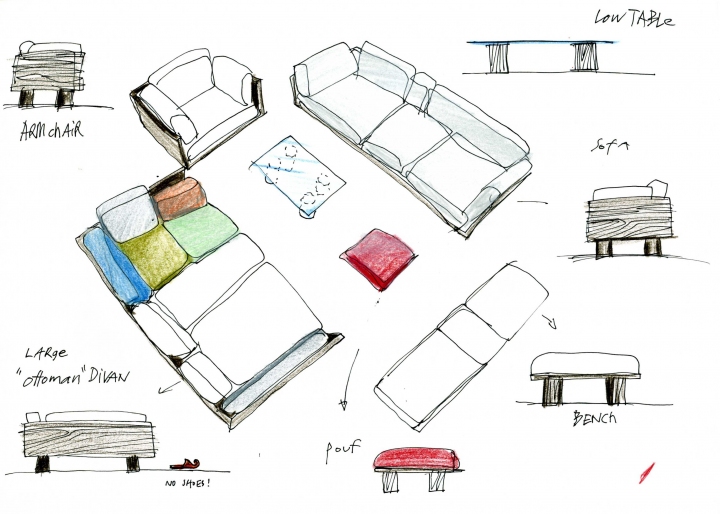 Ottoman box is a container "for precious things" characterized by the sharp contrast between the silent opacity of the external structure and brightness vibrant interior. Living room furniture but also "secret box for all that is dear to us, we love and we want to be treated with care, surprisingly, with the magic of a hidden world and colorful to store objects of the heart." Expected in ash white or natural and natural oak, is available in two sizes: L.180 P. 45, 4 with doors, and L.220 P. 45, 4 with doors and a removable center. The cylindrical feet in solid ash, represent key minimal details of tree trunks that have given rise to the piece.