ANTAREI / KITCHENS RED DETAILS AND FROZEN WHITE, starring the Corian it has been modified: 2012-11-14 di
Those who love Corian® cannot remain indifferent to the Red Details kitchen (design Loredana Dorigutto), a new proposal by Antarei where this extraordinary material becomes the protagonist.
To distinguish Red Details small dimensions but also a technological and modern aspect, perfect to integrate into a contemporary living area.
The starting point to understand the uniqueness of Red Details are precisely the materials. The Corian® solid surface a solid, non-porous, homogeneous, chose to create both base and wall units (in Glacier White finish) that for the plan work. Easy to clean, durable and renewable, this material - invented and manufactured by DuPont - is resistant to sunlight and its color is stable with the passage of time. To break the continuity of some white doors, both in the bases and in the wall units, are presented in dark oak, fine finish that is biologically Antarei.
A side of the hood, integrated in a wall cabinet above the sink in Corian, develops a cluster of practical modules / containers presented in white and red (the "red detail", in fact, which gives its name to the kitchen).
Another model, Frozen White, is also very similar, where the touch of color - beyond the white of the Corian and the dark oak of some base and wall units - is given by the cyan used for the storage modules.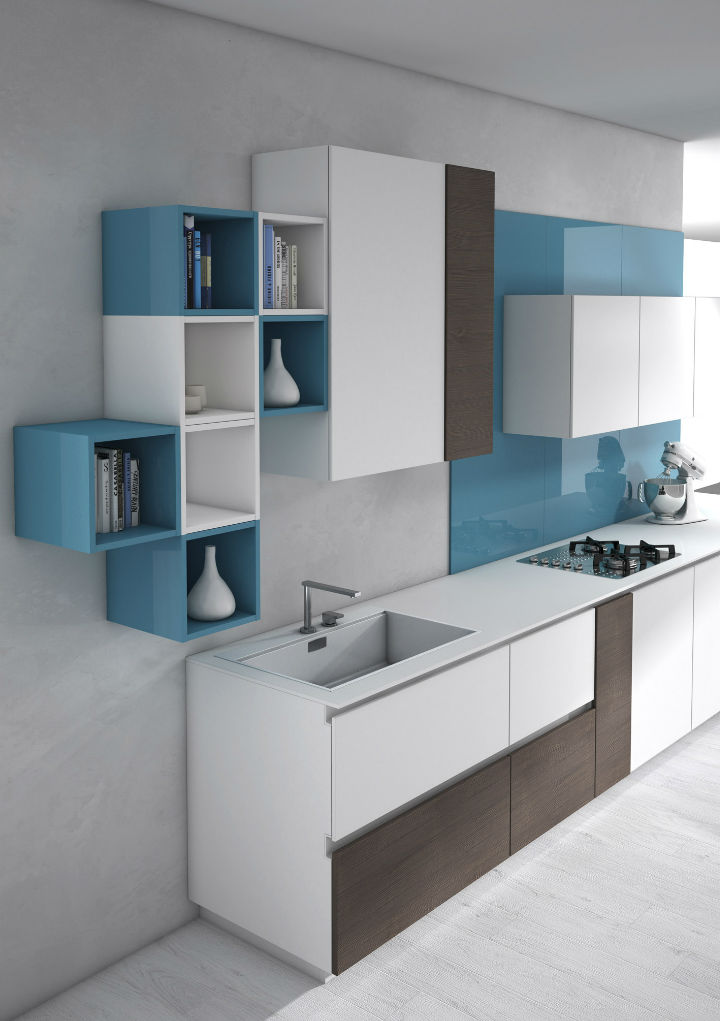 As in the other kitchens of the Antarei collection, great importance is given to ergonomics and the use of space with the aim of facilitating the user in carrying out his work in the kitchen.
The height of lavoroviene such customized according to the stature of the customer (from a minimum of 83 cm to a maximum of 103 cm) while the plans work Antarei are deeper than traditional 5 cm (cm against 65 60 cm ) increasing dell'8% of the available space.
Then choosing the basic modules "H" created by Antarei, which measure 84 cm high and 62 inches deep, you can increase the capacity up to 30% compared to traditional basic modules.
For more information: www.antarei.com