The chair Chaise Longue of Le Corbusier: the real machine to rest it has been modified: 2019-08-25 di
La Chaise Longue arises in the study of Le Corbusier during the early 20s, from the collaboration of Le Corbusier and Pierre Janneret with Charlotte Perriand,
It was during this period that the three approached the theme of furniture in an innovative way, obtaining pieces of furniture with an immortal and timeless charm.
The Chaise Longue was presented in Paris in 1929 at the "Salon d'Automne des Artistes Décorateurs" and used for the first time in the Villa Church in Ville-d'Avray, Le Corbusier called it "the real machine to rest".
Beautiful, comfortable and functional, but not only, also the representation of time free from work, perfect car for the rematch of their individual freedom and a symbol of the free time in which to read, relax and dream.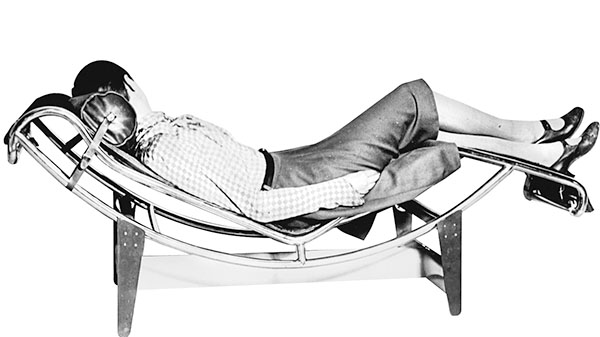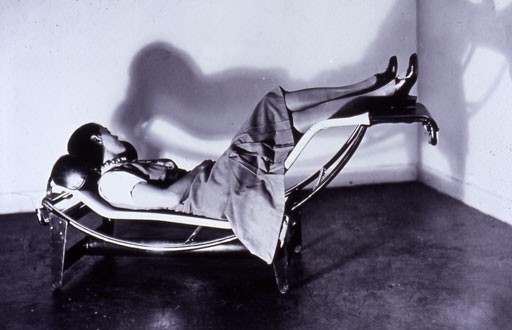 In fact, for the first time in that period, the inside of a 'home is designed as a system of maximum efficiency where the furniture is functional service equipment high performance, that is all that before then was considered unaesthetic: the functional.
The chair is an icon of the times we live in:
Le Corbusier furniture door to a standardized level, but always keeping value and quality, such as replacing the wood with steel, more interested in finding the consent of the general public of the mass culture that a small elite.
Has confidence in the industry with the progress of time, produces objects of functionality and perfect utility, whose authentic luxury, ie the enjoyment of the spirit, exudes elegance of design, ease of implementation and effectiveness of the services. Le Corbusier sees in the way of the industry, in its logic and in its technique, the model of the modern design.
Here is also the chair as a symbol and reflection of its ideology:
the modern decorative art does not involve any type of decoration;
the standard;
the movable and the tool considered as artificial limbs;
use of technical achievements.
TECHNICAL DESCRIPTION
La Chaise Longue of Le Corbusier has an inclination variable with a structure in chromed steel tube. The base is made of sheet metal and tubular steel lacquered with matt black paint. The mat with foam pad is covered in leather. The headrest is in polyurethane foam with ivestimento leather.
Leather with fur (black leather headrest)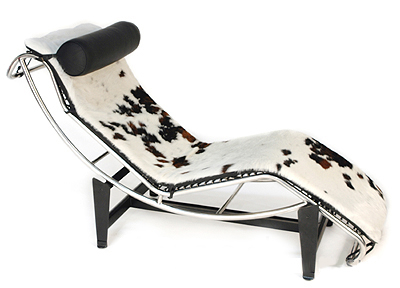 Leather (black leather headrest or the same color of the mat)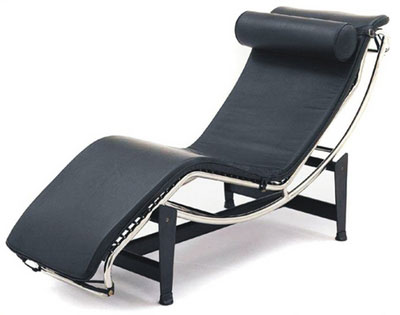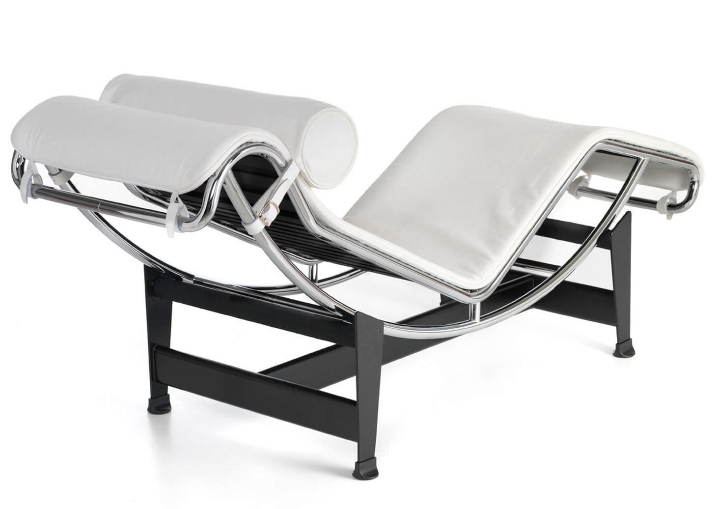 The tilting movement of the chaise longue is not regulated by any mechanism, but is stabilized by the body weight and the chosen location of the user.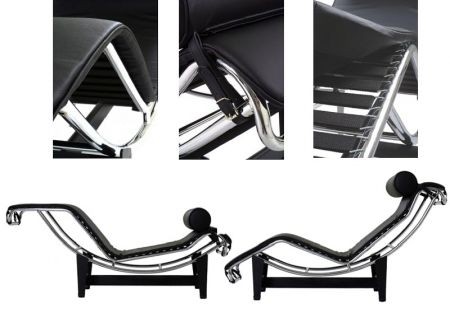 Dimensions: l. 166 x p. 50 x h. 67 | 80 cm