The taste of craftsmanship of Italian ceramics in the new FAP collections it has been modified: 2022-06-03 di
Colors silent, micro architectures 3d, recovery of ancient traditions and craftsmanship praise. And 'this the filrouge that runs the new collections Fap Ceramiche, Premiered at Cersaie2014.
Earth, Crete, Boston, Florence are 4 new lines that are inspired by the charm of Tuscan farmhouses, old decorated floors, plaster worn by time, but also in a more metropolitan and minimalist, with clear notes vintage outlining a character unmistakable.
The result of experimentation and high ceramic design, the new collections feature nuance flame effects that reproduce the effect "experienced" old decorated floors, modern facilities in 3D and a wide range of mosaics and decorations to insert.
Terra, is the collection of rectified porcelain stoneware floors inspired by raw, simple and natural materials. 6 shades - coffee, terracotta, siena, anthracite, mortar and ivory - in which refined retro references of ancient Tuscan farmhouses blend with more contemporary references. The range offers different sizes: 30 × 60, 60 × 60 and 75 × 75 cm, all in the Matt or Silk finish, which gives soft touch sensations, enriched by in-line decorations with a strong "lived" look.
In instead relives all the charm of the Tuscan tradition: porcelain stoneware tiles available in 6 different shades - leather, gold, tobacco, white, gray, black - and a single hexagonal format that recalls the colors and graphics of the old decorated floors. And for a particularly retro touch there is the decoration inspired by ancient cement tiles with a graphic that is repeated with an optical effect.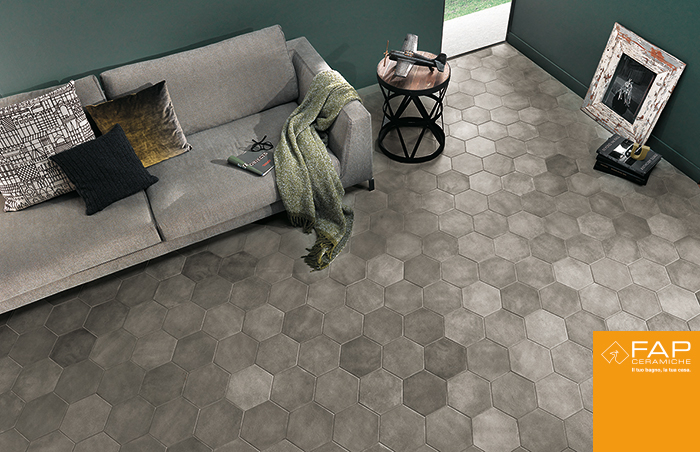 Collection Florence nuance Gray
Boston brings back to life the "urban style" of yesteryear: its metropolitan yet artisanal flavor is expressed well in the 6 shades - clay, cement, chalk, blackboard, oil and sand - and in the new 7,5 × 30 format , capable of giving rooms a lived-in effect with its Matt surface. The decorations are precious and original: the Metal mix insert with metallic streaks, the new Round mosaic with round tiles and the Classic Listello, with an elegant rounded shape.
Crete is a collection of warm, welcoming, essential white-body wall tiles. Matt satin surface and soft to the touch, in 5 exclusive shaded shades - mud, natural, nocturnal, ocher and pearl - reproduces the natural effects of the plasters of old Tuscan houses, which find their maximum expression in the Creta Decò and Maiolica decorations. The range is enriched by a sophisticated 3d Diamante structure, capable of dressing entire walls with its material design and the fascinating Acanto sculpture effect strip.
And not only the new proposals FAP also include the newest extension of three-dimensional structures of the line of coatings Lumina Hair Care: total white candor reinterpreted in 4 refined 3D textures that create plays of light on the walls: Line, Rose, Curve and Square, all proposed in the 25 × 75 cm size.
And finally Evoque, a collection already known on the Russian market and now also available in Italy: extra-glossy suggestions and extra-large formats for an enveloping and refined effect. The wall tiles, in white body, are offered in the large rectified size 30,5 × 91,5 cm while the always glossy floors, in porcelain stoneware, choose the 59 × 59 RT sizes and the new large 75 × 150 RT size, the first product in the new Fiorano Modenese plant dedicated to this production line.
5, intense and warm shades: beige, earth, gray, white and the original copper / rust. Wide availability of inserts, mosaics and structures 3d to give a touch more glamor to their own environments.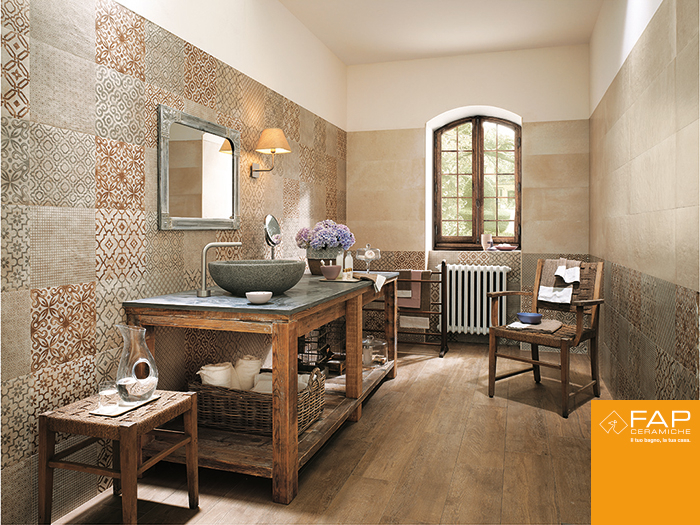 Collection Crete decoration Deco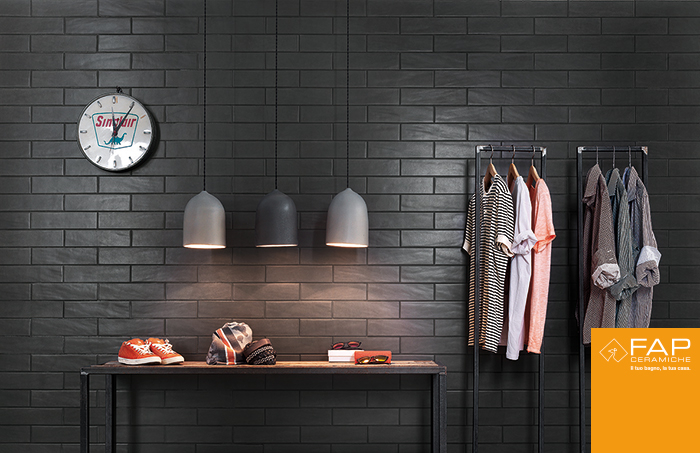 Collection Boston nuance Blackboard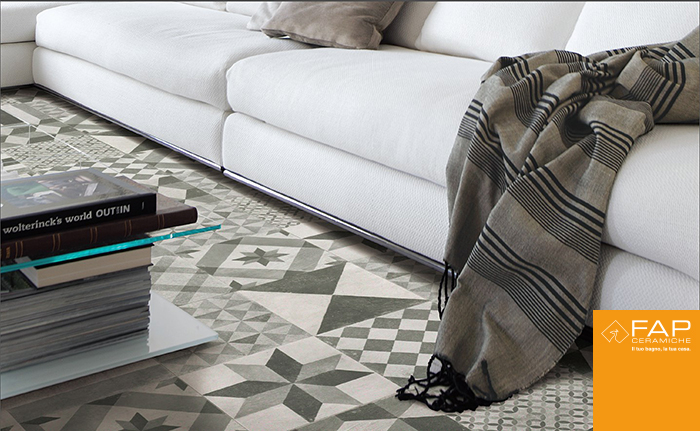 Terra collection, Deco Grey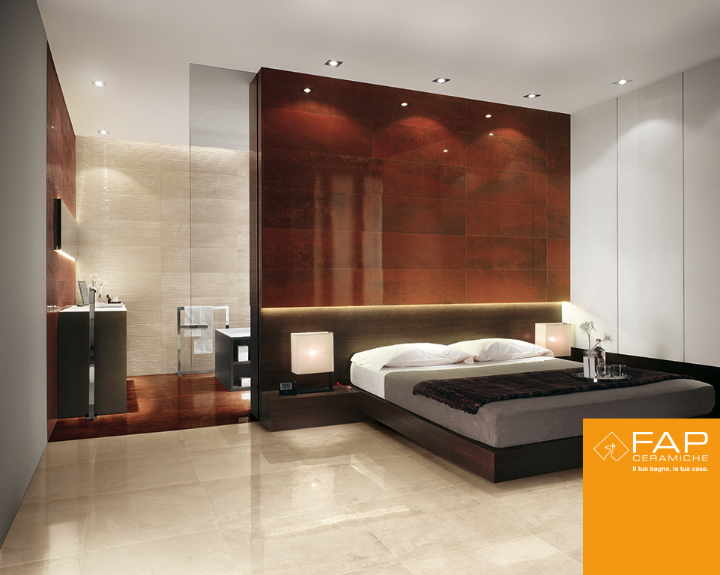 Collection Evoque, nuance Beige and Copper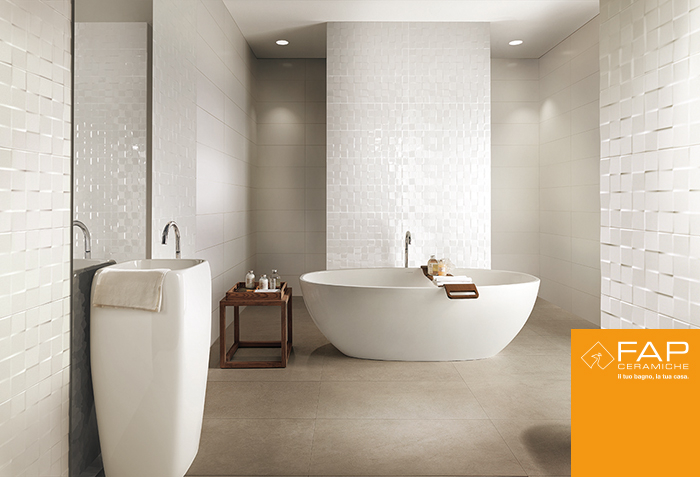 Collection Lumina insert Square