The collective Vagaluna signs the teaser of the Agenda Brasil 2018 festival, the theme is the fusion of two cultures
it has been modified:
2018-07-21
di
It is signed by the collective Vagaluna, the teaser of the seventh edition of the Brazilian cinema and culture festival Agenda Brasil, which will be held from 17 to 29 July, in different places in Milan. The event - which thanks to its intense and refined planning is confirmed as the most important on Brazil in Italy - is promoted by the Vagaluna Association, created in collaboration with the Italian Film Library Foundation and the Contemporary Art Pavilion (PAC) - Municipality of Milan, with the investment of the Fund of the Audiovisual Sector / Ancine and the contribution of the Consulate-General of Brazil in Milan, and under the patronage of the Brazilian Embassy in Rome.
"The presentation film of Agenda Brasil was born from the meeting of a group of Brazilian professionals who reside and work in Italy and transmit the impressions of people who left their country by choice and they are delighted to discover the new culture of adoption without abandoning their roots. We want to share with the Italians a characteristic of Brazil that is the ability to mix different cultural influences; Besides return the welcome with our look of enchantment for the beauties of Italy ", explains the director Joana Skiavini, who directed and realized the editing of the teaser.
In the video, actress Luci Macedo initially plays in Italian and ends up speaking in Portuguese to show the fusion between the two cultures. Moreover, the screenplay adapts a fragment of the poem "Itinerary" by Abgar Renault to allude to the theme of the journey.
On the occasion of Agenda Brasil, you can dive into the multiculturalism of the largest nation in South America through cinema, contemporary art, music, dance, literature, stories. The film festival will occupy the Cineteca - Spazio Oberdan with 16 subtitled feature films, of which 14 competes, from the 17 to the 22 in July. For film buffs, the offer is rich in films that represent the strength of the Brazilian cinemacontemporaneo, including fiction and documentaries that will be judged by film specialists and experts of the lusophone cultural world.
In the race, distinguished between these two sections, it will range from portraits of famous people to the story in which the Portuguese language is the protagonist, from drama to comedy, from thriller to road movie, through fantastic realism.
To learn more about the Agenda Barasil festival program follow this link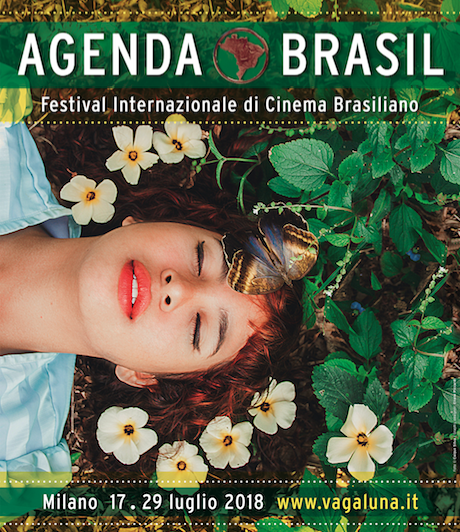 Credits:
Teaser: Agenda Brasil 2018
Creation: Collective Vagaluna
Executive production: Regina Nadaes Marques and Luci Macedo
Direction and editing: Joana Skiavini
Actress: Macedo lights
Art: Adriana Faria
Web Edition and Graphic Project: Eliane Cecilia Piccardi
Digital Marketing Consulting: Vanessa Lopes Alvares
Sound: Fabrizio Fini
Items registered with Navegante
Music: Rinaldo Donati - Vaporosa