Glamping, a new trend, a glamorous way of camping in luxurious glamping tents in wonderful places and dreamy atmospheres.
The company has produced a Hanging Tent tent suspended in the air dedicated to those who do not want traditional camping, but certainly glamp (glamorous camping).
Call Roomoon room, is a portable tent-shaped ball that hangs between the trees.
SDM Products Selection, a selection of design products able to improve the liveability of indoor and outdoor spaces, while at the same time expressing a mood.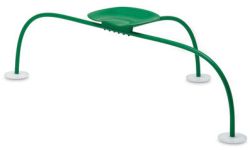 Mooring Stool, Achille Castiglioni for Zanotta
You adore the Volkswagen Camper, you have dreamed for years to drive it, to buy it, to travel with it ...
some of you may already have realized the dream, for those who do not have the possibility… here is the solution an original Volkswagen Camper Tent.