MADIA ADDITION, design by Egidio Panzera for Reflections
it has been modified:
2015-06-09
di
"Sometimes, in order to innovate, it must start from what is known, break, divide and reassemble in a different way, with new forms."
This is the intuition of the designer Egidio Panzera who designed for the new novel Reflections cupboard Addition.
Addition is the sum of "dissimilar" to 4 "episodes" formal: the wall of a room, a vertical plane, a treasure chest and a horizontal plane. Each episode overlaps the previous, keeping between them, a distance "reverent" and immediately occupied by light. The result is a composition mindful of the lesson neoplastic in which, however, each element is free to move horizontally, to translate to occupy spaces and proportions are always different.
Addition is a compendium of materials from areas other than the furniture, materials that tell "stories"; materials crafted by expert hands and combined with a cure to bring back to mind the minutia of haute couture for men. The cupboard Addition then performs an amazing look: brushed oak doors covered with moss-colored clay, copper cooked for the "seams" metal, wood mustard melange for the interior, moss-colored glass, marble "forest" for the vertical plane.
The marble "forest" comes from the fossilized forest of India and Brazil; once brushed thoroughly the roots, the hardest, are embossed, the surface is wrinkled, comes to life, it vibrates. But Addition is expected in other material combinations and, of course, to allow chromatic compositions really very personal.
The cupboard Addiction surprising for unusual materials and precious fruit of careful and meticulous research of its designer Egidio Panzera and passion for the craft hi-tech that has always welcomed and reflexes that made this project as its author has imagined . A challenge that saw designers and company work side to reach a result that speaks for itself!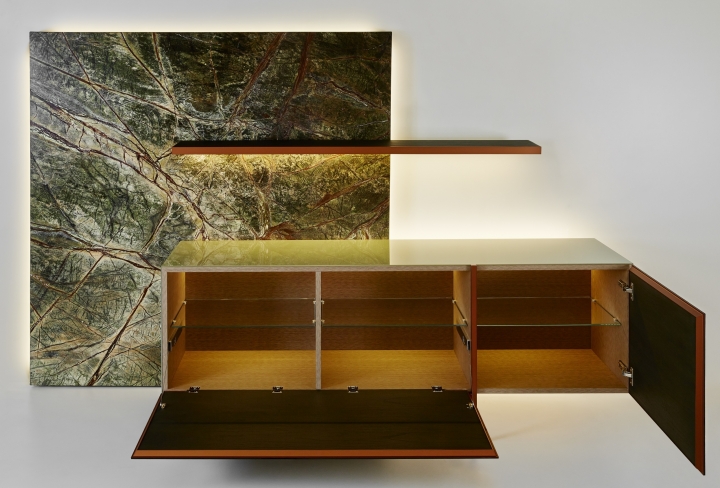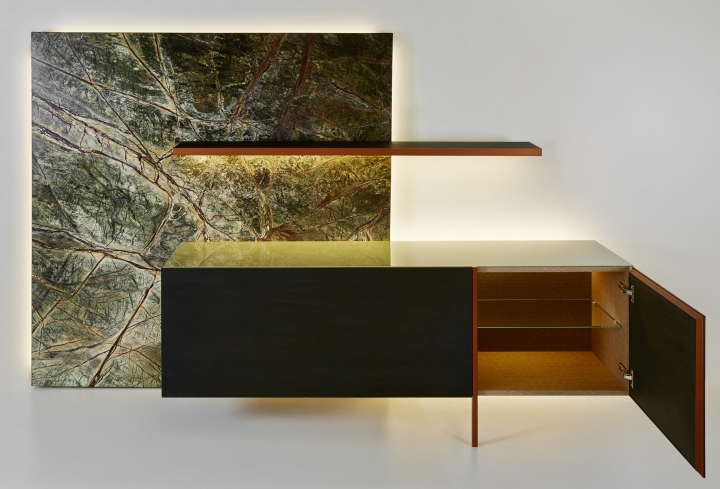 The cupboard Addition is a combination of three elements: the wall, shelf and cupboard. All elements are illuminated according to a concept of practicality and enhancement of materials: the panel has lighting all around, another light runs along the shelf and light downwards, the kneading trough, in addition to being illuminated inside, has a light source that illuminates the back wall.
dimensions:
Wall 160 L x H x D 160 8 cm
Shelf L 150 3.5 cm x D x H23
Madia 180 L x H x D 50 48 cm