Eastcoast presents the collection of bracelets inspired by nature and excellence Manufacturing it has been modified: 2015-03-12 di
EastcoastThe young Italian brand of ready-made bracelets, will debut in Milan during the Milan Design Week 2015.
The brand founded by two young designers Vincenzo Amendolagine and Emanuele Rivosecchi fact, has been selected to exhibit their creations within the area dedicated to the jewels of DIN - DESIGN, event organized by the 13 19 April 2015 in the heart of Lambrate, area that in recent years has acquired the status of container exhibition of innovative ideas and original.
At the event, Eastcoast present to the public the new collection of bracelets based on the use of laces and buttons made of natural materials, produced entirely in Italy and decontextualized from their primary function.
The new collection starring the wood, a material symbol of man's historical roots and ties to the land, declined in buttons in the shape of a cross and square. Simple forms, immediate, reporting immediately to the concreteness of the material. The buttons are combined with laces made of wool or natural fibers, closed terminals lilac color of the brand.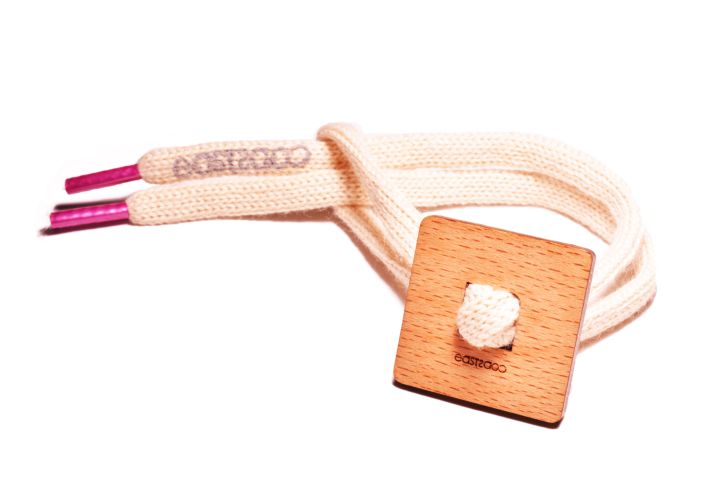 The new forms of buttons, go to implement the six forms previously included in the collection (round, flower, star, flower, heart, diamond and triangle).
Besides the models inspired by nature and eco-sustainability, Eastcoast present a series of bracelets designed for adventures dell'agognata summer 2015. A heart and a transparent circle, inside of which was skillfully inserted by hand a camouflage fabric double face, matched with a snare hyper colored but impermeable to deal with sand, water and accompany every moment of the holidays.