Clei, new products and new logo for the Salone del Mobile 2015
it has been modified:
2015-02-20
di
Not just new products for the Salone del Mobile, but also a new look.
CLEI (PAD 5, Stand F08) introduces himself in April with a new logo. Change the image, but not the quality of the products, transformable systems capable of multiplying the value of the space through the functional metamorphosis.
Living system design Pierluigi Colombo
Modular integrated with transformable systems patented furnishing space day and night. The versatility of convertible coordinated performance allows you to design solutions of high aesthetic and multifunctional styles vita.Tutti models are available in all the finishes and in the range Clei colors system.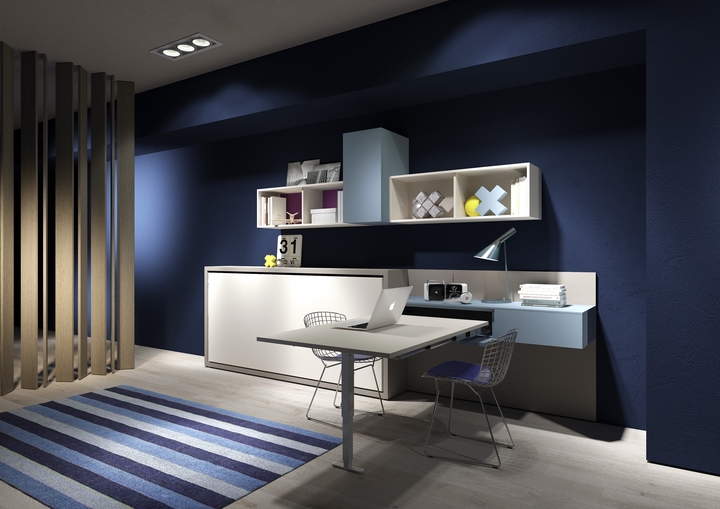 Clei Kali90 App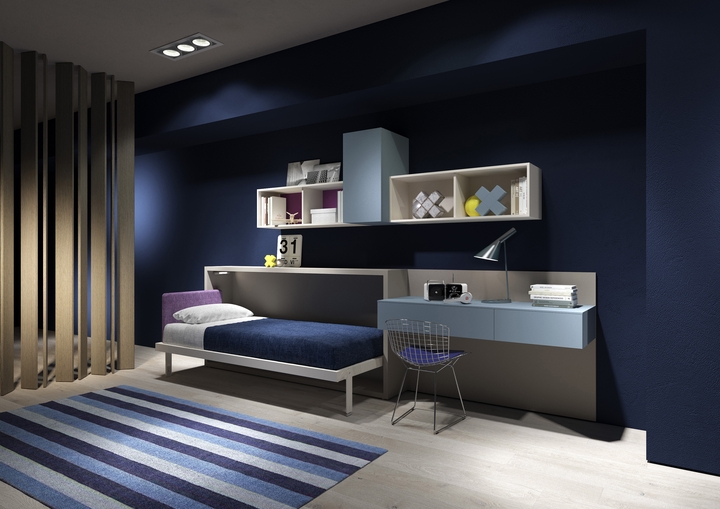 Clei Kali90 App
APP design r & s clei
The table APP inserted into a container unit applicable to part or paneling with one floor of cm.130 opening to extraction by means of telescopic rails.
The overall size cm. 144 (cm. 90 module App + cm. 54 drawer), H cm. 23 / 81,5, P cm. 49, full extension of the table cm. 130 from the edge of the container, which become cm. 179 from the wall.
HOME OFFICE design pierluigi colombo
Storage unit with hinged doors / closing pressure with workstation available in heights 2: 1478 and 2200 mm mm and integrated with programs and Young Living. In both versions, the central door with flap becomes a writing surface and the interior is equipped with shelf in aluminum sheet, grommets, LED lighting and top flap. The low version, 1478 mm, is complemented by a lower element for containment while the high version, 2200 mm, presents 2 container elements.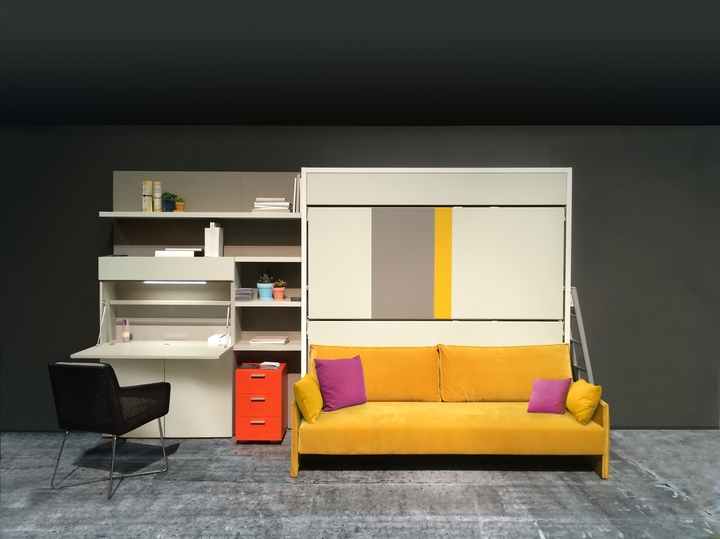 Clei KaliDuoSofa HomeOffice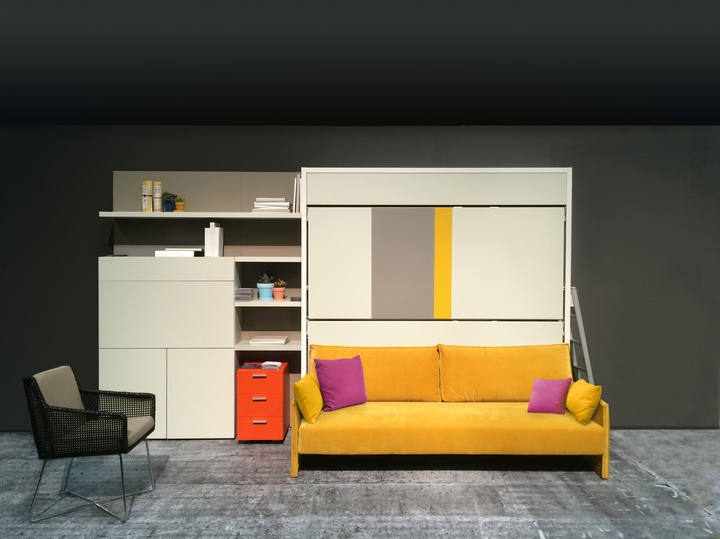 Clei KaliDuoSofa HomeOffice
KALI DUO SOFA design r & s clei
Transformable system with bunks horizontal retractable, folding opening, with slatted patented (CF09) and integrated with a writing desk with opening type, applicable to all horizontal models with single and intermediate.
The upper bed is equipped with security barrier made with specific molds for the entire perimeter exposed. The version Sofa adds to the system the function of sofa / relaxation, which disappears at the opening of the bed. This accessory makes the model Duo Sofa Kali standing.
KALI 90 design r & s clei
Transformable system with a single bed with horizontal opening folding made with slatted patented (CF09), integrated programs modular System and Young Living System.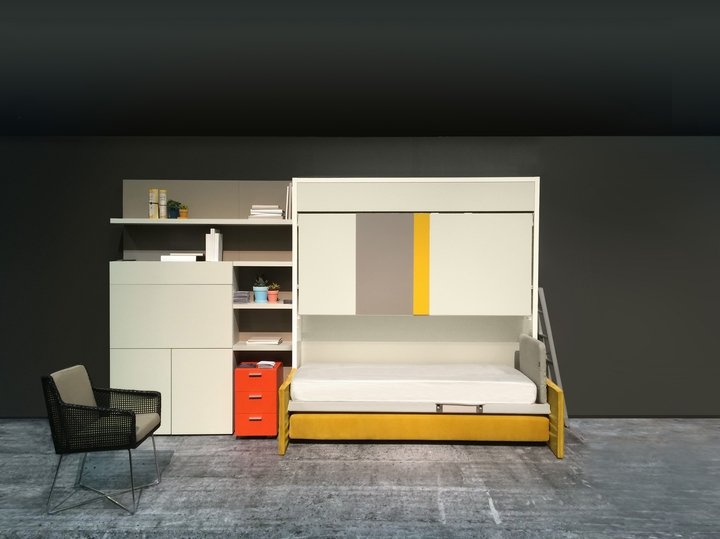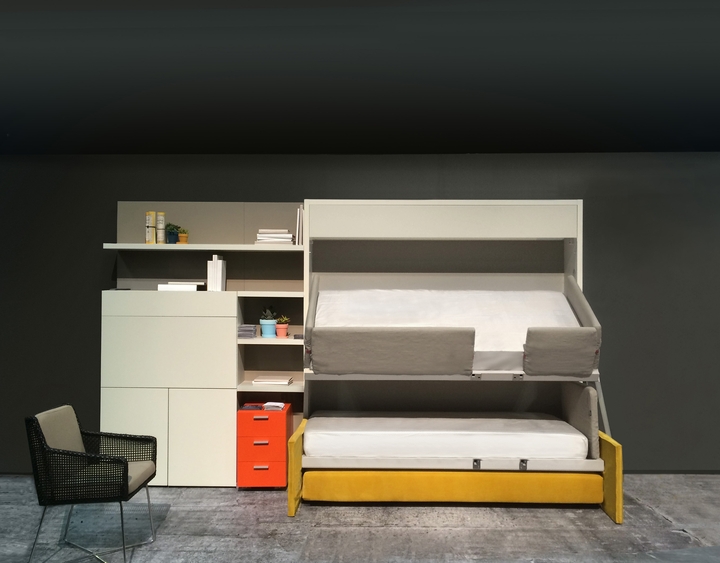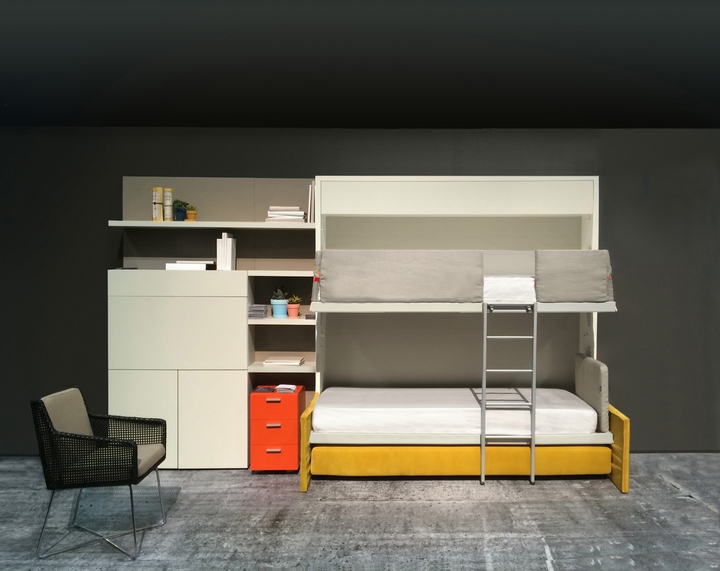 More information here