Experience nature at its purest, lodging in a micro-hotel> it has been modified: +2012 11-07-XNUMX> di
DROP-IN by TRY, is one of the three winning projects of the design competition organized by Urban Square + or-cults and Ricardo Bofill Taller de Arquitectura (curator). It is a new concept of micro-hotel that meets three principles: removable, organic, eco-friendly.
Microarchitecture DROP will soon be published in the new catalog of Urban Square, a company which sells new types of system-urban.
DROP eco-hotel is a new way to enjoy a holiday in style "travel and leisure", It is formed by a modular basic cell that is installed in the ground with minimal intervention. Formed mostly of modular steel, wood and polycarbonate, its main function is to respond in an environmentally compatible and aesthetically attractive to the emerging demand for 'light architecture', offering the opportunity to stay in natural settings such as forests and green spaces protected, beaches, mountains, etc., but without causing those indelible impact in the territory, typical of the traditional tourist facilities permanent.

Microarchitecture DROP is composed of modular elements that permit the construction of units of different sizes for different needs and types of users.
Its design and its morphology cross to 'drop' offer a versatile space and staff, giving you the ability to organize housing units more or less spacious, simply by adding at the end of the central cylinder rings modular continuous.
The structure can be installed without creating permanent foundations, in fact it is resting on the ground by means of adjustable feet and then remained elevated above the ground. The outer casing of the central cylindrical structure can be coated with different materials according to the better compatibility with the natural space. We predicted in this way a solution with laminae of wood and polycarbonate, integrated with photovoltaic cells in a movie for a minimum energy supply. A system for collecting rainwater outside instead provides non-potable water for bathroom use.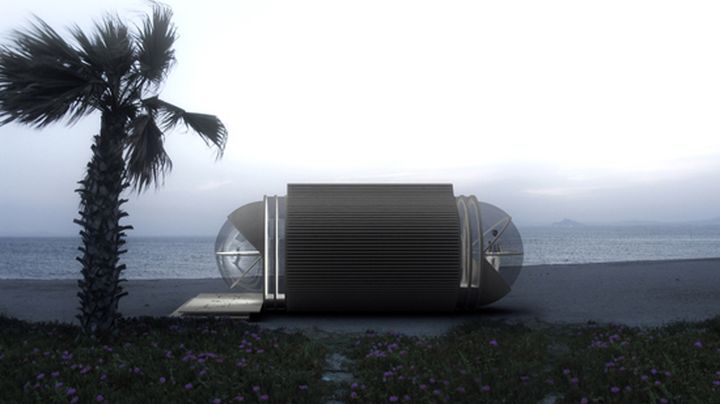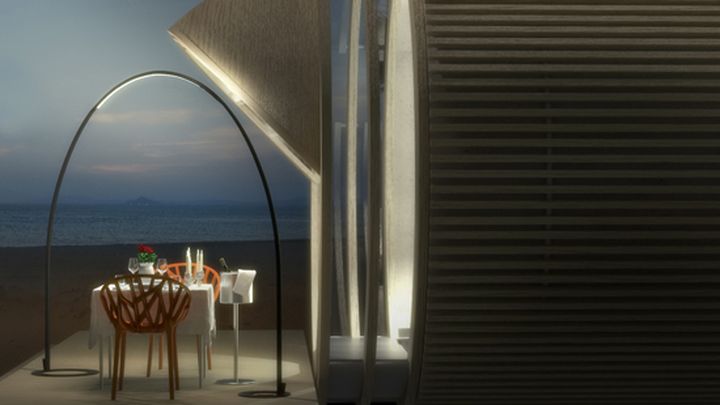 The minimum unit DROP provides separate living areas furnished use: living area (living room), open terrace (main entrance), sleeping area (bed, wardrobe), bathroom (sink, toilet, tub / shower). This minimum solution can be expanded to include a kitchen area or additional sleeping area.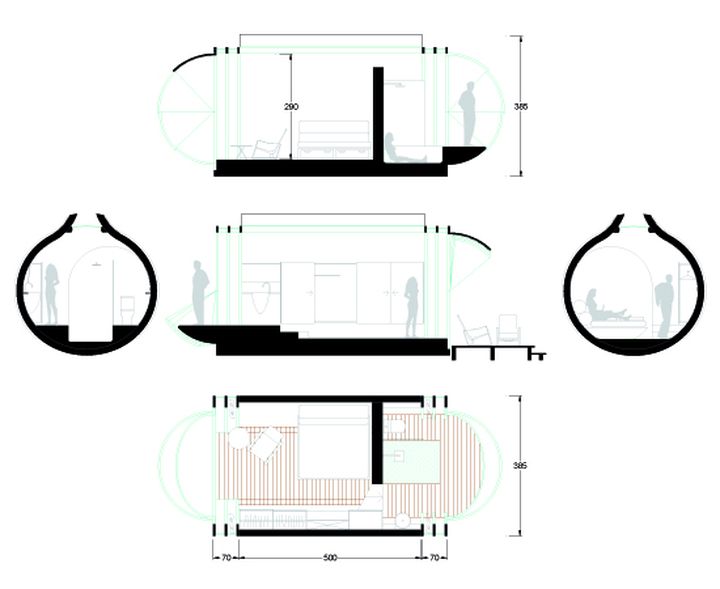 Two systems in semi-cupula wood and polycarbonate complete the structure cylindrical end, serving as windows. While one gives access to the living room and comes as a sort of shelter automated, the other window in the rear balcony, panoramic window acts as necessary transforming the bathroom in a small outdoor Spa.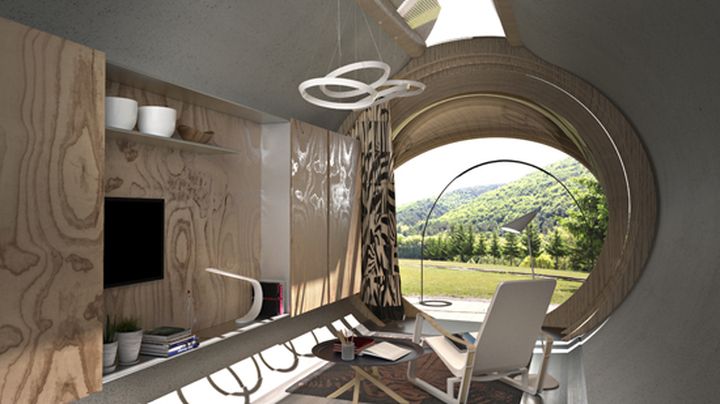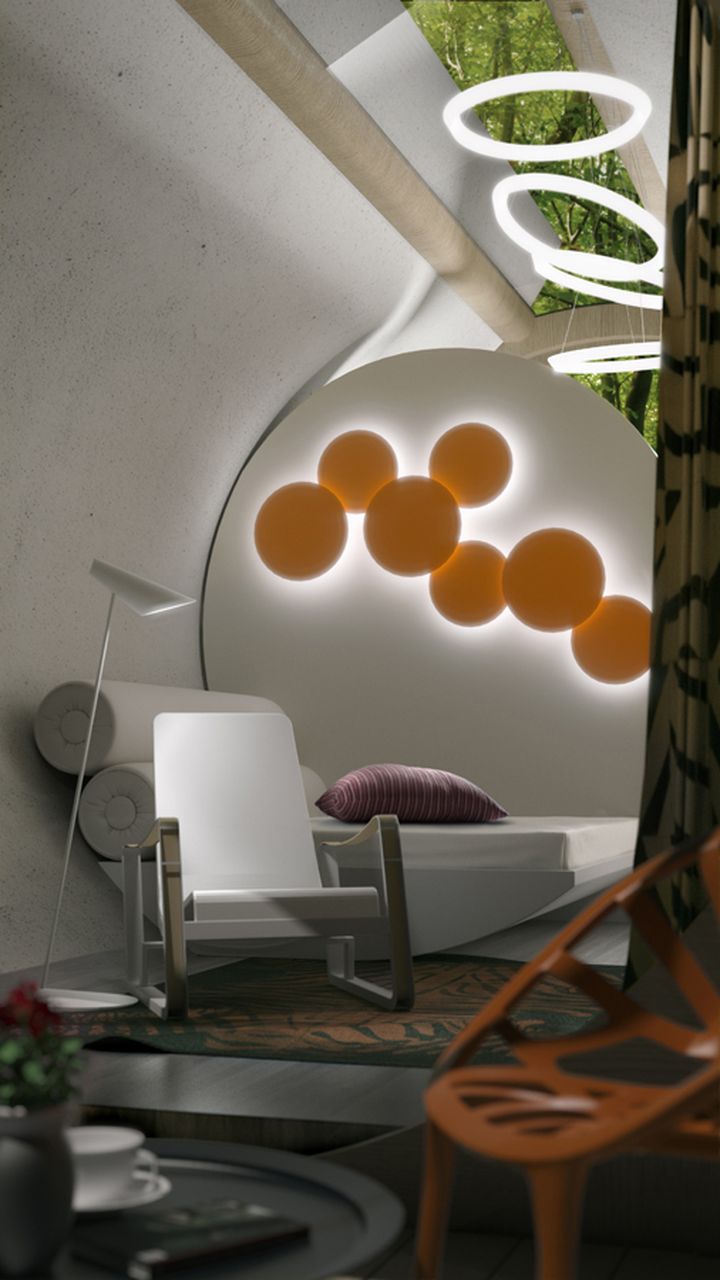 A new concept of luxury in the hospitality industry in natural areas began impulsare an important change, and not only in terms of new designs that are lighter and integrated with the environment, but also in terms of services offered. The experience that the user ID of these new architectures is seeking an original offer and consistent with its values, and that goes from choice of venue (location, geological conditions, weather, wildlife, etc.), the type of 'package- experience 'related to the natural environment where he chose to remain temporarily.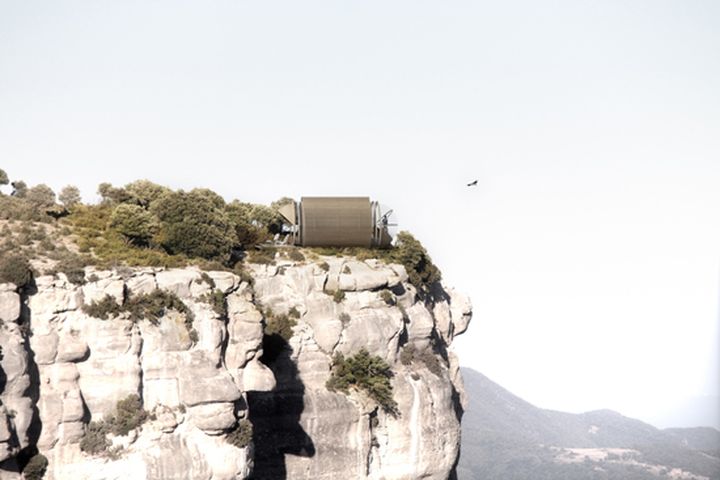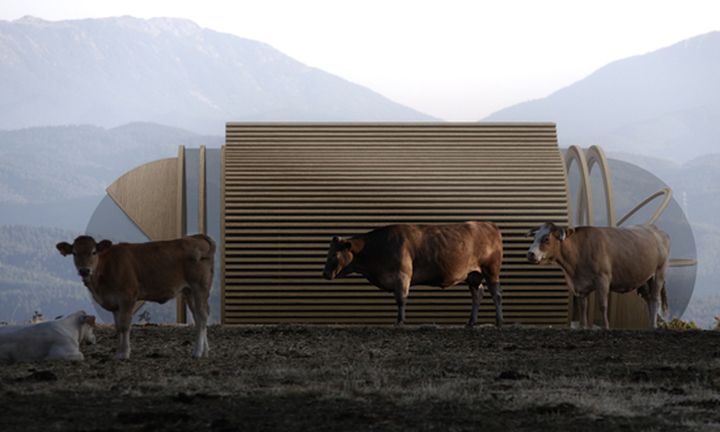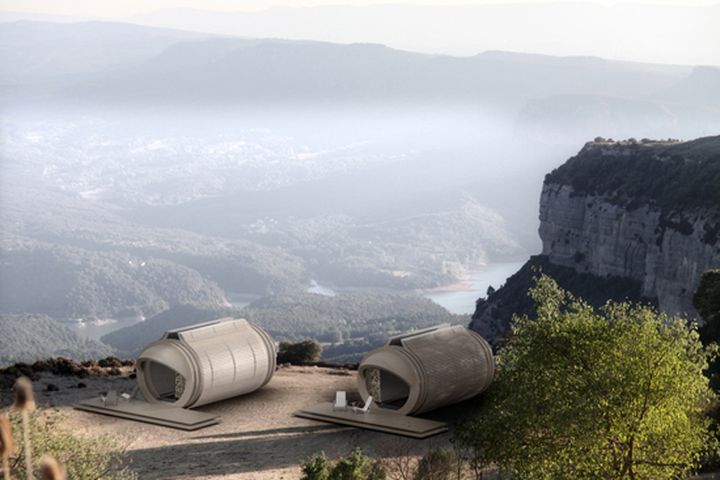 DROP eco-hotel He wants to give a response to a growing demand for tourism offering: a sustainable architecture, interior design and ecological experience authentic.
In line with current trends in the world of hospitality and tourism hospitality, DROP eco-hotel It offers a kind of eco-tourists 'comfortable refuge where to camp' in the middle of pristine nature. A 'cabana de diseño' for those who want to enjoy nature in its pure state, without causing a negative impact on the environment and enjoying at the same time to design a responsible, practical and comfortable.