RicCAA 2013 in Padua International Biennial of Art and Design - 5th edition it has been modified: 2013-05-26 di
A shower of inscriptions. Really great, very much felt and participated this year by the adhesion of artists and designers to RicCAA, the International Biennial of Contemporary Art and Design and environmental sustainability policies by the Paduan artist Marisa Merlin.
Biennial sponsored by the Veneto Region, the Municipality of Padua, the Dams degree course, Faculty of Letters and Philosophy, University of Padua, Veneto Ville Regional Institute, Padua Confindustria, ARPAV (Regional Agency for the prevention and environmental protection of Veneto) and created by the Arteria Association.
After the four exciting editions of RICICLARTI CANTIERE D'ARTE ENVIRONMENTAL by the will of the curator Marisa Merlin, the event has become Biennale taking the name RicCAA, acronym of the name of the previous editions.
"This year it was particularly long and difficult to select artists and designers" says Marisa Merlin proudly "the works received from all over Italy and many also from abroad were all of great importance from an artistic and innovative point of view. My personal thanks therefore goes to the jury who, with great skill, was able to give all the participants the scrupulous attention they deserved ".
After a shrewd selection process, the jury, composed of Enzo Siviero IUAV Venice, Francesca Bottacin University of Urbino and Enrico Bossan, photographer, expressed choosing what will be the artists and designers allowed to exhibit their work at the Biennale RicCAA.
The RicCAA Biennale is reconfirmed as the only proven project that really knows how to enhance the dialogue with the territory in the name of environmental sustainability. "My idea has always been to promote a dialogue between man and the environment through the arts" explains curator Marisa Merlin "RicCAA is an artistic and cultural container that has valued Padua as the capital of contemporary environmental art and is it has now become an exportable model of excellence in the dissemination of contemporary art and environmental issues ".
Selected artists: Maria Rebecca Ballestra, Francesco Caiazza, Loretta Cappanera, Ezio Cicciarella, Eleonora Cumer, Rino Dal Pos, Silvia De Gennaro, Erika De Martino, Flavio Galletti, Roberta Gherardi, Anna Giagnorio, Marialuna Maresca, Enrico Marcato, Mazzocca & Pony , Anastasia Moro, Antonio Panzuto, Banafsheh Rahamany, Luisa Rampazzo, Ulrich Riedl, Class 3a eveningLiceo Artistico Selvatico Padua, Maria Pia Settin, Elisabetta Sgobbi, Anna Targher.
The selected designers: Stefano Aiello, Artwo Cultural Association, Giovanni Baldini, Virgilio Barison, Eleonora Battaggia, Giuseppe Colucci, Geco Lab.Artistico / Coop. Alternative, Sandra Ida Faggiano, Fede & Tito, Vittoria Franceschi, Elisa Frassoldati Amelia Lamberto, Giorgia Merlin, Ester Motta, Stefano Piersanti / Lucio Ottaviani, Fabio Scapin, Virgilio Venezia / Astrid Serughetti, Tarja Wallius.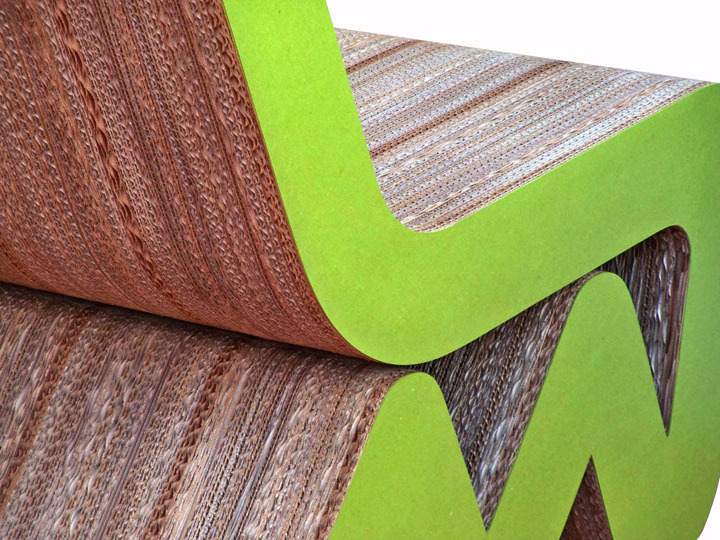 The art exhibition will be held from 26 May to June 23 2013, in Padua in the spaces of the Ex Macello in via Cornaro with free admission from 15.30 to 19.30.
The admission free paint will be held on May at 25 18.30 hours.
All information can be found at: www.riciclarti.it
For info or interviews with Marisa Merlin curator: www.marisamerlin.it info@riciclarti.it,en
In photos: Vermicella, cardboard chair by Giovanni Baldini