The guarantee of responsibility for life at the center of sustainability Valcucine
it has been modified:
2012-03-06
di
The nucleus of the most vital and interesting views of Milan, the Brera area, promoted by the Brera Design District where Valcucine is the main sponsor since 2010, is ready to come to life once again of special events at the Fuorisalone 2012.
The space of valcucineIn Corso Garibaldi 99, becomes synthesis, transformation, narration of possible creative ways of tomorrow: the different faces of Valcucine are expressed through a set up for the occasion that brings to the stage the responsibility of enterprise, a knowledge that is expressed through the launch the "guarantee of responsibility for life."
We can not continue to produce today without worrying about the goods we go to accumulate in the environment tomorrow. From here, the audience of Valcucine's commitment to withdraw its products and to ensure disposal at the end of their life cycle, promoting the process to be recycled and / or reconditioning of used materials.
concrete sign of this approach and staging inspirational character for Fuorisalone 2012, is the new "demode engineered by Valcucine" MECHANICAL system brand, founded under the auspices of Valcucine: a light from the frame program and innovative design, the where the individual structural elements combine with each other through mechanical joints. No use of glues and, therefore, no trace of formaldehyde; Mechanics is reusable to 90% recyclable and 100%.
With a view to sharing and mutual enrichment, both inside and in the outdoor area of ​​the showroom, it will be given some space to craft reality and not related to the philosophy and the world of responsibility Valcucine enterprise, recycle, repair it and will restore their products, showing the manual aspect that is not always immediately perceived.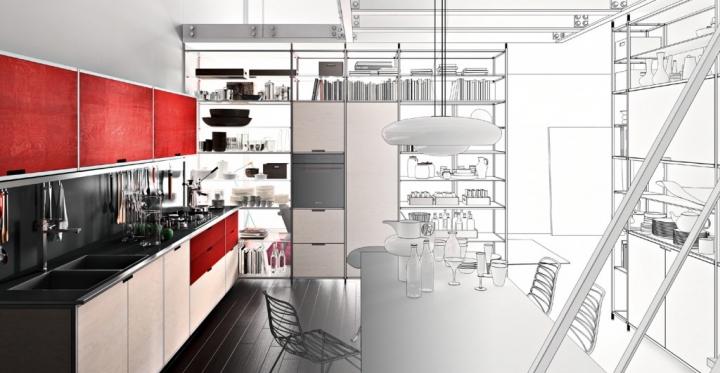 Valcucine Fuorisalone partners will Patagonia Milan, IrideFixed Modena, Cairadesign e Ecocucina , All made from sustainable DNA.
It will also be presented the new project contract de LaCucinaAlessi by Valcucine in signing Dutch architect Wiel Arets.
Show Room Valcucine Milano Brera
Corso Garibaldi, 99 - MM2 Moskva
16 - 22 April 2012, 10 hours - 22
Official opening hours Tuesday 17 18.30
Every evening aperitif impact [almost] zero edited by Lisa Casali
Brera Design Friday Night 20 (up to 00.00)