Clei at Made Expo, in the exhibition "Green Home Design, living the present"
it has been modified:
2012-10-29
di
Clei He participated in the latest edition of Made Expo in the exhibition organized by My Exhibition: Green Home Design, living the present. Over 10.000 registered users visited the 1400 sqm area where they were made bio-homes 3 full-scale, fully furnished (designer: Aldo Cibic, Marco Piva and Massimiliano Mandarins), addressing the issue of environmental sustainability with a particular key inspired by the design of reading.
Massimiliano Mandarins signed the Green Kinder House, a small two-storey house with zero impact design for all access and panoramic ramp to reach the upper floor where the small and charming open-plan apartment has been decorated with multi-function Clei systems, in order to multiply the surface of the environments.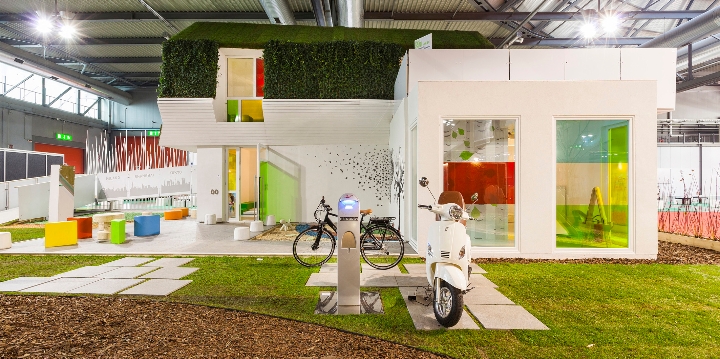 Proposals for Clei address the issue of the available space in homes with an integrated approach, making flexible that which is static, amplifying the surface usable up to allow you to have an extra room in the house. And so the living area, furnished with Swing, a sofa with sliding Peninsula in 3 positions, which hides a container under the seat and converts into a double bed always ready, which features an innovative slatted base with aluminum frame and system adjustment.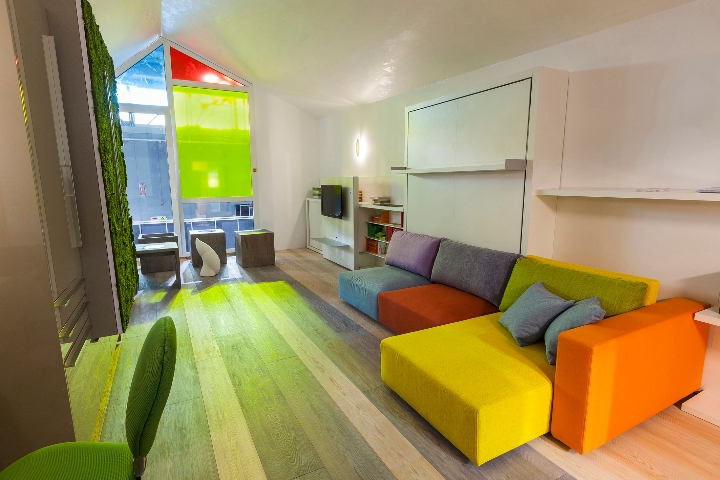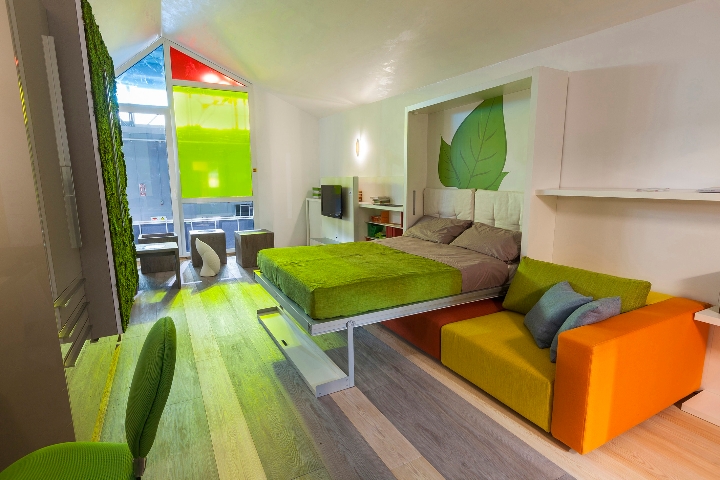 Next to it is positioned Poppi Theatre, a transformable system consists of a single roll-away bed with slatted base and side library, equipped with a sliding panel door wired plasma / LCD TV, which allows in its movement phases to keep forever hidden cables .
The open space layout includes a kitchen in which 180 cm linear have entered all the details normally found in larger sizes.
And so, in a few square meters, it is possible to realize a design apartment, with zero impact and equipped with every comfort, with 3 beds, without having to give up the space available during the day, for more and more in tune with contemporary living solutions .
Finally on the ground floor it is home to one child-friendly public space (eco-nest). Architecture that fosters sustainability through creative and innovative use of space and design, for a green approach to the future.