Absolut London by Jamie Hewlett
it has been modified:
2012-10-16
di
For just over twenty pounds, from Selfridges or from Harvey Nichols, You can buy a limited edition bottle of Absolut vodka, known as Absolut London.
In the wake of previous collaborations with the likes of Tom Ford, Versace, Stella McCartney and Jean Paul Gaultier, Absolut has decided to reinterpret his famous bottle from one of the graphic designer in vogue at the moment, Jamie Hewlett. London and visionary, Hewlett is best known for having created the comic cultTank Girl, as well as for being the co-creator, along with Damon Albarn of Blur, the virtual band Gorillaz.
"London has such a rich history and fascinating as always inspired me over the years. In Order To Absolut LondonI decided to represent seven characters representing seven different eras, characterized by their style and their contribution to the culture of their time in London " himself says Hewlett.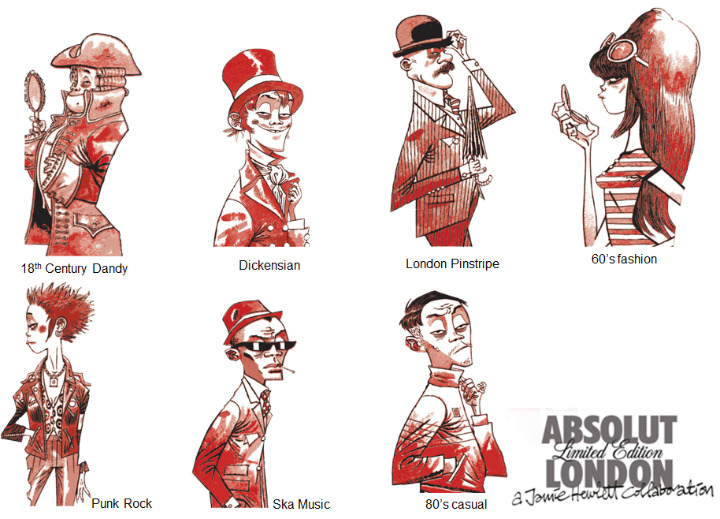 Against the backdrop of London's iconic buildings, the Cathedral of St. Paul the futuristic skyscraper Gherkin, moving from Dickensian London to punk, from the sixties to the ska scene, from the eighties style dandy, the characters depicted on the glass symbolize a journey into fashion London scenes of the past two centuries.
From the splendor of the Olympic Games to the Diamond Jubilee, the 2012 was a golden year for London and Absolut Vodka wanted to celebrate the essence of what made London what it is, one of the most influential cities in the world and culturally stimulating. You as the favorite, smooth or on the rocks?