Tip Ton, the chair of Vitra dynamic it has been modified: 2013-04-04 di
The chair Tip Ton by Vitra, with design studied by Edward Barber and Jay Osgerby, Defines a new standard in the field of dynamic sitting, and apparently could resemble a simple rocking chair: From a position of rest, in fact, the Tip Ton leans forward until the user reaches a defined point, then the chair in the sitting position arrives gently stretched forward.
The project Tip Ton and 'started in 2009, after having realized that the environment of the mobile, modern and dynamic, was looking for a new product. Barber and Osgerby have been invited by the Royal Society of Arts to express their point of view on 'purchase of furniture for the new academy in Tipton in the Midlands. "On that occasion- says Osgerby -we understood that we had a great opportunity, as there was nothing, among the various proposals, that met the criteria of longevity, resistance, value for money but above all that guaranteed a healthy session for the user ".
The key innovation that is behind this seemingly simple mechanism can be identified under an angle of nine degrees, created by the shape of the shoes chair resting on the floor.

The positive effects of the forward tilt mechanism on health and concentration have been documented and confirmed by a recent study done by Vitra in collaboration with the Federal Polytechnic of Zurich (ETH). This study shows that the increase in muscle activity in the abdomen and back area has a beneficial effect, as movement increases the flow of oxygen around the body, helping to improve concentration. This new sitting position straightens the pelvis and spine and improves blood flow: the increased movement of the pelvis activates the musculature and relieves pressure on the discs of the spine.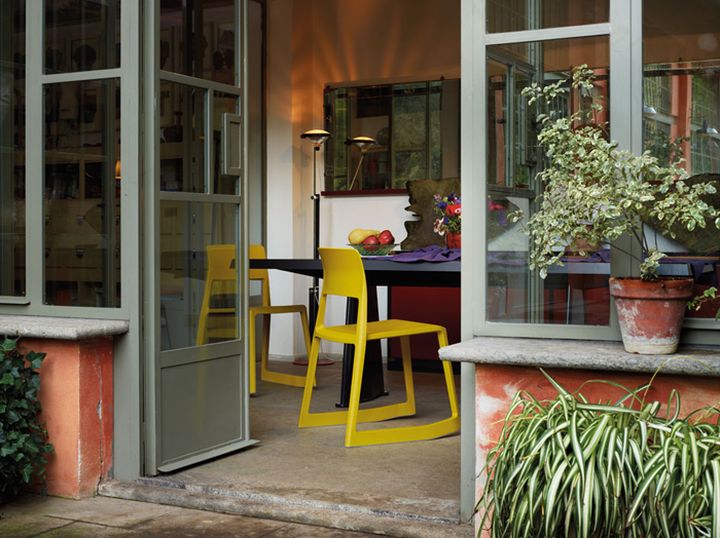 Tip Ton is made without mechanisms and with a single fusion of material and you can choose eight color variants, also known as chromo-therapeutic. Thanks to the dynamic forward seat and its distinctive look it can be used in many schools, libraries, bars, home offices and dining rooms.