SMYLE by BLOB, the designer bathroom furniture signed IDEAGROUP
it has been modified:
+2013
di
An exclusive attention to detail for a daily well-being
The new design collection for the bath IDEAGROUP It has been designed for those who seek a practical and simple solution to furnish with refined its own bathroom. Aesthetics and efficiency meld with the compositional systems SMYLE, Which they are able to integrate in any type of space, thanks to their flexibility and their restrained character and determined. These compositions are able to interpret the contemporary design, giving a precise response to current furnishing requirements.
The details of SMYLE collection are designed to facilitate everyday actions.
The identifier element of the collection is undoubtedly the two large drawers, Arming a vast space for containment. To facilitate the opening is wide and fascinating obtained directly handles the door thickness, the shape of the custom sink and unique, follows the shape of the base in curved version, offering a lovely harmony.
SMYLE is usable with single o double sink (The latter only in 120 cm) wide, which divide the surface ensuring total freedom in actions and movements.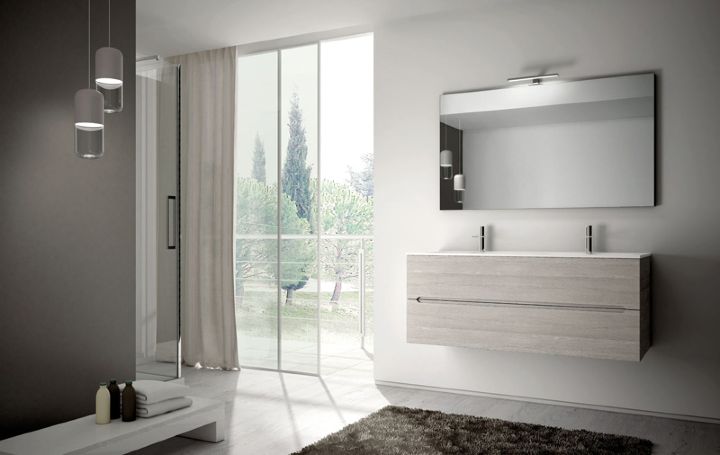 Decentralized tub is a variant of the furniture project, to be privileged if you want a slim and original dynamism.
The large mirrored cabinetBy generous storage container, it represents an excellent solution for those who have more space needs.
The thickness of a double-sided mirror is only 6mm and reflective outer sides enhance the elegance of the composition.
Evolution and design create a satisfactory functionality
Shapes and materials, with each other in perfect balance, revealing the design of SMYLE project.
SMYLE is available on these finishesTwo variants of the essence polymer oak e polymeric six glossy colors.
The plans / sinks of SMYLE collection are available in: extra-clear glass in 6 colors fees transparencies polymer of the doors and mineralmarble glossy white, compact material, pliable and durable. The 60-90-120 widths are also available with ceramic floor / sink.
In SMYLE, harmony and functionality bind with total naturalness.
For more information: www.ideagroup.it