sixth round of OpenARTmarket
it has been modified:
2012-11-22
di
Back in Rome OpenARTmarket, a new way to promote contemporary art. The exhibition-market will take place at the Foundry of Arts from the 1 2012 December to January 15 2013
Following the great success of previous editions, will be inaugurated Saturday December 1 2012 the sixth round of OpenARTmarket, by Antonietta Campilongo until January 15 2013 at the foundry of the Arts, in 31 Assisi to Rome. An exhibition-market in which the work and the artist, respectively product and producer of art, leaving the logic of the exceptional and elite collectors, to become a means of social communication and aesthetic cost accessible to all . We propose, in fact, works of art (painting, sculpture, installation, photography, digital art, design) in a price range that goes from 49 999 in euro.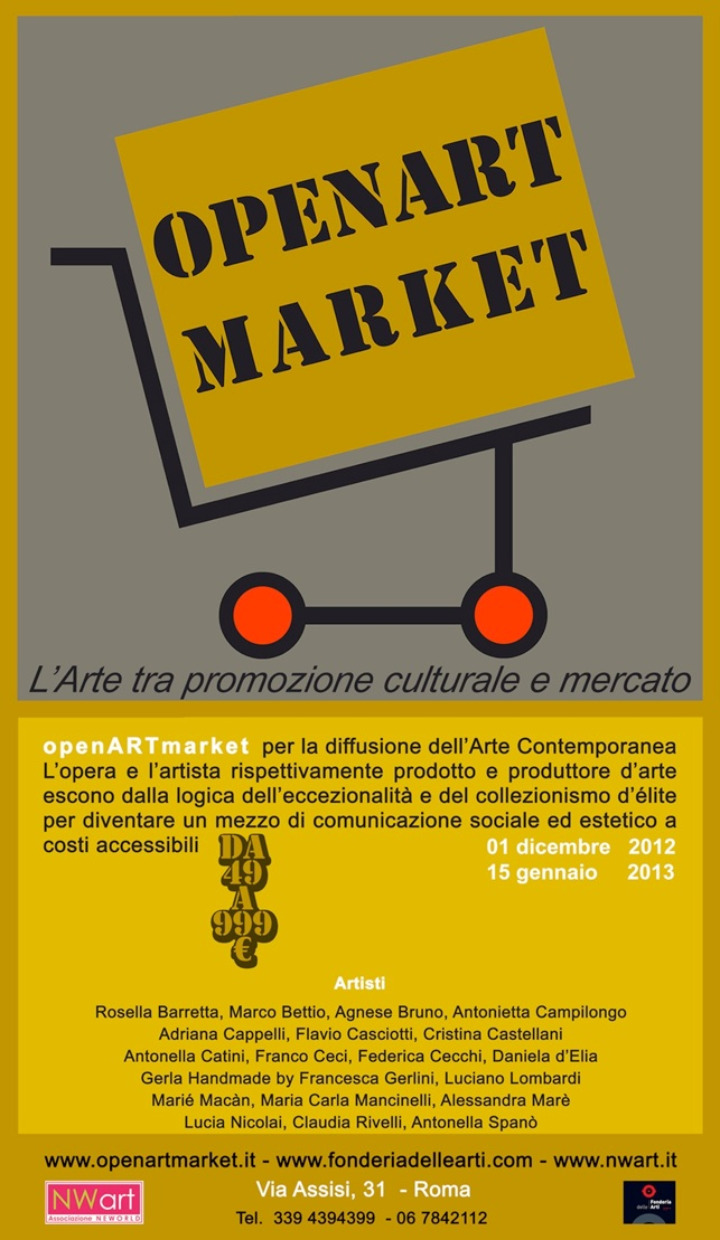 Give art the ability to open new spaces for dialogue and ensure that contemporary art is less and less a speech for a few, with less awe and more desire for participation: this is the mission of OpenARTmarket. Faced with the prospect of changes interwoven into new forms of patrons and collectors are able to exert its influence on the art system at the global level, it becomes even more important and more challenging for artists to be able to reach new audiences.
The arts-star came to fame and success, exalted and overvalued in the international circuits of the great collectors, an ambition is hardly accessible to an audience of admirers of limited economic capabilities. Across the emerging artist living in / in areas alternative is marginalized, having little visibility. Then there is a market for "art reproduction and replication", another reality-surrogate which draws a considerable audience that wishes to play "art house", through copies of paintings became famous or purely decorative. This is clearly a potential market that, if re-directed, could transpose and revitalize the work of emerging artists, giving them a role and value of creative production.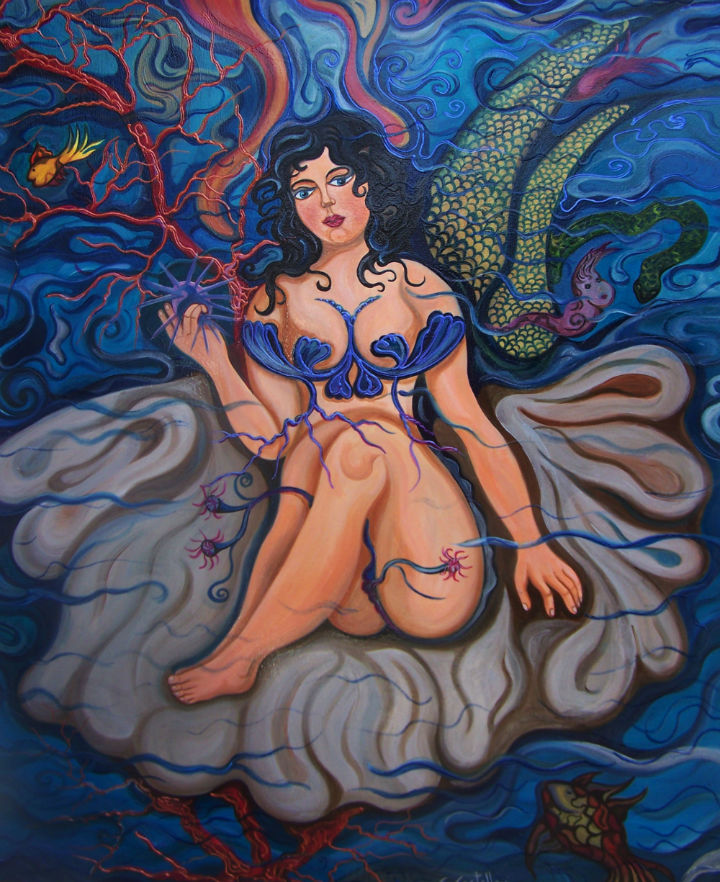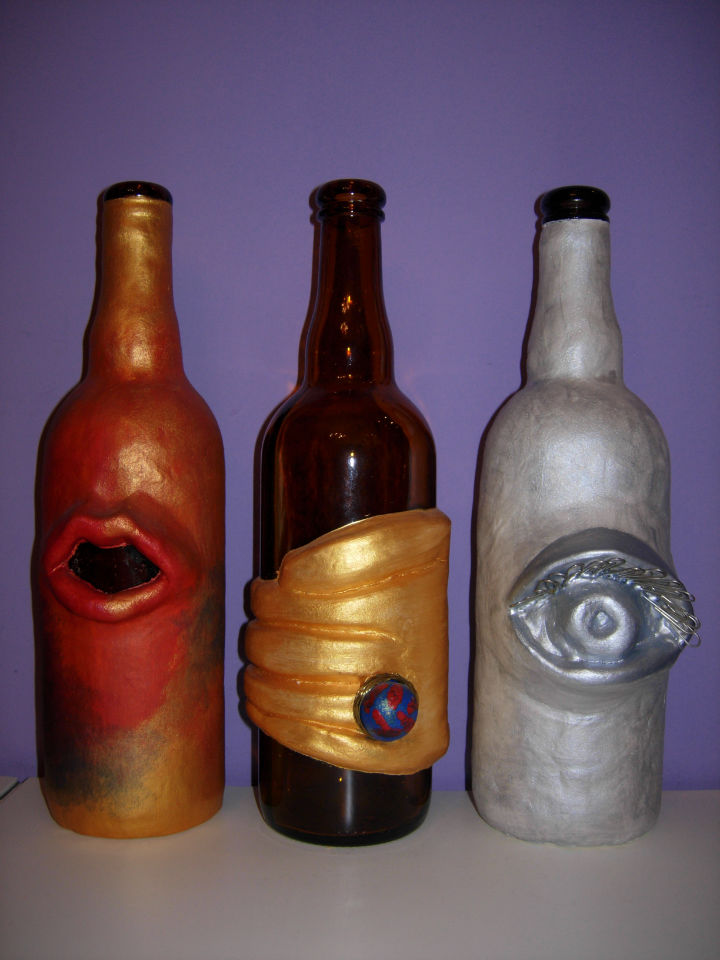 The purpose of OpenARTmarket is therefore to create a place where to establish a direct contact between the emerging artist and the audience that looks to contemporary art; a place to watch, discuss, choose to buy the works of contemporary art at costs practicable. These are precisely the two key points of the initiative: the artist recognize his dignity and quality of creator of art, paid for his work and social function, and allow for an audience of users interested in contemporary art can acquire works of real artistic value.
The idea of ​​OpenARTmarket born from the experience and passion of Antonietta Campilongo, architect and curator of events, which for years has been active in the organization of contemporary art in Italy and abroad. Together with her, to give life to this project, we find partners standing expertise in article marketing.
A special section called Art of recycling will aim to promote a new way of thinking about our consumerist lifestyles. Through the development of "waste" as useful objects to live a creative and educational that respects the environment, it will give new life to materials that would otherwise be thrown away because apparently worthless. The exhibition has the specific intent to raise awareness to the critical ecological, supporting every useful path to invest resources and energy in the process of re-use of objects and discarded materials. Partner for Art of recycling will nwArt Section of the Association Neworld always present in the art scene with the aim to follow the social and environmental concerns of our time.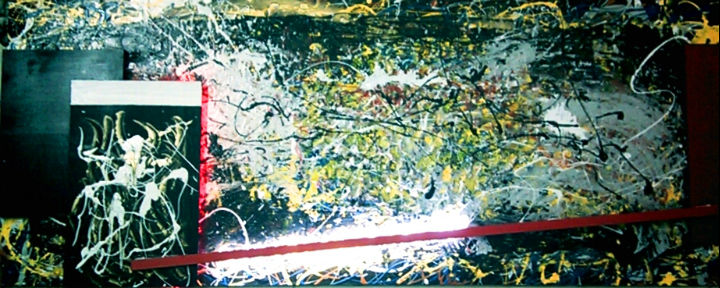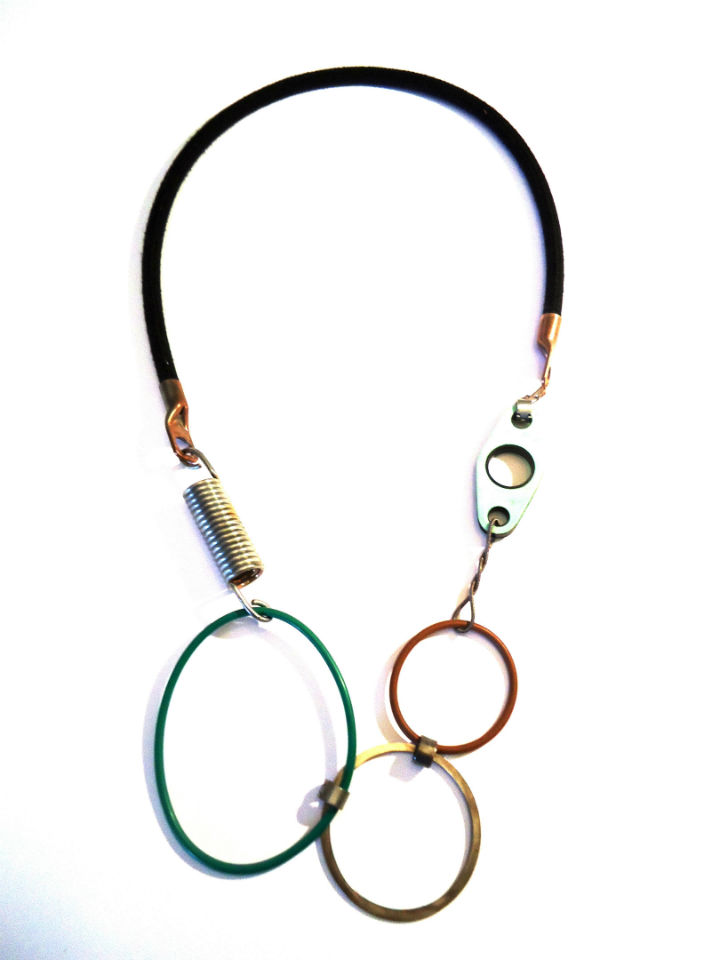 Technical Data
Name of event: VI edition OpenARTmarket - Contemporary art between cultural promotion and market - operas in 49 999 € uro
Concept by: Antoinette Campilongo
Organization: NwArt
Gender: contemporary art
Address: Foundry Arts, Via Assisi, 31 - 00181 Rome
Exposure period: 1 2012 December - January 15 2013
Vernissage: Saturday December 1 2012, 18.00 hours
Opening hours: Monday-Friday at 10.00-19.00, Saturday hours 10.00-16.00
Entrance: 2 card €
Artists in the exhibition: Rosella Barretta, Marco Bettio, Agnes Brown, Antonietta Campilongo, Adriana Hats, Flavio Casciotti, Cristina Castellani, Antonella Catini, Franco Ceci, Federica Cecchi, Daniela d'Elia, GerlaHandmade by Francesca Gerlini, Luciano Lombardi, Marié Macan, Maria Carla Mancinelli Alessandra Marè, Lucia Nicolai, Claudia Rivelli, Antonella Spano.
Press Office: Francesco Mastrorizzi, tel. 347.8947872 - email: francescomas@email.it
info: www.openartmarket.it – www.fonderiadellearti.com – www.nwart.it
anto.camp@fastwebnet.it - Tel. 339 4394399 - 06 7842112