Quality and positivity: Catalan to cersaie 2012 it has been modified: 2012-10-31 di
Quality and positivity: these are the keywords around which revolved the presence of Catalan at Cersaie 2012. Alongside the undisputed quality of the products - a fundamental and indispensable element, on which the credibility and perception of the brand has been built for years, has grown and consolidated - the positive attitude of the company has stood out and started almost half a century ago in the name of creativity, innovation and work ethic.
Although quality is a result largely achieved in all its forms - from the product to communication and service - Catalano continues to raise the level of the challenge higher and higher, combining design research with technological innovation, range expansion and typological diversification. Thus were born the numerous proposals for implementation and completion of the collections for some of the most recent products, such as Impronta by Fuksas, and for others that have now become classics, including the Premium (with offscale formats and new dimensions) and Zero families, protagonist of the "3 × 54" project, triumph of versatility - and the subject of experimentation, with the new 48 Orange countertop washbasin. Also on stage at Cersaie will be significant innovations such as the CataClean multifunctional toilet seat or the new nanotechnology-derived enamel CataGlaze.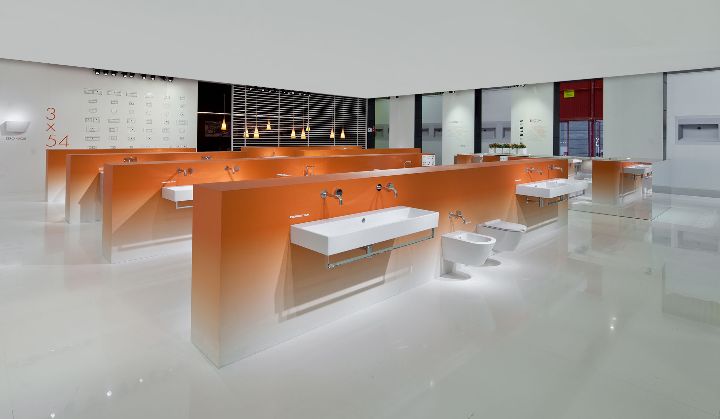 A special project: "3 × 54"
It is "3 × 54" - 3 vases for 54 washbasins: a special project that includes 162 different combinations, designed to anticipate and respond in a flexible and personalized way to the most specific needs of its customers. "3 × 54" is the formula of the possible combinations between the three toilets of the Zero family (55, 50 and 45) and 54 washbasins from the different collections. A flagship of the company, a strategic proposal that demonstrated Catalano's ability to develop products capable of communicating and combining, with extreme versatility and excellent aesthetic and functional results, with numerous different models.