Floors for designer bathrooms, Scandola Marmi at Cersaie 2015
it has been modified:
2015-09-08
di
The next Cersaie, in Bologna from September to 28 2 October, Scandola Marmi tip on its innovative collection of floors and walls for designer bathrooms, designed by MM Studio (Manuel Barbieri).
Besides presenting PROFILE, BOOMERANG, PO CH ETTE and MARRAKECH, who play on color contrasts pointing to decided and modern lines, the emphasis is on the collection in dustry, remake of the classic parquet strips.
In dustry is a linear marble floor that thanks to three lengths, cuts and color contrast creates unexpected oblique geometry and dynamics. The rectangular strip is smoothed to 45 degrees, a simple gesture that makes the collection in dustry elegant and also suitable for contract use.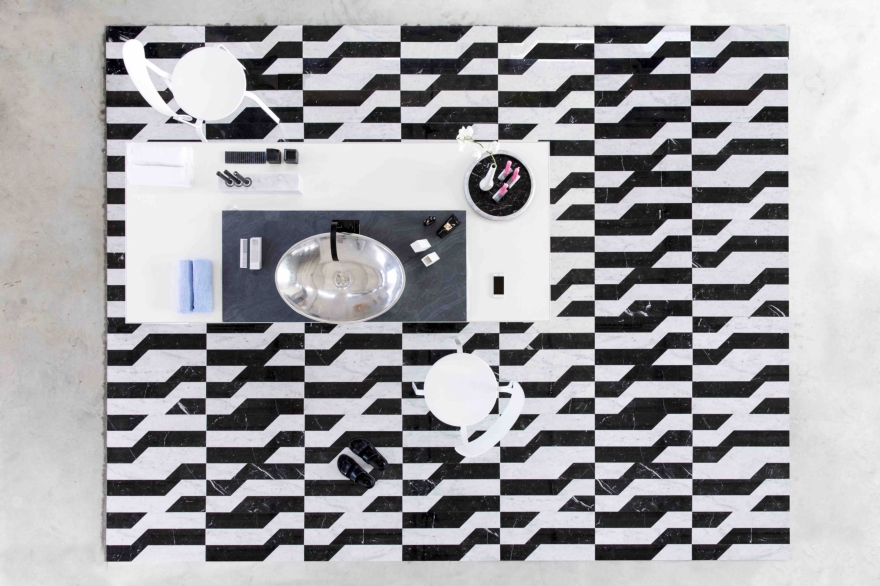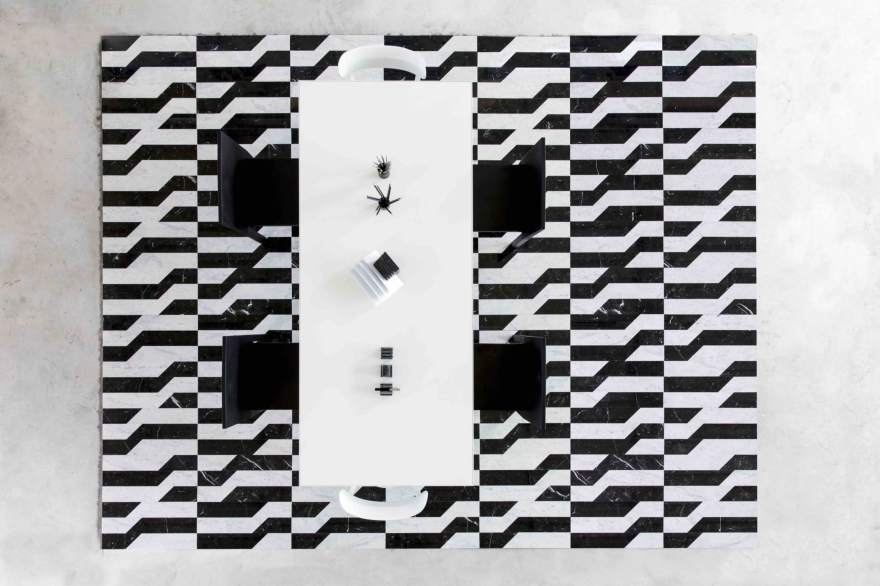 NEW 'SCANDOLA MARBLES 2015
The space Scandola Marmi will also exhibit other 2015 news. The Scandola Marmi collection designed by the designer and art director of the project Manuel Barbieri MM Studio adds new proposals: marble objects for the living, the table, the bathroom and the office: new bowls, vases as well as a new multi-purpose bookends , desk sets, bathroom sets, cutting boards / tray, wall clocks, the trivet / dosa-spaghetti and several candle holders.
After the success of previous collections, in 2015 the catalog is expanded to include about fifty products that will be introduced gradually during the course of the year, even with the introduction of a second material, always 100% natural and with a strong connection to the earth, wood.
Among the changes, two collections of vases:
OMINI, marble vases impressive volume, but not too heavy because it is entirely dug to hold the flowers, which resemble the stylized profile of a man. Deliberately made only in white Carrara marble for its inherent elegance and as a tribute to Italian style in the year of Expo 2015.
In continuity with the Florence collection, presented in 2013, born DISC, a collection that consists of vessels / oval containers made out through the use of alternating rings in white Carrara and black Marquina, which, rounded to 45 ° - hallmark of the designer for Scandola Marmi - emphasize its disc shape, as if they were spaceships.
All pieces are designed to be functional, lightweight, practical to send, despite the valuable material, because initially designed for the online sale of www.scandolamarmi.it. But thanks to the immediate success the collection is now at the Design Supermarket of the Rinascente in Milan and at Barneys New York, Llot LLOV in Berlin, Fleux in Paris. The result was achieved thanks to a family of enlightened entrepreneurs who have made themselves available to give a shock in key design, the company and to invest effort and money in an animated project only by young professionals "under 25" that they are employed as well as the design of the complete remake and repositioning of Scandola Marmi, from the brand image and distribution.