Oliver Bahr and Bastian Demmer / Stool "Statthocker": old street lamps transformed into sessions with HI-MACS® it has been modified: 2013-03-13 di
Mushroom lamps, used in street lighting of the years' 60, find a new destination: they have become stools. More precisely, stools "Statthocker". The lampshades made of hard plastic, having to give way to low-consumption LEDs, have been replaced, recovered and re-invented by designers and interior designers Oliver Bahr and Bastian Demmer, Proposing to change the function to get a seat stackable with perfect height.
They added a 'seat disc' in glossy HI-MACS® to the open upper side of the lampshades, thus creating a conical stool with seats in various colors. With a height of 47 cm, a seat diameter of 24 cm and a support surface diameter of 32,5 cm, "Statthocker" becomes a perfect stool that takes up little space. To remember its past, the new "Statthocker" stool can be illuminated by an integrated LED lamp, mounted in the groove made on the underside of the seat. Thus the stool is not only a seat, but also a luminous sculpture.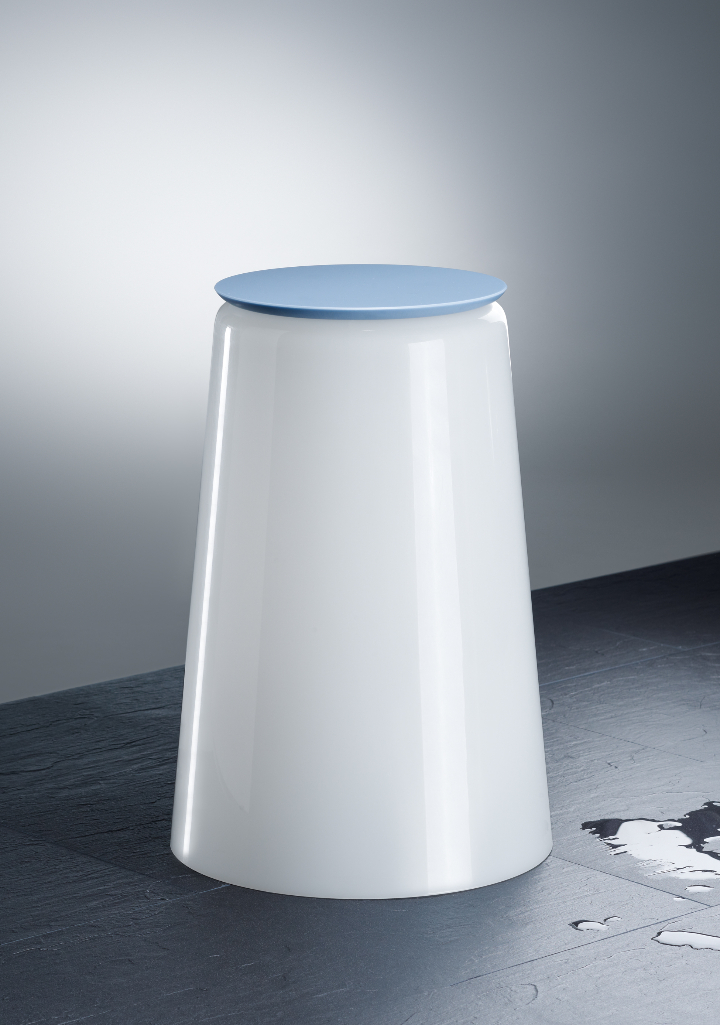 In this way, the stool has the potential to become a classic thanks to the exceptional aesthetics, the perfect symbiosis between form and function, the materials and the high quality workmanship. What's more, the integration of the recycled lampshades with the New Generation Acrylic Stone of the seats demonstrates the value of the project that combines past and future. The patina and traces of use, which obviously characterize the lampshades of the 60s, make each of these objects a unique piece.
HI-MACS®, however, is a contemporary material that, as Bastian Demmer "Contrasts with the lampshades because of its expressive power and its variety". HI-MACS® is therefore as easy to mill, smooth and polish as wood, but it is also highly resistant to wear, weathering and UV rays. Demmer also thought about the possibility of decorating the seat. "We have made a special limited edition with Peter Zickermann animal motifs on the 'pillow' and the proceeds will go to the Bielefeld City Zoo." In this way the circle closes and stools Statthocker become a popular supplement that contains nostalgia and the future in the meantime becoming an example of creative recycling of waste.
This flexibly usable piece of history was awarded in the fall of 2012. The Statthocker stool won the iF Product Design Award 2013, one of the most important design competitions in the world, in the categories "furniture / home textiles "(Furniture / home textiles) and" bathroom / wellness "(bathroom / wellness).