New elements for the coin collection from Scandola Marmi objects designed by Manuel Barbieri it has been modified: 2014-07-23 di
The first collection of debut Scandola Marmi, Designed by the designer and art director of the project Manuel Barbieri
you add some new elements:
a series of vases, a multifunction bookend and a marble bathroom set are just a preview of the novelties for the year 2015.
All the pieces were studiadi to be functional, lightweight, practical to send, despite the valuable material, because initially designed for sale online www.scandolamarmi.it and on the e-commerce site dedicated to home design www.lovethesign.com.
But thanks to the immediate success the collection is now also at the Design supermarcket Rinascente in Milan and Barneys New York, Berlin, Paris and Fleux Manifesto in Panam.
The result was achieved thanks to a family of enlightened entrepreneurs who made themselves available to shake up the company in terms of design and to invest energy and money in a project animated only by young professionals "under 25" who in addition to the design, they are responsible for the complete remake and repositioning of Scandola Marmi, from the brand image to distribution.
BAMBOO COLLECTION, Design Manuel Barbieri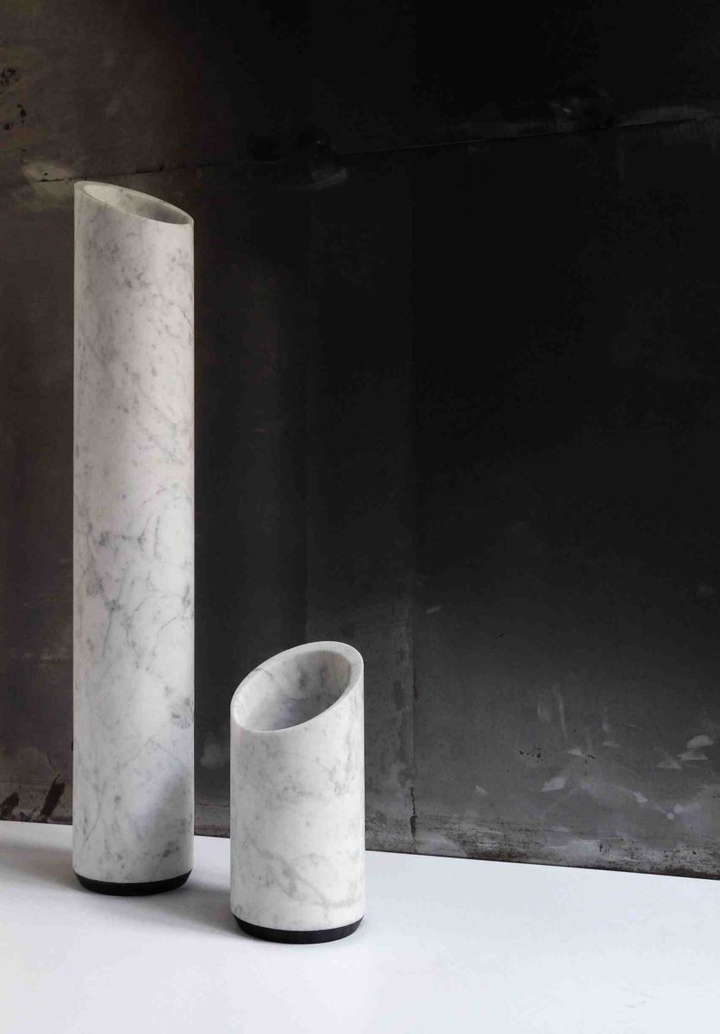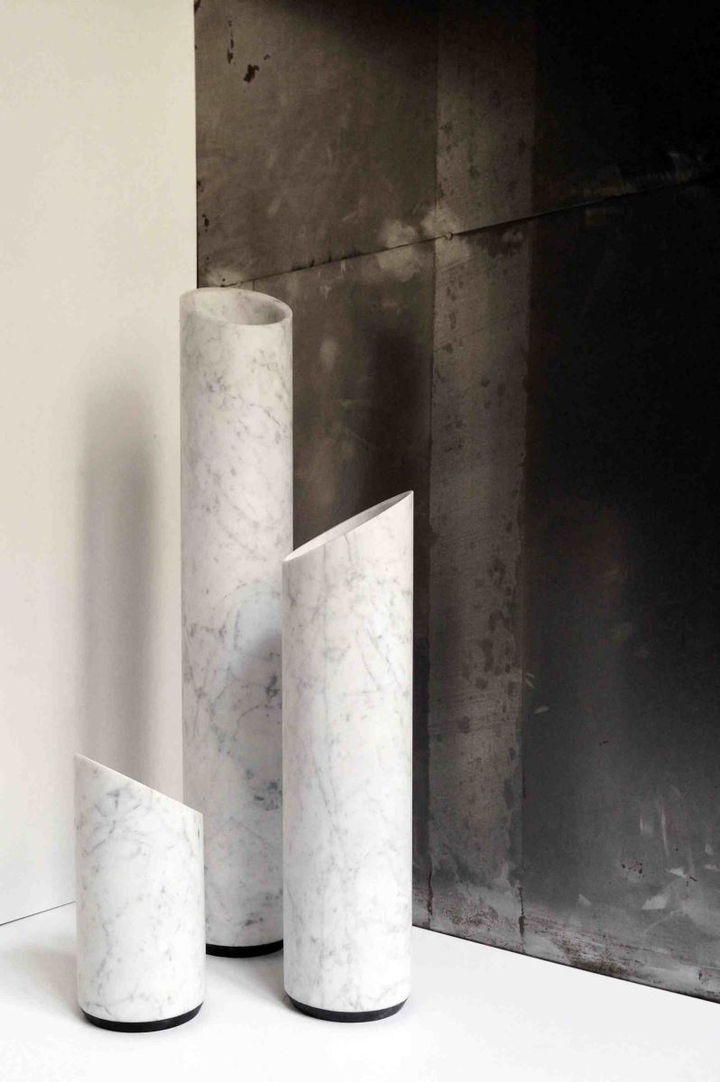 Bamboo is a collection of vases inspired by the Orient and the plant that most characterizes that land, bamboo. White Carrara and Nero Marquinia marble give elegance and solidity to the object.
The black marble base emphasizes the majesty of the vases and is cut at 45 ° towards the center and creates a specially sought shadow to make the object appear suspended. The 45 ° cut also characterizes the upper part of the vase together with the bevel of the same angle that the opening has in the edge from the outside to the inside.
The collection consists of vases in three heights, 20, 40 and 60 cm, then interesting even on the ground.
MAYA Design Manuel Barbieri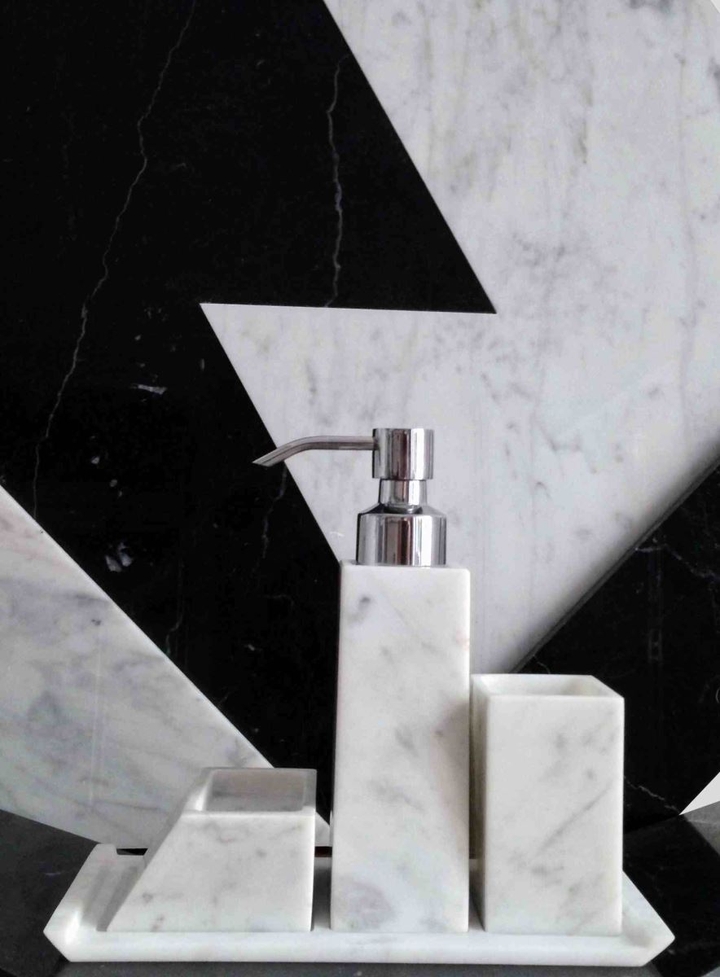 Maya is a set of bathroom accessories composed of small to be leaning on washbasins and furniture smaller but giving them a touch of refined elegance.
The play of decorations of the bas-relief tray, which can also be used alone by removing the individual elements, makes everything less minimalist and more material. The main feature of the set is the extreme linearity that draws inspiration from the geometric and imposing constructions of Maya architecture, so each element - liquid soap holder, soap holder and toothbrush holder - has an oblique side in a different point, in memory of the ramps of the temples.
MUSIC BUILDING, Design Manuel Barbieri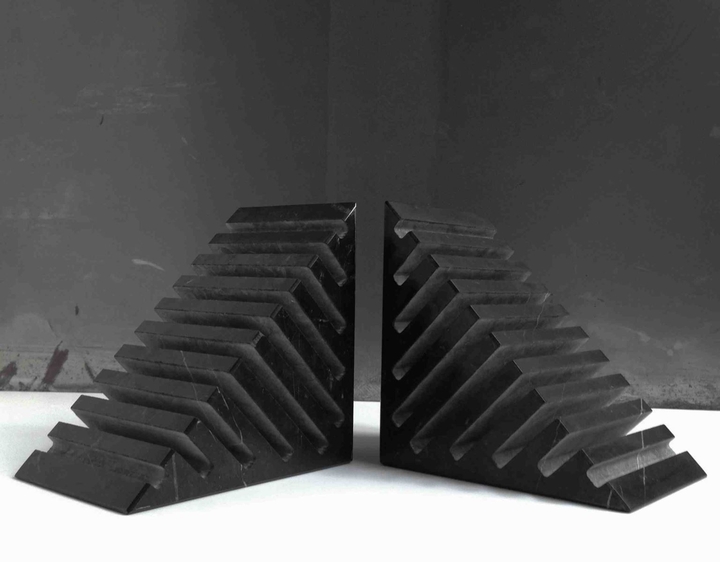 Music Building is an architectural element that is inspired by the Milan Cathedral: by rotating it, in fact, you can see the façade summarized in a few lines. It is a multifunctional object (bookends, paper holder, envelopes, and….) That emits sounds if you touch it.
Very useful in everyday life, it is ideal for the hall library, on a TV cabinet, on the dresser and in any place where, in addition to books, there are envelopes, invitations, important sheets to keep or CDs from the heart's play list to show .