Kalikon, the mechanical jewel of Maison 203 designed by Giulio Iacchetti> it has been modified: 2016-02-10> di
It is the genius that moves the most ordinary everyday objects and to inspire Kalikon Maison 203, the new line of jewelry designed by Giulio Iacchetti and premiered at Maison et Objet Paris.
It revolves around a coupling the first collection designed by Giulio Iacchetti for the Italian brand of printing accessories 3D
Behind the project, a simple mechanism and unexpected reveals hidden intelligence that plasma through 3D print aesthetics and function, geometry and movement, fashion and mechanical.
Kalikon is in fact composed of a chain of cables rings that - thanks to the print production process 3D, able to create all the elements of an object at the same time - are born already combined with each other by means of ball joints, to generate a structure extremely flexible, whose only fixed point is the functioning of the jewel.
The slit on the outer circumference of each ring becomes facts of the track in which flows the joint connecting one element to another: a real movable pin that allows each component laps, chased and reversals, which always corresponds to the union to all the other mesh. The functional and mechanical are transformed into a lithe ornament, ready to follow the contours of the body.
The collection, made of sintered nylon, has two necklaces, a long necklace, two earrings and a ring, and is available in powder pink color, blood red, sage green, jungle green, powder blue, midnight blue and black. Each collier is characterized by a hook that allows to adjust the measure: fixing it in the holes of two adjacent rings and in the case of long series it becomes an additional movable component, able to change its shape according to the point in which it is inserted.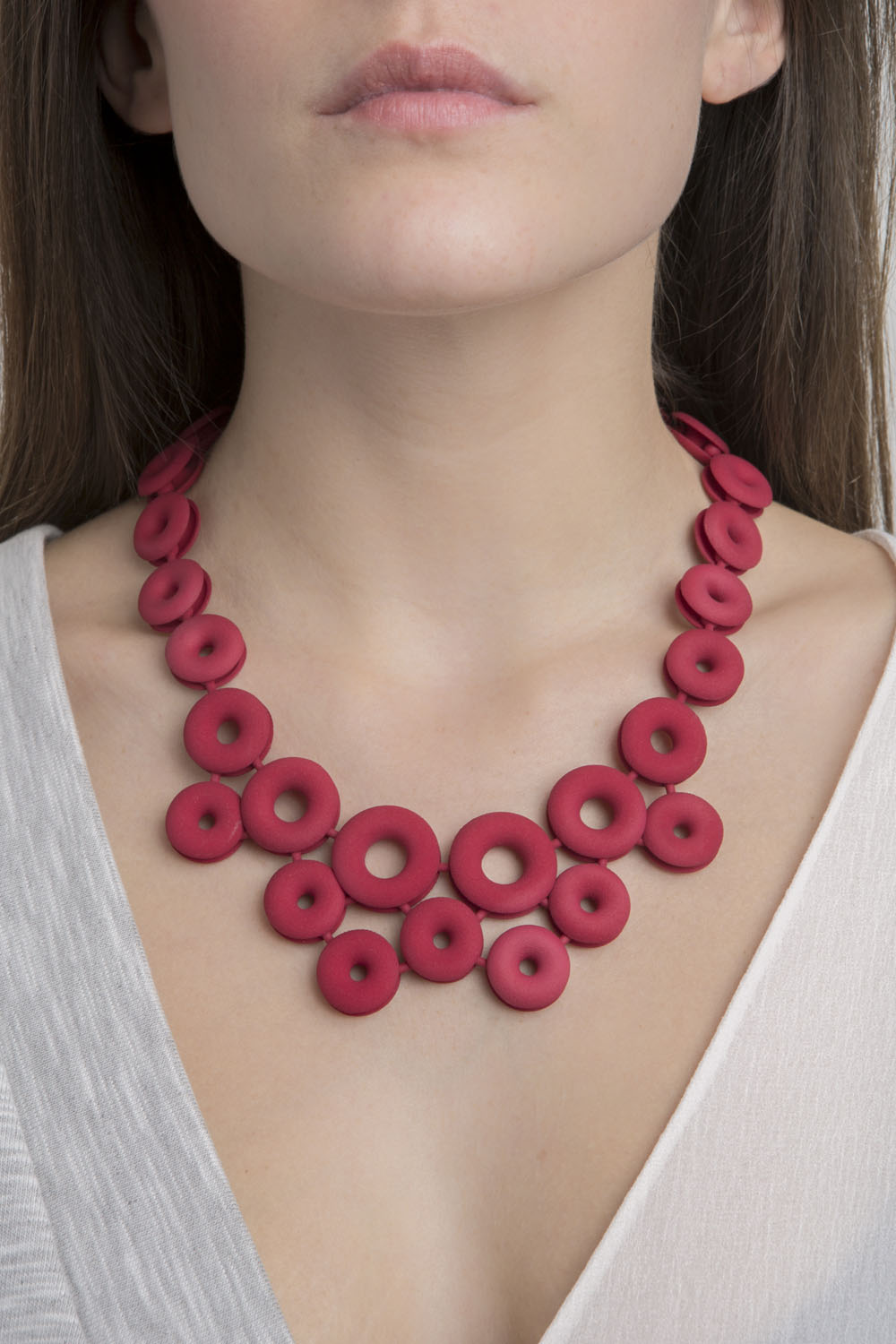 Premiered in January 2016 edition of Maison et Objet, Kalikon will soon be available in e-shop of Maison 203