Imprint / Fuksas and Catalan at the Salone Internazionale del Bagno 2012
it has been modified:
2012-04-17
di
Is reconfirmed at the International Bathroom Exhibition 2012 collaboration between Catalan and Doriana and Massimiliano Fuksas, opened with FOOTPRINT line at Cersaie 2011, under the "Catalano for Architecture" project, a window that the company wanted open to a rapidly changing world, to grasp the changes taking place and transfer of products has always been close to man.
FOOTPRINT, a series characterized by the unmistakable sign soft with which Fuksas style interprets the innovative spirit and technological Catalan, It is enriched with three new products.
A built-in washbasin 80 45 × cm, a shower tray 120 80 × cm and a backlit mirror, which add to sink 125 50 × cm, first of the series, built from a towel rack from the original design and unique, and the chest of drawers polished steel with chromed aluminum legs.
Gestures and iconic power that characterize the work of Fuksas study are found in all the products that complete the series. Framed by a quadrangular perimeter regular, the shower takes by nature a sensitive element, evokes sand surfaces shaped by waves of the sea, where the water flows in sinuous hollows that become the original anti-slip pattern. ceramic flounces overlap to form the basin, a basin almost carved into the matter, while the mirror transforms the original concept in a clever play of transparency and light.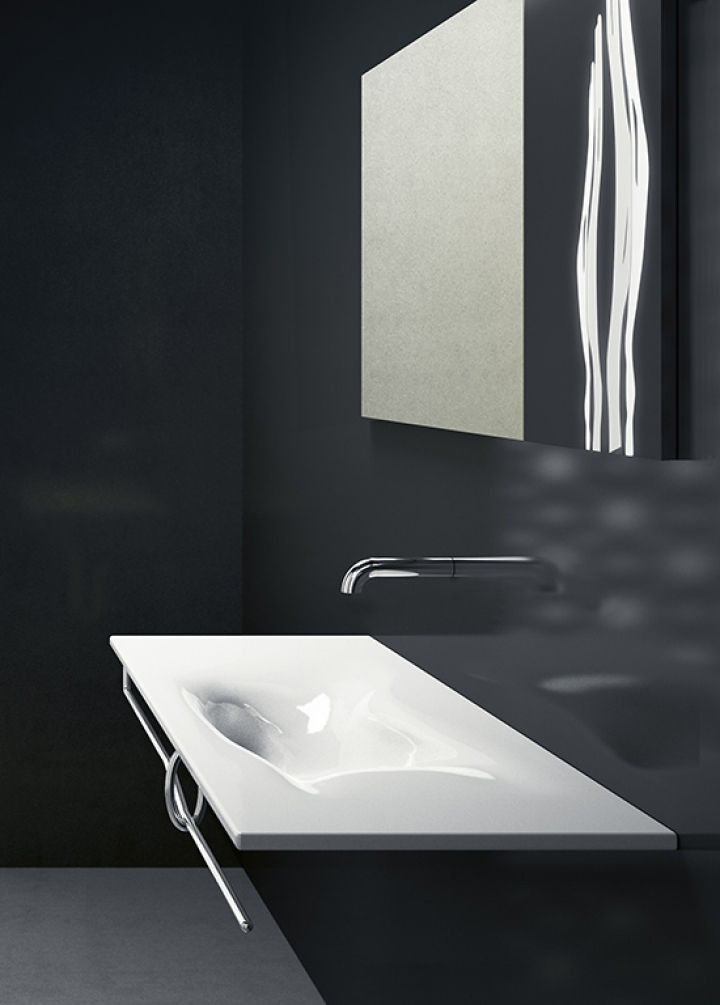 The applicant organic matrix in the signed architectures Fuksas, put cleverly contrasting with more rational structures and geometries, confirms underlying theme of the collection. IMPRONTA fits perfectly into the project "Catalano for Architecture" for its ability to evoke, also through nature, details of interior atmospheres of the future.