the Finnish brand iittala finally in Italy
it has been modified:
2013-03-12
di
You know the pots Alvar Aalto? A few days ago with a press conference held at the design library in Milan was presented the brand iittala, Brand design born in 1881 in the village of Iittala and that, among other objects of design, produce their own unforgettable vessels Finnish architect.
Since 2007 the Iittala brand belongs to Fiskars Group and for the first time officially arrives in Italy bringing generations of products intended to last forever.
"Despite the tough economic times we are experiencing, I am proud to have brought Iittala in Italy, a brand that will help to enrich the daily lives of us all through unique products and functional as well as aesthetically beautiful, able to combine perfectly with each other and with each type of table " said Dr. Paul Iacono, CEO of Fiskars Italy.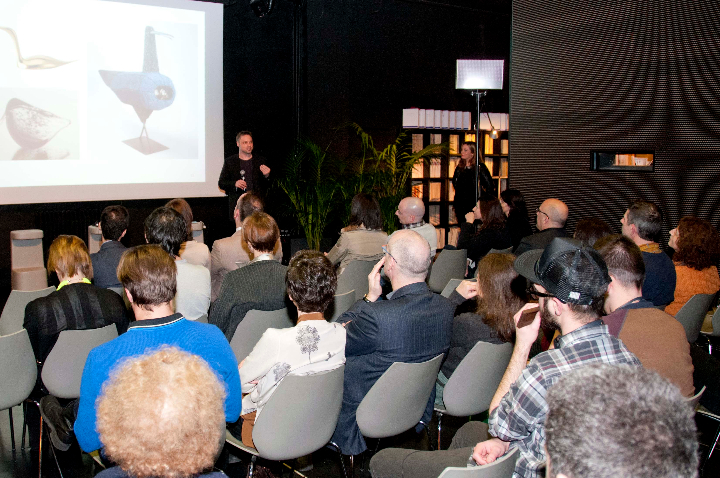 The event was also attended by the designer Matti Klenell that for Iittala has created the line of glasses and candle holders Lempi Nappula.
"The glass is always part of my DNA. I grew up seeing my parents, both artisans, working with glass and I could not not get interested in this beautiful art and, therefore, make it my own " He told the artist. "I thought a lot about what kind of glasses I like and what features I expect to find in a glass Like most of those who live in cities, suffer the constant shortage of space for storage. The glass is one of the most used items in our lifetime and at home they always serve a large number. I wanted to produce a glass stackable to use space efficiently. Stack even just two or three glasses allows you to save a lot of space. And so was born Lempi " continued Klenell.
"For the form of Nappula I was inspired by various elements. I studied the shape of the base of one of the Birds of Oiva Toikka and a glass designed by Tapio Wirkkala, have also been hit by an old table that I saw at the Nuutajärvi Glass Museum, who had a leg with a blunt end, inspired me Also the round shape of the stem of the glass of the glass Lempi. Nappula was born so, from a mixture of styles and ideas. "