Ideagroup / CUBIK the line is renewed with amazing technological innovations and aesthetic
it has been modified:
2013-12-02
di
"Arredare l'ambiente bagno attraverso soluzioni che denotano un nuovo approccio stilistico e compositivo, restituendo il concetto di estetica contemporanea". CUBIK, Best seller Ideagroup, is renewed with amazing technological innovations and aesthetic. Il nuovo progetto d'arredo firmato IDEA vuole celebrare i bisogni dell'abitare contemporaneo: il design deve accompagnarsi al concetto di comfort, l'estetica deve abbracciare la funzionalità ei materiali devono trasmettere sensazioni forti e positive.
The collection shows a widening of modularity, materials and finishes, synonyms of the constant search for innovative solutions, capable of characterizing the space, releasing a strong and determined personality. Cubik introduces two important innovations in natural finishes: the ecomalta and types of wood with continuous grain "in marble", both reflecting a careful and meticulous craftsmanship. In terms of composition, Cubik faces the bathroom by providing solutions and functional design, customized to the smallest elements, in order to live the bathroom as a personal retreat and relaxing corner.
Cubik also meets the needs dictated by small spaces con soluzioni monoblocco a centro stanza, che non rinunciano alla funzionalità delle composizioni più estese, grazie all'ottimizzazione degli spazi interni e all'abbinamento di specchiere contenitori.
Finishes and essences
La principale novità della collezione Cubik risiede nelle finiture tecnologiche da un lato e naturali dall'altro. Una sintesi perfetta tra design, sostenibilità e qualità dei materiali. L'ecomalta è la novità più importante della nuova collezione Cubik. Un materiale naturale, frutto di un attento lavoro esclusivamente manuale, con il quale possono essere rivestiti mobili, vasche, elementi a giorno, etc ...
The finish ecomalta born from writing 6 different "hands" of the matter, interspersed with periods of drying and stabilization: This procedure gives the finished product a high strength and elasticity, making it particularly suitable for use in the bathroom . The ecomalta is available in 4 finish: cream, gravel, mud and ecru.
The essences wood embody the spirit of artisanal Ideagroup proposing of certified and guaranteed. The essences are: Italian walnut, chestnut lightgrey, darkgrey chestnut and chestnut smoke.
The attention to detail and the particular production process allow to achieve a high visual impact, which manifests itself through the respect of the continuity of the natural wood grain of the whole cabinet. Result obtained thanks to a manual labor inimitable.
The HPL unicolor, with new thicknesses of the top floors, are available in heights: 12, 60 and 120 mm. The primary feature of this material relates to the surface resistance, which goes well with the needs of the bathroom.
The finishes available are: cement, gravel or slate. The matt and glossy draw from the large collection of 40 Ideagroup colors, offering the most neutral colors, for those who love a traditional style, with unusual that characterize and determine bathrooms strong emotional impact. The finishes Cubik can be interchanged with each other, to create dynamic solutions, and satisfy aesthetic needs and matching different and personal.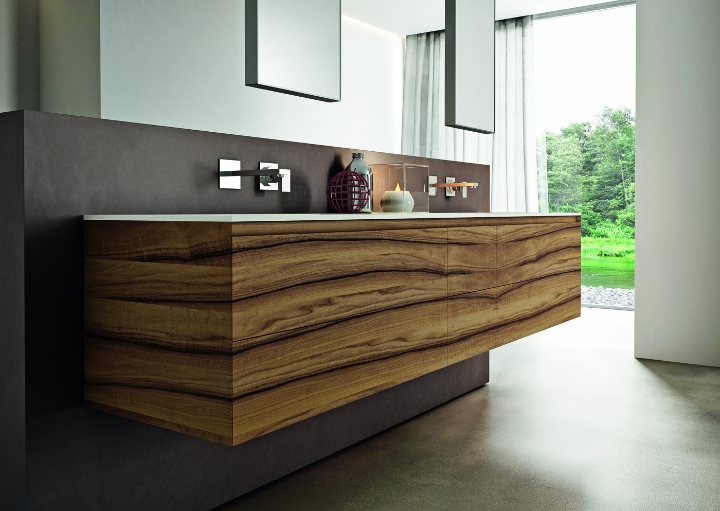 Functionality of bathroom
Cubik introduce delle novità importanti anche negli accessori per l'arredo bagno.
The new double-sided mirrors Ceiling mirrors transform themselves into decorative elements and redesign it functions. The technology of the LED enters the mirror, through the continuous light strips that wrap the space and facilitate the daily activities in the bathroom. The mirrors can be equipped with empty containers, to optimize the available space.
Per soddisfare le esigenze di chi ha poco spazio per la stanza da bagno, è disponibile il modulo portalavatrice, che cela con attenzione l'elettrodomestico mantenendo il forte carattere estetico del mobile. Non mancano gli elementi a giorno, le mensole e le colonne porta oggetti, proposte in nuove dimensioni e soluzioni di contenimento. Un esempio sono le doppie colonne in vetro, che arredano con intelligenza l'ambiente bagno, restituendo un suggestivo equilibrio compositivo. Cubik completa l'arredo con alcune vasche da bagno: Square e Round, le vasche free standing disponibili in Mineralmarmo e in cristalplant, e la vasca Project in Cristalplant, personalizzabile nelle dimensioni e nella finitura dei pannelli che la racchiudono.
Plans and washbasins collection Cubik
The flavors available materials for floors and sinks, can satisfy different needs. The aquatek offers unique surface (the sink is integrated), durable and easy to clean, as the mineral marble, ductile material and compact. Novelty are the new plans with integrated sink in porcelain, from neutral finishes, which are characterized in terms of aesthetics for the cracks in the outer basin that allow water drainage. The sinks in the new finish in ecomalta enhance the purity of the geometry of the compositions, while the transparency of the lacquered glass creates special color combinations. Cubik uses ceramic washbasins countertop and semi recessed, for alternative solutions to integrated versions.