Ciclotte Tonino Lamborghini, the new must-have of luxury fitness it has been modified: 2013-05-09 di
For the edition of 2013 Milan Design Week, Ciclotte was presented at the Temporary Museum for New Design and at the Salone del Mobile with two important innovations: a new transmission capable of giving a more rounded feeling to the pedal stroke and the version dedicated to the famous lifestyle brand Tonino Lamborghini.
Ciclotte is the innovative exercise bike, Designed and made in Italy, that combines idea, form and technology reinterpreting the traditional aesthetic and functional object stationary bike.
It's made with materials of excellence such as carbon, steel and glass fibers and is an industry first in the world thanks to the technological solution unique fitness system epicyclic transmission. Designed by the young designer from Milan Luca Schieppati and produced by the Bergamo Lamiflex Group, Ciclotte breaks the mold design for exercise equipment, has always been tied exclusively to the functional aspect, to contact a target advanced users, dynamic, fitness lovers and the aesthetic.
The concept Ciclotte born from the need to bring in the lives of everyday design that is an authentic expression of contemporary life where work and relaxation, exercise and leisure inhabit the same dimension, within fluid spaces where all objects can communicate. Thanks to its line, the result of a formal research inspired by ergonomics and essentiality, Ciclotte is a fitness tool and a piece of furniture can be integrated in the most varied contexts of living: the home, the office, the gym, the outdoor.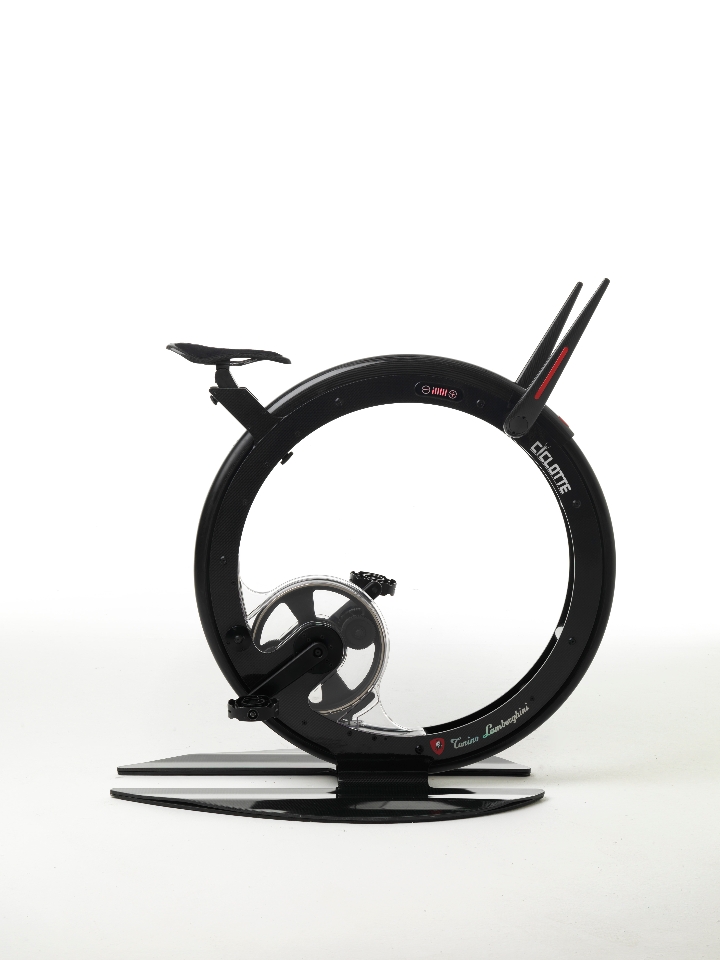 La "Ciclotte Tonino Lamborghini" has specifically:
frame in carbon fiber;
adjustable handles, also made of carbon fiber strips and red;
red LED display technology.
Tonino Lamborghini incarnates the power of the 'made in Italy "in the world. Drawing inspiration from his previous experiences in the field of engineering and design, extends the concept of luxury to products capable of evoking a world based on technology and innovation, which expresses the "Italian Pure Talent."
Vision Group is, in fact, to export to the world the passion and spirit of Italian culture in the form of products with unique design and distinctive, inspired by the world of mechanical engineering and luxury sports cars.
The Ciclotte Tonino Lamborghini will be available from April 2013 in the suites of the most exclusive luxury hotel "Tonino Lamborghini" and will be distributed at internazionalenei most prestigious concept stores, fitness centers and showrooms of furniture and design.